https://www.paulaschoice.co.uk/refined-radiant-gift-set/1HB2021.html
Refined & Radiant Gift Set
This limited edition skincare gift set contains two powerful products to unclog pores and reduce blackheads and breakouts, for smoother, clearer, more radiant-looking skin.

Skin Type:

Combination skin, Oily skin

Concern:

Breakouts , Blackheads , Enlarged pores

Ingredients:

Niacinamide/Vitamin B3 , Methylpropanediol , Bearberry Extract

View all
Variations
Remove from Wishlist
Add to Wishlist
Product out of stock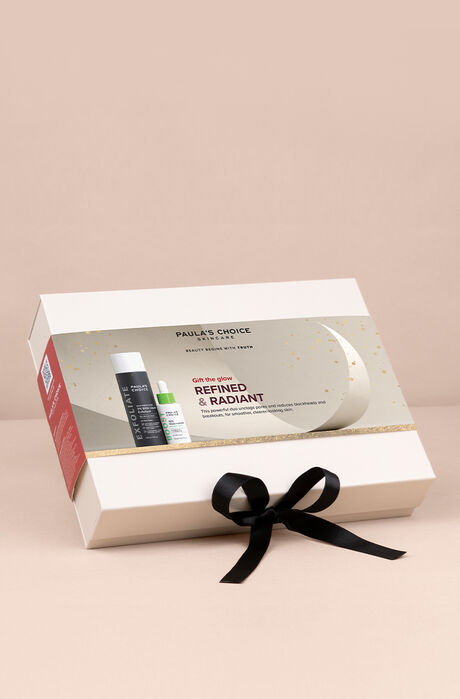 Refined & Radiant Gift Set
This product is sold out at the moment. Fill in your email address below and we'll gladly send you an email as soon as it is back in stock!
This set includes:
What does it do?

Give the gift of clear, radiant skin.

Tackle blackheads, breakouts and enlarged pores with this multi-tasking duo. The Skin Perfecting 2% BHA Liquid Exfoliant absorbs quickly into skin and removes dead skin cells both on the skin's surface and inside the pores, reducing blackheads and blemishes. The 10% Niacinamide Booster visibly refines pores, returning them to their natural shape, and helps to fade redness from blemishes.

Key Features

Removes built-up dead skin cells

Unclogs and visibly refines pores

Fights breakouts and blackheads

How to use

Directions for use can be found on the product pages of the individual products.

Reviews

Thank you for submitting your review! It will be reviewed by our staff before it is posted.

Ingredients

What are the key ingredients?

Niacinamide/Vitamin B3
Very effective skin-restoring ingredient that can visibly improve the appearance of enlarged pores, uneven skin tone, fine lines and dullness.

Methylpropanediol
Can enhance the absorption of ingredients such as salicylic acid. It also has hydrating properties that can leave a smooth, dewy finish on skin.

Bearberry Extract
Has antioxidant properties, and there is some research showing it can have skin-brightening properties.

FAQ

Good to know before you start:

If you're new to exfoliants, it's best to build up usage to avoid skin irritation. We recommend starting once a fortnight, building up to 1 to 2 times per day. It may take some trial and error to find the best frequency for your skin. During the day, always use a moisturiser with a broad-spectrum sunscreen rated SPF 30 or greater, as your skin is slightly more sensitive to sunlight when using an exfoliant, so the chance of sunburn and sun damage is slightly higher.

Skin Perfecting 2% BHA Liquid Exfoliant feels a bit sticky/greasy on my face. Why is that?

If the BHA is feeling sticky, you are probably using too much product. The average amount needed is the size of a small coin, and it's best to apply it in a thin layer. The 'greasy' feel can be attributed to the high levels of glycol in this product (glycol helps the BHA penetrate the surface layers of skin and also works as a water-binding agent). If you use too much product or live in a humid, moist climate, this effect will be more pronounced.

Can I use 10% Niacinamide Booster around my eyes?

You can use 10% Niacinamide Booster around the eyes, either on its own or mixed in with 2 or 3 drops of your favourite eye cream, serum or night cream.