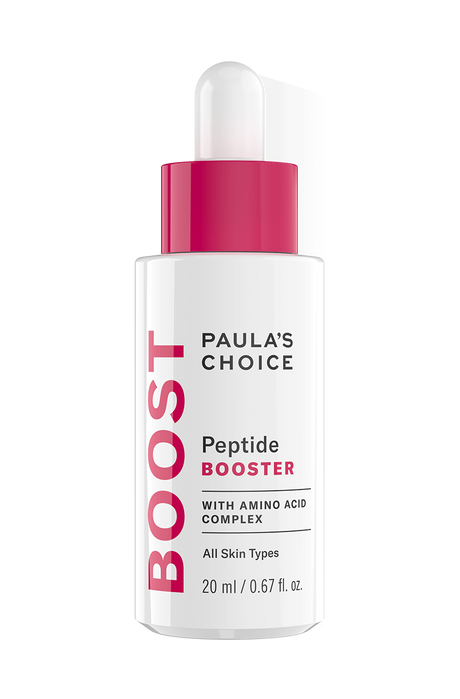 https://www.paulaschoice.co.uk/peptide-booster-full-size-9550.html
Peptide Booster
8 anti-ageing peptides packed in a powerful booster for resilient, younger-looking skin.

Skin Type:

All Skin Types

Concern:

Anti-Ageing , Sensitive skin

Ingredients:

Peptides , Amino acids , Adenosine

View all
8 anti-ageing peptides packed in a powerful booster for resilient, younger-looking skin.
What's my skin type?
Anti-Ageing, Sensitive skin
Free delivery on all orders over £40
30-day money back guarantee
Safe payments
Does your skin need a pep talk?
Every skin benefits from a peptide boost. Because peptides support naturally occurring peptides in your skin like collagen, elastin and keratin. The Peptide Booster contains a powerful blend of eight highly targeted peptides, each one addresses a specific anti-ageing concern, from loss of radiance and uneven skin tone to fine lines and wrinkles. These specialised, cell-communicating ingredients effectively 'teach' skin to look and act younger by strengthening its natural reparative abilities. Together with skin-restoring ingredients such as amino acids, antioxidants and hydrators, the Peptide Booster strengthens and protects the skin's barrier and increases natural resilience. Ideal for all skin types, especially sensitive skin that may not be able to tolerate high strength retinol.
What are peptides?
Found naturally within the skin, peptides are short chains of amino acids that act as building blocks of proteins such as collagen, elastin and keratin, which are responsible for the skin's texture and strength. When applied topically to the skin, peptides trigger skin cells to perform specific functions such as building collagen and elastin, encouraging layers of skin to act younger for more supple, rejuvenated-looking skin.
How can peptides help my skin?
Peptides are cell-communicating ingredients. You can think of them as 'personal trainers' for your skin. Peptides tell your skin what to do and how in order to stay firm and younger looking. Peptides also improve skin's ability to repair itself.
Why 8 different peptides?
Peptides are like keys that only fit into certain receptors (locks) to activate (unlock) specific processes. Not all peptides are the same and all peptides have different benefits for skin. Each peptide precisely targets concerns of loss of firmness, dullness, wrinkles and discolourations.
Tripeptide-1: Visibly enhances the firmness of your skin by fostering key elements that give skin critical support
Palmitoyl Tripeptide-1 + Palmitoyl Tetrapeptide-7 + Palmitoyl Hexapeptide-12: These three peptides improve the moisture balance in skin, promote healthier-looking skin, and smooth the appearance of wrinkles.
Myristoyl Hexapeptide-16 + Myristoyl Pentapeptide-17: This duo calms signs of redness and helps skin to look and feel more resilient.
Hexanoyl Dipeptide-3 Norleucine Acetate: Helps skin's surface shed properly and speeds up this process for fresher, more vibrant skin.
Azelaoyl Bis-Dipeptide-10: Fades discolourations as a result of sun exposure, brightens dullness, and interrupts the formation of damaging substances in skin that lead to loss of firmness.
Key Features
Softens fine lines and wrinkles
Strengthens skin's natural barrier
Improves skin tone and texture
How to use
Apply once or twice daily to face, eye area and neck after cleansing, toning and exfoliating. Dispense 2-3 drops and add to your favourite serum or night moisturiser or use alone. If applied alone, follow with the rest of your routine. For daytime use, always follow with a broad-spectrum sunscreen rated SPF 30 or greater.
Your skin can sometimes use a little something extra
Give your skin a boost with these extras for your skin routine.
Better Together
There isn't a single product that can do it all. The best skincare involves multiple products with great ingredients. Discover products that will work together and take your skincare routine to the next level.
Tap for info