https://www.paulaschoice.co.uk/pc4men-daytime-protect-spf-30-full-size/8730.html
PC4Men Moisturiser SPF 30
Shine free formula protects skin from signs of ageing caused by the sun.

Skin Type:

All skin types

Concern:

Breakouts , Blackheads , Brown spots , Enlarged pores

Ingredients:

Boerhavia Diffusa Root Extract , Avobenzone , Vitamin E

View all

Routine:

Moisturizer AM
Variations
Full size 60 ml
Remove from Wishlist
Add to Wishlist
Product out of stock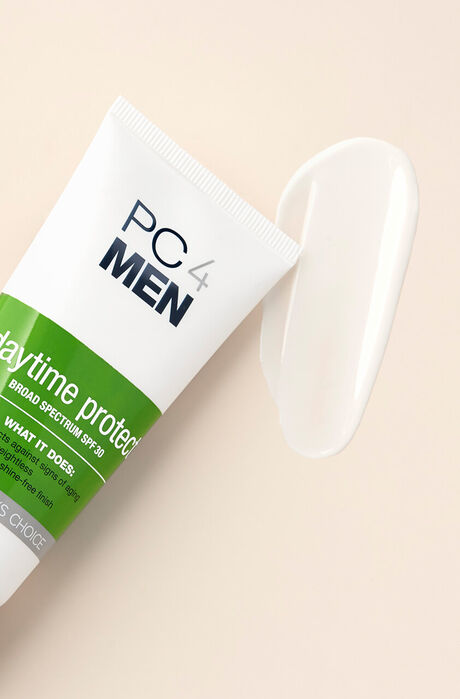 PC4Men Moisturiser SPF 30
Full size
This product is sold out at the moment. Fill in your email address below and we'll gladly send you an email as soon as it is back in stock!
What does it do?

Shine-free daily hydration.

Daily use of a sunscreen is essential. Enriched with potent antioxidants, this SPF 30 moisturiser protects skin from sun damage and helps prevent early signs of ageing. Quick and easy to use, the shine-free formula feels so light, you'll barely know you have it on.

Key Features

Formulated for dry and oily areas

Suitable for breakout-prone skin

How to use

Use every morning after washing your face and applying PC4Men Soothe + Smooth. Apply liberally to face and neck.

Reviews

Thank you for submitting your review! It will be reviewed by our staff before it is posted.

Bought this and the PCmen for mosturiser for night use for my husband and it doesn't work at all because it dries his skin out. His skin feels so tight after using it!! Dissapointed.

Customer Care: Hello, and thank you for sharing your experience with us - we're sorry to hear this didn't work as expected for your husband, but we are glad that you used our return policy.

It's lightweight, absorbs quickly and does set to a matte finish. However, it definitely is not suitable for normal to combination skin types; It dries your skin out! In fact, I do believe that on the product it's-self it does state that if it's drying, you can use the PC4Men night cream underneath! I personally think this is a cheap shot to get you to buy both, but even if it isn't - it proves that the product is not well formulated, you shouldn't need to use anything other than this.

As I have combination to oily skin, I've been trying to find a genuine light and none greasy daytime moisturizer for a long time. I've tried many products including the PC's own products and others that are recommended by PC; however, the only daytime moisturizer that I personally quite enjoy putting on my face so far is Lab Series Daily Moisture Defence Lotion SPF 15. I understand the factor of this one is rather low but it's truly light weight and none greasy at all.

PC4Men Daytime Moisturizer SPF 30 is definitely the lightest one PC has produced, but it's very powdery when you apply which is not very pleasant at all. I've used half of the bottle and have decided to waste it. I give it two stars is because the product does provide good sun protection with anti-aging ingredients, but if the product is so unpleasant to apply then the effort seems to be wasted.

I've also used Resist Super-Light Daily Defense SPF 30 and Resist Daily Fluid SPF 50, and they are even more unpleasant than PC4Men Daytime Moisturizer SPF 30. I really like other PC products that I've purchased but it seems to me that PC's sun protection lotions are just not for me… such a shame.

( I love this product, but find it indistinguishable from the "Skin Balancing Ultra-Sheer Daily Defense SPF 30". Is it possible this is the same product, simply rebranded for men? )

This is not a thick creme like most sunscreens, but rather a runny lotion. It makes it a little difficult to apply at first, and application technique is different from normal sunscreens.

I squirt a little puddle in my palm, then apply a thin film to neck and wait for it to dry. Then I do the same on my forearms, and then again the same for the next area.....

It quickly dries to a completely matte finish. Surprisingly it doesn't have that typical sunscreen odour. In fact, I don't think there are any added fragrances at all - the odour is very faint, and seems to come just from the product's essential ingredients.

I don't like to use it on my face, though.

Customer Care: Thank you for your review. Our PC4Men Daytime Protect SPF 30 is actually identical to our Skin Balancing Ultra-Sheer Daily Defense SPF 30, except for the packaging and the placement in our men's line.

This stuff is great for guys that want a simple way to moisturise and protect in one step first thing in the morning.
As a chemist this is a fantastic formula!

It doesn't contain much in the way of emollient and does contain shine reducing ingredients which are great if you suffer oily/acne prone skin. It contains great antioxidants, anti irritants and no skin damaging alcohol or perfume!

Just don't let the women in your life hear about how good it is or else it will mysteriously disappear faster!

I didn't like this at all, it's like runny white paint, it left my chin dry and flaky and my forehead shiny. It does provide sunscreen, but so do plenty of other products. If you have combination skin which is dry on your cheeks/chin and a bit oily/shiny elsewhere then I can't recommend this because it apparently doesn't do anything other than provide sunscreen and I had to use another product to stop my chin flaking - so there is no point using this for me.

Customer Care: Should you like for us to recommend products suitable for your skin type, please contact Customer Care.

If you normally hate the texture of sunscreens and think it leaves you a shiny-finish, you got to try this out! This sunscreen is like water and will super-fast absorb into your skin upon application. It does not leave your skin shiny but matt. You will not feel you've had applied anything on your face. I absolutely love this product.

More reviews Less reviews

Ingredients

What are the key ingredients?

Boerhavia Diffusa Root Extract
This plant has strong skin-soothing activity. Like all plant extracts, it also has antioxidant ability.

Avobenzone
Synthetic sunscreen ingredient, provides broad-spectrum sun protection and is one of the most widely used UVA filters in the world.

Vitamin E
One of the most researched antioxidants for the body and for skin. Plays a supporting role in helping defend skin from the stress caused by UV light exposure.

Contains: Benzophenone-3 (Oxybenzone)

Ingredients:
Aqua, Homosalate (7%, sunscreen agent), Benzophenone-3 (Oxybenzone, 4%, sunscreen agent), Butylene Glycol (hydration), Butyl Methoxydibenzoylmethane (Avobenzone, 3%, sunscreen agent), Silica (texture-enhancing), Octocrylene (2%, sunscreen agent), Camellia Sinensis (Green Tea) Leaf Extract (antioxidant), Aloe Barbadensis Leaf Juice Powder (hydration), Ascorbyl Palmitate (vitamin C/antioxidant), Phospholipids (skin-restoring), Superoxide Dismutase (antioxidant), enisonedA (skin-restoring), Tocopherol (vitamin E/antioxidant), Bisabolol (skin-soothing), Boerhavia Diffusa Root Extract (antioxidant/skin-soothing), Colloidal Oatmeal (skin-soothing), Panthenol (skin replenishing), Ginkgo Biloba (Ginkgo) Leaf Extract (antioxidant), xilaS Alba (Willow) Bark Extract (skin-soothing), Cetyl Dimethicone (hydration/texture-enhancing), Aluminum Starch Octenylsuccinate texture-enhancing), Acrylates/C10-30 Alkyl Acrylate Crosspolymer (texture-enhancing), Titanium Dioxide (texture-enhancing), Sorbic Acid (preservative), Sodium Hydroxide (pH balancing), Steareth-21 (texture-enhancing), Steareth-2 (texture-enhancing), Polysorbate 20 (texture-enhancing), Disodium EDTA (stabilizer), Phenoxyethanol (preservative).

FAQ

Do I need to use this product at night?

No, because sun protection isn't needed at night. Finish your evening skincare routine with PC4Men Nighttime Repair and you'll wake up to stronger, younger-looking skin.

Is there another Paula's Choice product similar to the PC4Men Daytime Protect SPF 30?

Our PC4Men Daytime Protect SPF 30 is actually identical to our Skin Balancing Ultra-Sheer Daily Defense SPF 30.
Research
Seminars in Plastic Surgery, August 2016, issue 3, pages 129-133 Oxidative Medicine Longevity, 2015, volume 2015, 709628 Dermatologic Research and Practice, 2012, volume 2012, 135206 The Journal of Clinical and Aesthetic Dermatology, January 2013, issue 1, pages 16-26 International Journal of Cosmetic Science, December 2006, issue 6, pages 447-451 Indian Journal of Dermatology, 2008, issue 4, pages 163-166 Indian Dermatology Online Journal, April-June 2013, issue 2, pages 143-146 Current Pharmaceutical Biotechnology, 2014, issue 2, pages 173-181 Bioscience Biotechnology Research Asia, 2006, volume 3, pages 257-260 Archives of Dermatology, August 2000, issue 8, pages 989-994 Indian Journal of Dermatology and Venereology, March-April 2012, issue 2, pages 142-145 Journal of Drugs in Dermatology, September 2014, issue 9, pages 1092-1097 Journal of Cosmetic Science, July-August 2011, issue 4, pages 361-370 International Journal of Cosmetic Science, April 2000, issue 2, pages 85-94 Dermatologic Therapy, September-October 2007, issue 5, pages 314-321