https://www.paulaschoice.co.uk/omega-complex-serum-full-size/2130.html
Omega+ Complex Serum
Light, lotion-style serum strengthens the skin barrier and allows it to behave younger.

Skin Type:

All skin types

Concern:

Anti-Ageing, Very dry skin, Sensitive skin

Ingredients:

Shea Butter, Ceramides, Linoleic acid

View all

Routine:

Treatment
Remove from Wishlist
Add to Wishlist
Product out of stock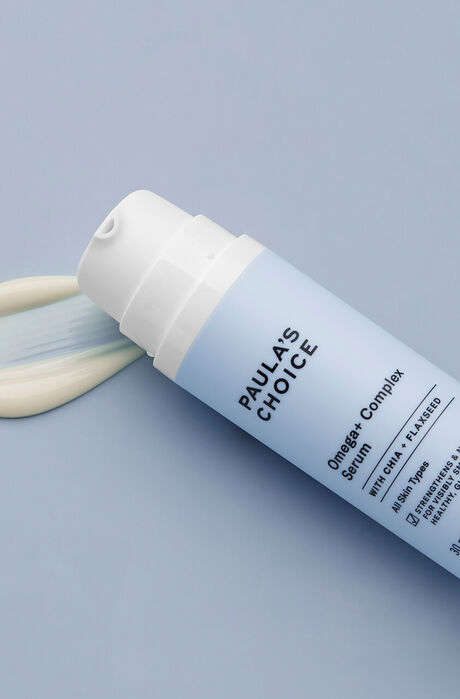 Omega+ Complex Serum
Full size
This product is sold out at the moment. Fill in your email address below and we'll gladly send you an email as soon as it is back in stock!
What does it do?

Feed your skin

Feed your skin with this nourishing serum, rich in omega fatty acids, potent antioxidants and skin-restoring ceramides. The light, lotion-style serum instantly replenishes, repairs and strengthens the skin's natural barrier, for healthier, younger-looking and more supple skin. Great for dry, dehydrated skin that has lost its vitality.

Is this suitable for my skin?

What skin concern would you like to address?

(Please select one option)

Key Features

Visibly reduces fine lines

How to use

Apply morning and/or nighttime as desired. After cleansing, toning, and exfoliating, smooth a few drops onto face, neck and eye area. May be applied under your moisturiser. For daytime, always follow with a moisturiser containing a broad-spectrum sunscreen rated SPF 30 or greater.

Reviews

Thank you for submitting your review! It will be reviewed by our staff before it is posted.

Pros are that it does leave your skin soft and feeling rested. However, I only bought the 5ml (great that you can do this to see how you get on!) but both times I tried it a couple of weeks apart a big red bump/spot came up on my cheek. I am pretty sure it was this product because as soon as I reverted back to my usual Paula's choice products, it went away. So I'm sure It's got great ingredients, but I will stick to the Paula's choice products targeted at my oily skin type as they keep my skin in check! This formulation just wasn't for me.

Customer Care: Thanks for your review! I'm sorry to hear that the Omega+ Complex Serum wasn't a good fit for your skin - please reach out to our Customer Care team who may be able to help you with a return. I am glad to hear that you used our travel-sized products to try it - this is a great way to see if a product is right for you! Don't hesitate to reach out should you have any questions or if you'd like some advice! Kind regards, Marissa - Paula's Choice Customer Care

I'm now 56 and have found over the past two years that my skin has moved from "light combination" - a bit oily on the T-Zone, a bit dry on the cheeks, to all-out dry. In winter, terribly dry and uncomfortable.

I bought the Omega + balm cleanser, serum and moisturiser.

I was initially pretty disappointed with the Omega + products, but consistent use is making a real difference, so it's a matter of perseverance (as always!). It's taken at least two weeks to begin to make headway with the flaky patches and to make my skin feel better. Once it had mastered those problems, the combined efficacy of the three products has accelerated. Skin not only looks but also feels much better. As the headline says: consistency is key.

Customer Care: Hi Denise! I'm so glad that you continued using the products and are now experiencing amazing results! Our Omega+ Complex products contain tons of omega fatty acids which help to repair and maintain a healthy moisture barrier - this doesn't happen overnight! If you're still struggling from dry areas, try adding in an additional product like our Moisture Renewal Booster! Let us know if you have any questions! Kind regards, Marissa - Paula's Choice Customer Care

I absolutely love this serum, I'd been going a bit hard on my skin with new products recently and it had become quite sensitive and dry and this has helped bring it back to life. My skin looks super hydrated and dewy and generally healthy. I've been using this alongside the 2% Salicylic Acid exfoliator and the Skin Recovery toner, and I think all 3 have contributed to this together but overall I'm super impressed with all of them and have repurchased more than once! My only critique is that it's hard to know when you're at the end of the product with the design of the bottle as its opaque and you can't see how much is left, you might just get an unpleasant surprise one day when you hit the pump and nothing comes out. I've come to realise it lasts me around 2 months so I just know to repurchase around then - in case that's helpful to anyone else.

Hi Mia! Thank you for a love review of the Omega+ Complex Serum, great to hear that this product is helping you to achieve a dewy hydrated glow! You are right the product should last about two months. It is packaged in opaque packaging to help preserve all the great ingredients. We look forward to seeing you back on our web shop soon - Kind regards, Adele - Paula's Choice Customer Care

Caused dry skin and deep and painful spots on my cheeks and forehead and whiteheads across my face (I usually have completely clear skin). Tried multiple times and across different stages of PCOS hormonal skin and it didn't help in either. I had high hopes given the reviews but unfortunately it didn't work for me and has left me with scarring from the deep spots.

Customer care: Hello, and thank you for sharing your experience with us - we're sorry to hear this didn't work as expected for you, but we are glad that you used our return policy.

Got this per Sean Garrette's recommendation. I loved it. I had a damaged barrier due to the severe dryness cause by a prescription retinoid, and I used it with a hydrating toner and moisturiser only for 2 weeks and my skin thanked me for it. It also helped reduce the tightness and irritation on my face where I have eczema. I just repurchased 3 more and about to try the omega complex moisturiser as well. I give it 4 stars because I do feel it runs out very quickly but the product in itself is SUPERB. I would 100% recommend!

I have used this serum for a few months now and I love everything about it! It's more of a cream texture than serum which I prefer. Has a lovely natural smell, shows that companies don't need to add hideous fragrances to products!! Thanks Paula, don't know what I would use without your products.

I have combination skin that's pretty oily in warmer months and pretty dry in colder months, and doesn't have any other big problems (maybe a pimple now and then). I wanted something for the colder months to keep my skin supple-looking. This product had no effect for me - it doesn't make things better and it doesn't make things worse. I've now switched to the Clear Oil-Free Moisturiser which is a much better fit for me.

I do really enjoy the packaging, it looks very dignified and the pump is a pleasure to use.

I brought this product because read the reviews everywhere,and wanted a really good barrier with all the best ingredients.I have suffered with rosacea so wanted this to help my skin repair.Unfortunately this did the opposite and made my skin react,my rosacea flared up.I ended up with really bad red blotches on my face that stung & itch a little.Its not a cheap cream and isn't for all skin types as stated.I really am gutted about this something in the product just didn't help my skin.It really is a silky cream that glides on and to touch you face it feels silky and soft,but after 3 days I had to discontinue use of it.

Customer Care: Thank you for sharing your experience with us - we're sorry to hear this didn't work as expected for you, but we are glad that you used our return policy.

I've been using PC for years and really wanted to love this serum, as from the ingredient list it looks like it should be amazing - and it has no silicones. But I've now tried using it over a period of weeks on three different occasions in the past year - and each time it's ended up making my skin reactive, dry and flakey. I've stuck at it on the past two occasions, thinking perhaps my skin just needed to adjust - but no. Interestingly, I had similar problems with the Calm serum. Would love to know what it is that's causing the flare-ups - have gone back to The Ordinary for my serum, though still using PC for toners and night and day moisturisers.

Customer Care: Thank you for your feedback. We're sorry this product didn't work for you, possibly you experienced an allergic reaction to one or more ingredients in this serum. Unfortunately, it's difficult to say exactly what may have caused your reaction, as not everyone reacts in the same way to skin-care ingredients, and some can be more sensitive to a particular ingredient than others.

I really like this serum, it's light but moisturising. However, despite only using it once a day, I have run out after just over a month. Given the price this is an unsustainable purchase for me sadly. Additionally, the packaging is an issue: I can see quite a lot of product coating the sides of the tube which I can't get to for love nor money which is really frustrating. Given the wastage, I think the price is even less reasonable. Such a shame as I love the product itself!

Customer Care: Hello Gilly, thanks for your comments! We are always looking for ways to improve our products, so we will pass along your feedback to our Product Development team.

There's a lot of brilliant out there, but there are not that many truly special products, ones I will never be without- enter this incredible serum! First off, I have dry skin, for which I have used facial oils and reasonably rich moisturisers. The genius of this product is that it combines the advantages of both those items, but with additional skincare benefits and without the faffing-around of using oils (they go off quicker than I can finish them, they dripdrop all over the place while I'm trying to use them etc etc). Beautiful, effective packaging and a reasonable price- what's not to love? Especially with Winter on the way, I say do yourself a favour and get this ASAP if you have drier skin. Top marks!

This is a lovely soothing serum that is great for strengthening thin skin and banishes dehydration. However it barely lasts me a month using just once a day and one pump. I've gone through 2 lots now and experienced the same thing both times. On that basis only I won't be repurchasing.

This is the best. It even got rid of a small patch of eczema I've had under my right eye that didn't respond to cortisone. No breakouts and absorbs well without that unpleasant silicone-y feeling. Basically my skin looks and feels better with it that without it, which is what its all about.

Before I talk about the product itself, I'm so glad this is in an airless pump rather than squeeze tube! Better protects the ingredients and more convenient too. I wish more Paula's Choice products were in an airless pump - including the new SPF 30 Primer Serum!
I have combination skin, with an oily tzone, and prone to some dehydrated/dry patches. This serum has been a revelation. I still have an oily t zone but overall my skin is much better balanced since I starting using this. No more dry patches, and despite its lotion texture it doesn't make my oily t zone worse, in fact I would say that area is more balanced since I started using this too. I've been using the for over a month now and intend to keep on using it! My skin just feels better, has a better texture, and I feel like it has improved the overall tone.
Wish the UK price was lower though :-(

I have been trying this product for the past 10 days and it's amazing. Totally boosted my dry skin and gave it its glow back. My new favourite. Thanks Paula!

I bought this a week or two ago and have been alternating it between the resist super antioxidant serum, i mix this serum with the 1% retinol booster and it is A MATCH MADE IN HEAVEN! Absolutely amazing , does not break me out, doesn't feel heavy, my skin feels amazing in the morning, i have noticed my skin is more evened out (less redness) and the texture is beautiful and i love knowing the ingredients are well researched and actually doing something. Cannot go without this product in my routine now.

More reviews Less reviews

Ingredients

What are the key ingredients?

Shea Butter
This plant lipid, extracted from the karite tree, is used as an emollient and has smoothing properties for dry skin. it's also a rich source of antioxidants.

Ceramides
Major components of skin's outer layers, necessary for their water-retention capacity and provide replenishing and restoring benefits.

Linoleic acid
Unsaturated omega-6 fatty acid found corn and sunflower oils. Used as an emollient and is effective as a skin-restoring, an antioxidant and as a skin-soothing agent.

Ingredients:
Aqua, Glycerin (skin-replenishing ingredient), Diheptyl Succinate (emollient), Candelilla/Jojoba/Rice Bran Polyglyceryl-3 Esters (texture enhancer/hydration), Linum Usitatissimum (Linseed) Seed Oil), Linoleic Acid (skin-restoring ingredient/omega-3 and omega-6 fatty acids), Linolenic Acid (skin-restoring ingredient/omega-3 and omega-6 fatty acids), Passiflora Edulis Seed Oil (skin-replenishing/omega-3/omega-6 fatty acids), Salvia Hispanica (Chia) Seed Oil (skin-replenishing/omega-3 fatty acid), Ceramide EOP (skin-replenishing ingredient), Ceramide EOS (skin-replenishing ingredient), Ceramide NP (skin-replenishing ingredient), Ceramide NS (skin-replenishing ingredient), Caprooyl Sphingosine (skin-replenishing ingredient), Olea Europaea (Olive) Oil Unsaponifiables (derived emollient), Caprooyl Phytosphingosine (skin-replenishing ingredient), muidoS etanorulayH (skin-replenishing ingredient), Cholesterol (skin-replenishing ingredient), Ceramide AP (skin-replenishing ingredient), Butyrospermum Parkii (Shea) Butter (emollient/antioxidant), Tocopherol (vitamin E/antioxidant), Hydroxyethyl Acrylate/Sodium Acryloyldimethyl Taurate Copolymer (texture enhancer), Prunus Domestica (Plum) Seed Oil (emollient/omega-9 fatty acid), Lauryl Laurate (skin-conditioning agent), Glyceryl Behenate (glycerin-derived texture enhancer), Hydrogenated Lecithin (skin-restoring ingredient), Sodium Phytate (chelating agent), Trehalose (emollient), Isohexadecane (texture enhancer), Sodium Stearoyl Lactylate (emulsifier), Capryloyl Glycine/Sebacic Acid Copolymer (glycerin-derived film-forming and skin-conditioning agent), Xanthan Gum (texture enhancer), Cetyl Alcohol (emollient), Tetrahexyldecyl Ascorbate (vitamin C-derived antioxidant), Agar (texture enhancer), Glyceryl Stearate (texture-enhancing), Ceteareth-25 (texture enhancer), Cetearyl Alcohol (texture enhancer), Behenic Acid (texture enhancer), Glyceryl Rosinate (emollient emulsifier), Citric Acid (preservatives), Benzyl Alcohol (preservative), Phenoxyethanol (preservatives), Dehydroacetic Acid (preservatives), Ethylhexylglycerin (preservatives).

FAQ

Who is this product for?

Omega+ Complex Serum is ideal for anyone struggling with dry, dehydrated skin that's showing signs of fatigue and visible signs of aging such as fine lines and wrinkles. Also excellent for those with sensitive or compromised skin.

Why is it different?

Omega+ Complex Serum is a nutritional powerhouse for dry, dehydrated skin that's showing signs of fatigue. Light in texture but heavy on beautiful results, this ceramide- and omega oil-enriched serum visibly hydrates, rejuvenates, and softens skin from the first use. It's the only Paula's Choice serum that contains a specially selected mix of essential fatty acids designed to restore skin's vitality and care for its delicate barrier—key to a healthier, younger-looking appearance. Each oil and skin-restoring ingredient in this unique formulation also provides antioxidant benefits, making it ideal for layering with any of our other serums for enhanced results.

How does the Omega+ Complex Night Cream differs to the Omega+ Complex Serum?

The biggest difference between Omega+ Complex Night Cream and Omega+ Complex Serum is the texture. The Omega+ Complex Serum has a light lotion texture, while the Omega+ Complex Night Cream has a rich, creamy texture. Both products contain the same main ingredients, but the night cream also contains amino acids, non-fragrant plant oils and soothing antioxidants that are not present in the serum. The serum, on the other hand, contains vitamins C and E, a higher concentration of glycerine, supplemented with plum oil as a source of omega-9 fatty acids. These products can be used together and complement each other perfectly.
Research
International Journal of Food Science, March 2014, ePublication Brazilian Archive of Biology and Technology, January-February 2012, pages 127–134 Experimental Dermatology, July 2011, pages 537–543 Journal of Agricultural and Food Chemistry, October 2010, pages 112–118 Clinics in Dermatology, July-August 2010, pages 440–451 Annals of Dermatology, May 2010, pages 143–148