https://www.paulaschoice.co.uk/niacinamide-treatment/8030.html
Clinical Niacinamide 20% Treatment
A highly concentrated niacinamide treatment that effectively tightens and minimises the look of sagging pores and rough bumps caused by age or sun damage.

Skin Type:

All skin types

Concern:

Anti-Ageing , Brown spots , Enlarged pores

Ingredients:

Niacinamide/Vitamin B3 , Vitamin C , Acetyl glucosamine

View all
Variations
Full size 20 ml
Remove from Wishlist
Add to Wishlist
Product out of stock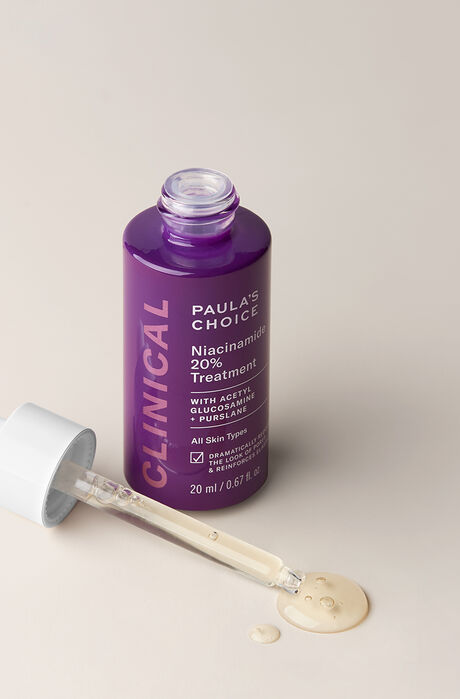 Clinical Niacinamide 20% Treatment
Full size
This product is sold out at the moment. Fill in your email address below and we'll gladly send you an email as soon as it is back in stock!
What does it do?

Next-level pore minimising

This innovative treatment is our first ever to contain niacinamide at a safe, effective 20% concentration. The advanced formula effectively minimises the look of stretched pores, orange-peel texture and clogged bumps to reveal a smoother, brighter, more refined appearance.

The Clinical Niacinamide 20% Treatment has a liquid-gel texture and is suitable for all skin types, but has been especially formulated for those with stubborn concerns surrounding pore size, pore function and rough texture as a result of ageing and sun damage.

Which niacinamide product is right for you?

10% Niacinamide Booster

Targets:
Enlarged pores
Post-breakout marks
Uneven texture

Clinical Niacinamide 20% Treatment

Targets:
Stretched, sagging pores
Orange-peel texture
Stubborn oil-related bumps

Key Features

Visibly reduces enlarged pores

How to use

Apply a few drops once per day after cleansing, toning and exfoliating. For evening use, layer with other treatment products as needed and follow with your moisturiser. For daytime use, finish with a sunscreen rated SPF 30 or above.

Reviews

Thank you for submitting your review! It will be reviewed by our staff before it is posted.

Noticeable difference to skin texture and tone. Annoying bottle that didn't seal properly and leaked in my cosmetics bag. Too expensive to loose half of it this way😕

Hi Frances. Thank you for your positive review of the Clinical Niacinamide 20% Treatment. I'm sorry to hear that yours leaked. This is not a usual occurrence. Please ensure to screw the pipette on tightly after every use. I've contacted you privately and hope to have resolved this issue satisfactorily. Kind regards, Natasha - Paula's Choice Customer Care Team

After a few weeks use this had unclogged my stubborn congested skin. Worth sticking with while it clears things out.

Hi CG. Really great that your pores have decongested after using this treatment for some weeks! Of course when used in the same routine as one of our BHA exfoliants, this is when you will see the best results. Plus always ending your AM routine with an SPF 30 or above. Kind regards, Natasha - Paula's Choice Customer Care.

I've just ordered my second bottle- the best Niacinamide I've ever used! And I've tried a lot of brands in the past. My very oily skin is slowly becoming normal! Thank you for releasing such a good product.

Customer Care: Dear Kam, thank you for taking the time to write a positive review about the 20% Niacinamide. And lovely to hear that you have finally found a Niacinamide product that works for you! The 20% Niacinamide addresses so many hard-to-target concerns like rough texture and pore size all which help to stop over-production of oil. Personally, this is one of my favourites when combined with the Skin Balancing Line + 2% BHA! Warm regards, Marissa - Paula's Choice Customer Care Team

It cause a lot of redness around my T-zone area and sensitivity. I can't use anything else at the moment until my skin barrier heal.

Customer Care: Hi Marneros, and thanks for letting us know of your experience - we're sorry to hear this didn't work for you! We encourage you to contact our customer service department, who might be able to provide you with a refund. We are also always happy to provide product and skincare advice. Kind regards, Marissa - Paula's Choice Customer Care.

I really want to return it unfortunately as the product broke me out after using for a days. My skin is very sensitive really love niacinamide 10% but unfortunately niacinamide 20% is too much for my skin. Skin redness come back again.

Customer Care: Hi Ramandeep, thanks for letting us know of your experience. All skin is different, but I'm sorry that 20% Niacinamide made your skin break out. I encourage you to continue using 10% Niacinamide if it works for you! A member of customer care has reached out to regarding your eligibility for our 60-day return policy. Warm regards, Marissa - Paula's Choice Customer Care

I feel like this product is a bit underrated. I normally do not write reviews but I wanted to share my experience. I have started a medical treatment for acne, as it wouldn't go without a normal over the counter skincare. A month later my skin has less spots but I had to take care of the scars, pigmentation and red marks left over from all the spots. I have used the whole bottle for about 2 and half months and i does absolute miracles! My skin looks amazing and this is the best hydrating niacinamide serum that I have ever used! Make sure you wait a month to see the results. Great product

I started with the 10% booster to try and minimise the look of my pores. Didn't see much result after several months so decided to try the 20% booster when it came out. I don't think it's done much for the look my pores, but I do feel like it's made my skin tone look more even and glowing. I understand it's a good product for the skin barrier so I decided to keep using it. Would buy again.

I used it twice and both times it causes cystic breakouts. First time, I wasn't sure if it was from this product so I stopped using and the break stopped. I used it again after 2 months and got the same results. I haven't changed anything else in my skincare routine and am sure that this product caused the breakout

I've been using the Nicacinamide 10% for about 3 years and love love love it. I was so excited to try the new 20% and I haven't been disappointed. The texture is more oily than the 10% which makes it easier to apply and manipulate. Due to the oily textureI feel this is a better night treatment and the 10% is better for daytime. I recommend Paula's choice to everyone I know and this product will be going on the list of must have's.

One of the ingredients in the Clinical Niacinamide 20%, purslane, works beautifully for me and it's not easy finding it in a well-formulated product. I've been eager for Paula's new Clinical treatment to become available in the UK. It's exceeded my expectations. I've combined a couple drops of the 20% Niacinamide with one pump of CLINICAL 0.3% Retinol + 2% Bakuchiol Treatment after cleansing and toning at night and the results are lovely. My skin is clear and smooth. It works well with other products.

More reviews Less reviews

Ingredients

What are the key ingredients?

Niacinamide/Vitamin B3
Very effective skin-restoring ingredient that can visibly improve the appearance of enlarged pores, uneven skin tone, fine lines and dullness.

Vitamin C
One of the most well-researched vitamins for skin, shown to improve the look of multiple signs of ageing, brighten uneven skin tone, as well as provide skin-restoring and soothing benefits.

Acetyl glucosamine
Skin-replenishing ingredient that can do a lot for diminishing signs of ageing. It can have skin-brightening benefits, particularly when combined with niacinamide.

Ingredients:
Aqua, Niacinamide (skin-restoring/skin-replenishing), Pentylene Glycol (solvent/texture enhancer), Butylene Glycol (slip agent/hydration), Glycerin (skin-replenishing), Acetyl Glucosamine (skin-replenishing), Ascorbyl Glucoside (vitamin C/antioxidant), Glycyrrhiza Glabra (Licorice) Root Extract (skin-soothing/antioxidant), Spiraea Ulmaria (Meadowsweet) Extract (antioxidant), Portulaca Oleracea (Purslane) Extract (antioxidant), Camellia Japonica Flower Extract (antioxidant), Epigallocatechin Gallate (green tea-derived antioxidant), Boerhavia Diffusa Root Extract (skin-soothing), Camellia Sinensis (Green Tea) Leaf Extract (antioxidant), Allantoin (skin-soothing), Lecithin (skin-replenishing), Pullulan (texture enhancer), Panthenol (hydration), Silica (absorbent), Xanthan Gum (thickener), Sclerotium Gum (thickener), Propanediol (hydration), Sodium Phytate (chelating agent), Phenoxyethanol (preservative), Ethylhexylglycerin (preservative)

FAQ

Why did Paula's Choice formulate another niacinamide product?

The Clinical Niacinamide 20% Treatment was the brainchild of Paula herself. Having experienced such great results with the 10% Niacinamide Booster, she wanted to see if doubling the percentage would give her even better results on her most stubborn concerns (clogged pores and sebaceous hyperplasia). The results exceeded expectations and the rest is history. Along with niacinamide, Paula and team added some key supporting ingredients that really make this product a standout for anyone wanting to tackle large pores, rough bumpy texture and uneven skin tone.

How is the Clinical Niacinamide 20% Treatment different from the 10% Niacinamide Booster?

Most notably, it contains twice the amount of niacinamide and is delivered in a gel texture vs. a liquid. Additionally, it includes a variety of supporting ingredients such as meadowsweet, purslane and camellia japonica to help reduce excess oil and offset collagen-degrading enzymes that can lead to stubborn, enlarged pores.

Should customers use the 10% Niacinamide Booster, the Clinical Niacinamide 20% Treatment or both?

It depends on the severity of their primary concerns. If they have more advanced concerns such as stretched, sagging pores, orange peel-like texture, or stubborn oil-related bumps, the 20% strength is a great option. If their concerns are mostly around enlarged pores and uneven skin tone, the 10% strength will meet their needs. Customers can also alternate the two at a cadence that works best for them (this may take some experimenting).

Why is the 20% Niacinamide a part of the Clinical line vs. Boosters?

Clinical is all about advanced solutions which makes it the perfect collection for this new, potent treatment. As an intensive results-oriented product, the Clinical Niacinamide 20% Treatment was specifically formulated to tackle complex skincare concerns for those who find the 10% Niacinamide Booster isn't quite enough. All Clinical products are formulated to mix into a multitude of routines, giving customers just the right dose they need to target their specific concerns.