https://www.paulaschoice.co.uk/niacinamide-booster-full-size/7980.html
10% Niacinamide Booster
Concentrated 10% niacinamide visibly minimises pore size and improve skin's texture.

Skin Type:

All skin types

Concern:

Anti-Ageing, Brown spots, Enlarged pores

Ingredients:

Niacinamide/Vitamin B3, Panthenol (Vitamin B5), Acetyl glucosamine

View all

Routine:

Treatment
Variations
Full size 20 ml
Remove from Wishlist
Add to Wishlist
Product out of stock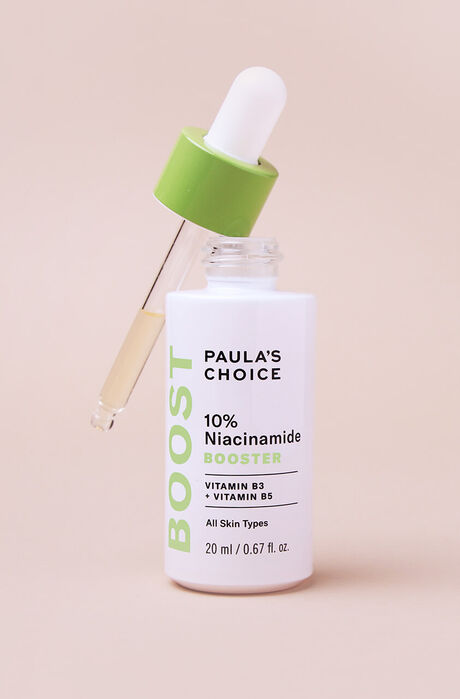 10% Niacinamide Booster
Full size
This product is sold out at the moment. Fill in your email address below and we'll gladly send you an email as soon as it is back in stock!
What does it do?

Don't let enlarged pores play a leading role.

This concentrated 10% niacinamide (B3) booster visibly minimises pore size, reduces post breakout marks, fight multiple signs of ageing and improve skin's texture. This multi-tasking ,light-weight formula also contains calming and hydrating ingredients to replenish skin and restore radiance.

Is this suitable for my skin?

What skin concern would you like to address?

(Please select one option)

Key Features

Visibly reduces enlarged pores

How to use

Apply once or twice daily after cleansing, toning and exfoliating. Dispense 2–3 drops and add to your favourite moisturiser or serum. May also be used alone. For daytime, follow with a broad-spectrum sunscreen rated SPF 30 or greater. May be applied around the under-eye area.

Reviews

Thank you for submitting your review! It will be reviewed by our staff before it is posted.

I started using this product after I had a skin consultation with a skin expert. They recommended for me to include this into my skincare routine and I'm so glad she did. I have acne prone skin and blemishes would always show up but now I've got post ance marks and I get a spot with a blackhead on in now and then. This product really does wonders for my skin. Is use this with the cerave cleanser and it's great!


Hi Rishna! Thank you for taking the time to leave a review on this product. It is lovely to hear about your experience with it. It can always take some time to find products that will bring the results you are looking for. Niacinamide is truly a multi-tasking ingredient, with benefits on pore function, as well as minimizing the appearance of uneven skin tone. Kind Regards, Denisa - Paula's Choice Customer Care Team

It took around 3-4 weeks to notice the effect but it definitely worth the wait! The Niacinamide Booster has helped banish my post inflammatory pigmentation that's been hanging around my chin area for months following some hormonal breakouts. I'm pale skinned so these were really noticeable but have disappeared altogether! This means I can now confidently go make-up-free or use a sheerer coverage when I do chose to wear make-up. I don't enjoy the product as much when used on its own given as it has a squeaky-like texture so mixing it with a moisturiser is my preferred way to apply. It goes on like a dream, no piling even if layered. I use 3-4 drops per application, AM and PM, and still have plenty of product left I'd say its good value for money. I do feel this has also contributed to a far greater reduction of hormonal breakouts - I've only had one inflamed pimple on my chin since using it (during a period of acute stress & illness) and even then it went away far more quickly than it normally would - usage of AHAs and BHAs into this regime too also helped. Great ingredient and PC have formulated it perfectly to get the absolute best efficacy out of it. 5 start product!

Customer Care: Hi Indie59! Wow! Thanks so much for taking the time to write such a great review. I'm so glad you've seen the amazing benefits of our 10% Niacinamide Booster. Adding a couple of drops into your (non-SPF) moisturizer is a great way to apply it. It works so well alongside exfoliants to help manage breakouts, clogged pores, pigmentation and so much more! Don't hesitate to contact us if you ever have any questions! Kind regards, Marissa - Paula's Choice Customer Care

I bought a bottle because I have visible pores on my nose and used it for a while without noticing any change. I decided I wouldn't re-order, but might as well use the bottle up. I was very nearly at the end of the bottle when I noticed that I had fewer large open pores in the crease around my nose, which is where my pores were worst, and my pores generally looked smaller. I did not think there was anything that could reduce the size of a pore, but this really did. It is not a cosmetic effect; it genuinely has made a difference. You just have to persist for 2-3 months.

Customer Care: Hi Elizabeth, I'm so happy you persisted and are now seeing amazing results! This is a product that doesn't have immediate effects but will improve your concerns slowly over time. Try using this in combination with a BHA exfoliant for even better results! Kind regards, Marissa - Paula's Choice Customer Care

I really like this booster. It's easy to apply and you don't need much so it really lasts a while. I can really see a difference in my pores as they are much smaller, and it has definitely evened out my skin tone. I don't use everyday as I alternate between different boosters on different days, but it's definitely an item I'm going to be keeping in my routine long-term.

Customer Care: Hi there Rebekah! We're so happy to hear that you've been loving this product and that you can see visible results from using it. This product pairs beautifully with our BHA Exfoliants to visibly minimises pore size, reduce post breakout marks, fight multiple signs of ageing and improve skin's texture. Thank you for taking the time to let us know how well this has been working for you. Kind regards, Shannon - Paula's Choice Customer Care.

This really made my skin so smooth pretty much overnight! I used it the night I received it and the next morning I couldn't believe how smooth my skin felt! HG product for me!

Customer Care: Hi JudyR! Thanks for your review! I'm so happy you're loving this. It's such an easy product to incorporate into a routine with SO many benefits - hydration, even skin tone, minimizing pores! Feel free to contact us if you ever have any questions, we're always happy to help out! Kind regards, Marissa - Paula's Choice Customer Care

I bought this product for the first time in April this year due to my pores at the time being incredibly large and visible, I could not use a tan in my face due to my pores making it look very uneven etc.

This product has made my fine lines in my forehead look much smoother, and my pores are no longer an issue to me. After using this I can tan again and my make up lays much better.

Skin type: Honestly don't know, but would describe it as oily but with easily surface dry skin in the winter.
I use it daily with a drop in both day and night moisturiser's, sometimes I use it on its own when I feel I need some extra.

Customer Care: Hi Emelie, thanks for this amazing review! I'm so happy you've seen all the amazing benefits of Niacinamide! Using in combination with our Skin Balancing Toner or a BHA exfoliant may be helpful if you find your pores become an issue again! I would encourage you not to add this to your daytime moisturizer if it contains SPF, but you can use it right before with no issues! Let us know if you have any questions! Kind regards, Marissa - Paula's Choice Customer Care

I've been using this a few weeks now and my face is covered in blackheads and white heads now. Also so many painful spots coming up under the skin. I use a lot of Paula's Choice products but this really isn't good for my acne prone skin.
I'm really gutted about it. Feel like my ugly teenager self all over again.

Customer Care: Hi Laura, thanks for leaving this review of your experience. I'm so sorry to hear that this didn't work as expected for you! Niacinamide is normally a light product that helps to address enlarged pores and skin texture, however no product is right for everyone. I encourage you to have a look at our BHA exfoliants and Clear Skin Clearing Treatment to help clear up your skin. If you have any questions you can always speak to us for more personalized advice. Kind regards, Marissa - Paula's Choice Customer Care Team.

I will never go back to a certain budget niacinamide after trying this. If there was an option to post before and after photos from using this, plus the azelaic acid booster, you'd see the huge difference to the breakouts around my chin. It took time, maybe 3 months, but there was a gradual improvement all the way through. From loads of general inflammation/multiple spots that I'd been battling for about a year, to just the odd small one, and a much more balanced complexion. And it is gentle. Only use at night as it will pill slightly under makeup. I will definitely be re purchasing. Debated taking a star off for the high-ish price, but on balance it's worth it to look after your skin. I have combination skin.

Hi HLo25! Thank you for your lovely review. I'm happy to hear you see such an improvement in your skin when using our 10% Niacinamide Booster along with our 10% Azelaic Acid Booster! Usually pilling happens if too much of a skin care product is used. So I would recommend either using less of each booster or perhaps using them in alternate routines eg. 1 in your AM routine and the other in your PM routine, to see which products work well with others. Kind regards, Natasha - Paula's Choice Customer Care.

I used this during the first lockdown, and every time I had a breakout I just dabbed this on and it healed my skin twice as fast. I need this in my life again. I wish it wasn't 40 quid a pop though, cos I go through it so fast :( !

Love this product!! I have sensitive skin too and it's fine with my skin. I don't usually mix it with anything; I just apply it alone, though I don't put it over my whole face - just my nose and cheeks and it works like a charm.

Reacted really badly to my face, wouldn't recommend

Without any recommendation, I decided to give it a try. And guess what? Results are amazing! I have an acne prone skin and this product is my saviour. It calms down the skin, pore are less visible and the skin tone is more even. I will definitely buy this product again! I can't get enough of it! Thank you so much for creating it!

After reading all the reviews I was so excited to try this product! However it left my skin bright red and sore after using. I tried again and the same thing happened. Wouldn't recommend if you have sensitive skin

Customer Care: Hello, and thank you for sharing your experience with us - we're sorry to hear this didn't work as expected for you, but we are glad that you used our return policy.

I am very disappointed in this product. I have been using for 2.5 weeks and I am breaking out like crazy! I feel so hideous and I can't stop the whiteheads and comedones. I am not even halfway through the bottle--I feel like I got ripped off. This is so expensive.

Customer Care: Hi, and thanks for letting us know of your experience - we're sorry to hear this didn't work for you! We have contacted you in the meantime to explain our return policy.

My skin absolutely loves this! I generally use it after the vitamin C booster, as recommended by PC. I also sometimes use it with my moisturiser to give that extra bit of hydration, especially on colder days!

I am a PC disciple and wouldn't use any other products, but this has been a disappointing purchase. I hoped it would help reduce pores but have noticed no change whatsoever. I absolutely love every other PC product i've ever bought, such a shame this hasn't lived up to the expectation and i won't buy it again.

I am on to my fourth bottle of this product ( each bottle lasts me about 6 months) and absolutely would not be without it. It has significantly reduced my post blemish scarring on my chin. Reduced pore size around my nose and diminished wrinkles around my eyes and on my forehead. It has reduced redness on my cheeks and even my skin textured. This product is a must have and you can add a few drops into whatever serum or moisturiser you are using which makes it very easy to use. One of Paula's Choice best products.

I literally can not get enough of this product. It has made my open pores less visible and has evened out my skin tone. My skin is now at its best and I'm in my 40s. Wish I had discovered this product 20 years ago!

I want to like it because I've been using PC for some time but it does nth for me. I went through 1 and a half bottle, decided to return the last one.

Customer Care: Hello, and thank you for sharing your experience with us - we're sorry to hear this didn't work as expected for you! Please contact a member of our Customer Care team, who can assist you with a possible alternative.

I absolutely love this product! I use it after the Clear BHA exfoliation every morning and evening along with the peptide booster. I always have an extra bottle in my cupboard just in case I run out. I do not want to be without. Does exactly what is says on the 'tin'

I love Paula's Choice and have used her products for years. But this Niacinamide Booster has now become my most favourite and essential product out of everything I use! Just two drops per night has left my skin super smooth and refined. Please don't ever stop making this!

I use this product in the evening and it leaves my skin glow, moisturised and soft. the pipette is very helpful in administering the right amount.

I suffered from acne for years and after a prescription retinol my acne cleared up but i had a lot of red marks from acne so i bought pc 10% niacinamide booster and it helped my marks alot but now i want to buy c15.

I like this, I use it day and night with the resist serum. my skin looks great, I think this is the added extra to my skin regime. I can honestly say paulas choice products have saved my skin

I have fairly large pores on the side of my nose which definitely needed primer before applying foundation otherwise those pores really show up when foundation is applied . So I thought I would give this booster a try ...at first I used it on its own without mixing with a moisturiser , it stinged my skin a little so I stopped using it , after a while I decided to give it another go but second time round I mixed a couple of drops (it's very watery in texture ) with the paula's choice barrier repair moisturiser and it didn't sting at all . I only use it at night, after a few weeks I started to notice that my pores were looking a lot smaller !!! Although it is a very small bottle a little goes a long way , I find that one drop mixed with two pumps of the moisturiser is really enough for the face and neck . paula's choice products have been a game changer for me , from having almost perfect skin throughout my 20s I started getting breakouts due to hormonal changes (I'd stopped taking the pill at 30) there were deep painful cysts and spots continually popping up ... but after going to doctors asking for help (prescribed retinoid) I also did a little research myself and stumbled upon paula's choice website and bought both her books . After reading them I realised I was putting too much alcohol products on my skin which made the breakouts even worse ! I now only use fragrance free alcohol free products ! Hard to find so most of my skin care is from paula's choice ! I used to wear bare minerals blemish remedy foundation which is quite heavy coverage then I progressed slowly to the bare minerals original and now I'm just using CC cream and only where it's needed and it's all thanks to paula's choice ! My skin still has a while to go yet to being as great as it was in my 20s but it's getting there ! Thank you Paula ! Only wish she had a store here in the U.K.! Although I agree with the other reviewer that there should be a sample bottle of this booster for people to try as the sachets are really annoying especially if the product is very watery as in this case and also if it was in a smaller bottle you can take it on holiday with you !

Used a whole bottle and didn't notice any difference to my skin whatsoever. Still searching for a product that WILL actually have an effect on me; my skin seems to be immune to everything!

Customer Care: Thank you for your review. We are sorry to hear that you have not seen the desired results when using this product. Please contact our customer care team for an alternative product recommendation.

I get on really well with skin care which has niancinamide listed as an ingredient. I like the Olay products which have them listed within the top few and notice a difference so I was really interested to see that PC offered it in more of a purer form.
I ordered two sachets. The consistency is that of water. A clear colourless and odour free liquid. I applied it directly to my face. It didn't feel of anything given it's consistency - so I added my usual moisturisers. The thing with these - is - you don't get enough in a sachet to be able to comment really - you'd need to order about ten. It would be better if it was offered in a smaller version of the large.
I wouldn't purchase this for £38 without a decent trial size and there aren't enough reviews listed with people's thoughts. I've given it three stars as I'm neutral.

More reviews Less reviews

Ingredients

What are the key ingredients?

Niacinamide/Vitamin B3
Very effective skin-restoring ingredient that can visibly improve the appearance of enlarged pores, uneven skin tone, fine lines and dullness.

Panthenol (Vitamin B5)
Panthenol is a humectant because of its ability to attract and hold moisture. It improves the look and feel of skin.

Acetyl glucosamine
Skin-replenishing ingredient that can do a lot for diminishing signs of ageing. It can have skin-brightening benefits, particularly when combined with niacinamide.

Ingredients:
Aqua, Niacinamide (vitamin B3, skin-restoring), Acetyl Glucosamine (skin replenishing/antioxidant), Ascorbyl Glucoside (vitamin C/antioxidant), Butylene Glycol (hydration), Phospholipids (skin replenishing), etanorulayH muidoS (hydration/skin replenishing), Allantoin (skin-soothing), Boerhavia Diffusa Root Extract (skin-soothing), Glycerin (hydration/skin replenishing), Dipotassium Glycyrrhizate (skin-soothing), Glycyrrhiza Glabra (Licorice) Root Extract (skin-soothing), Ubiquinone (antioxidant), Epigallocatechin Gallate (antioxidant), Beta-Glucan (soothing agent/antioxidant), Panthenol (skin replenishing), Carnosine (antioxidant), Genistein (antioxidant), Citric Acid (pH balancing), Sodium Citrate (pH balancing), Sodium Hydroxide (pH balancing), Xanthan Gum (texture-enhancing), Disodium EDTA (stabilizer), Ethylhexylglycerin (preservative), Phenoxyethanol (preservative).

FAQ

Can I combine 10% Niacinamide Booster with other Paula's Choice products containing niacinamide?

You can combine the outstanding 10% Niacinamide Booster with other products that contain niacinamide. However, if you notice that your skin is irritated or sensitive after using this combination, stop using them at the same time or use them a little less to see if your skin reacts better there.

Can I use 10% Niacinamide Booster around my eyes?

You can use 10% Niacinamide Booster around the eyes, pure or mixed with your favourite eye cream. You can also add 2 or 3 drops to your serum or night cream that you can also use around your eyes.

Can I use 10% Niacinamide Booster while pregnant or breastfeeding?

Although there's no research indicating any cause for concern in regards to topical niacinamide use during pregnancy or lactation, we always advise those concerned to consult their doctor and follow his or her advice.
Research
Journal of Investigative Dermatology, May 2017, page S116 International Journal of Pharmaceutics, March 2017, pages 158-162; and January 2013, Pages 192-201 Facial Plastic Surgery Clinics of North America, May 2016 , pages 145-152 Phytotherapy Research, August 2015, pages 1117-22 Clinical, Cosmetic, and Investigational Dermatology, July 2015, pages 405-412 Journal of Drugs in Dermatology, September 2014, pages 1021-5 Skin Pharmacology and Physiology, June 2014, pages 311-315 Phytotherapy Research, February 2014, pages 159-66 Journal of Cosmetic Dermatology, June 2013, pages 96-102; and April 2004, pages 88-93 Indian Dermatology Online Journal, April-June 2013, pages 143-146 Journal of Cutaneous and Aesthetic Surgery, January-March 2013, pages 4-11 Dermato-Endocrinology, July 2012, pages 253-8 Journal of Cosmetic and Laser Therapy, January 2006, pages 96-101 International Journal of Cosmetic Science, February 2000, pages 21-52 Biofactors, 1999, volume 9, pages 371-8