https://www.paulaschoice.co.uk/lip-and-body-treatment-balm-full-size/5500.html
Lip & Body Balm
On-the-spot relief for dry lips and skin.

Skin Type:

All skin types

Concern:

Very dry skin

Ingredients:

Bisabolol, Shea Butter, Vitamin C

View all
Variations
Full size 14.17 ml
Remove from Wishlist
Add to Wishlist
Product out of stock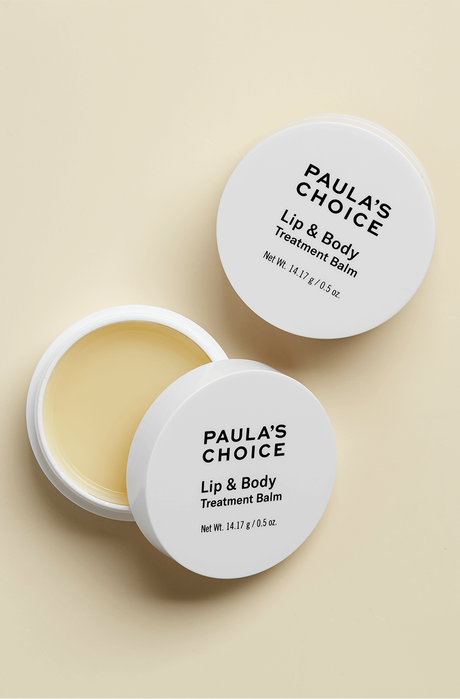 Lip & Body Balm
Full size
This product is sold out at the moment. Fill in your email address below and we'll gladly send you an email as soon as it is back in stock!
What does it do?

On-the-spot relief for dry skin.

This ultra-rich balm offers immediate and long-lasting relief for dry, flaky lips, cuticles, heels, and elbows. From first use the blend of emollients and nourishing, non-fragrant plant oils leave lips and skin feeling softer than ever before.

How to use

Massage onto cuticles, elbows, knees, heels, lips—anywhere there is extremely dry or chapped skin. May be used as often as needed.

Reviews

Thank you for submitting your review! It will be reviewed by our staff before it is posted.

Definitely working!

Customer Care: Hi there Laura! We're so happy to hear that you've been loving our Lip and Body Balm. We hope that it continues to work well for you! Kind regards, Shannon - Paula's Choice Customer Care.

I'm a big fan of Paula's Choice products but I found this surprisingly bad. I thought it would be like a rich silky balm but it's like rubbing a bit of solid beeswax, it's not soft enough for any to really come off on your finger to apply. Maybe it's just the cold climate here in Scotland and I should leave it on the heater before I try to use it!

Hi CLM13, thank you for taking the time to let us know how you found our Lip and Body Balm. I'm sorry to hear that this product has disappointed you. Due to the fact that this product is a balm, in colder environments it does solidify but will soften beautifully when warmed up. Kind regards, Shannon - Paula's Choice Customer Care

This lip & body balm is amazing! I was sceptical at first as it was quite expensive however it has become a staple in my beauty collection. It comes in a generous sized pot, a little goes a long way! It has a thick yet smooth texture & it absorbs really well. The scent is ok, kind of waxy/Vaseline.
I put it on my lips & cuticles every night and wake up with hydrated & healthy lips. It has saved my horridly dry cuticles from a poor gel manicure.
Overall, a staple in my beauty collection. May seem expensive however it will last forever. I hope Paula never discontinues this!!

Despite the price, which is at first a little off putting, this is simply a great product - akin to über Vaseline (when Vaseline alone just won't cut it!).
Don't get me wrong, Vaseline is great, especially if you're applying to larger areas such as feet - i.e. the overnight moisturiser/Vaseline/clingfilm/sock layer combo - but this has no smell, no taste, doesn't result in the allergic blistering I get from EA's 8hr cream, and lasts for ages...
Oh, BTW, the trick to getting it out of the pot is to put your finger in the pot and push forward lightly, scraping a teensy bit out of the tub. Or use an old, clean lolly stick, whichever works for you :)

I got this free as part of a promotion when spending £50. I wouldn't spend £13 on it I think that is too expensive. I like it because it is a very moisturising balm in a tub that is large for a lip balm (not one for the hand bag). It is definitely one of the better lip balms that I have used. I don't really use it on the body because I prefer a lotion for body areas. I will use the tub up but won't buy another.

I get very dry chapped flaky lips in the winter which I end up rubbing to get the flakes off. I use a lip exfoliator from elf and this at night. It doesn't irritate the lips at all but I finds fragrance/taste free lip balm very strange. It smells like the plain Vaseline so no surprise that it has petrolatum in it. It does work a lot better than Vaseline though!

Was really excited to try this one out as having the most sensitive skin in the world most lip balms irritate me. As I have been getting on ok with other Paulas Choice products I was hoping this one may be different.
I used it on my lips and hands for a couple of days and was initially really impressed with the results so couldn't help myself slathering it on often. However by the night of the second day the irritation set in and unfortunately I had to stop using it.
If your skin isn't too sensitive don't let my review put you off, this really is a lovely product, it just unfortunately wasn't for me.
P.s. Managed to calm the irritation down within a couple of days with the Resist Renewal Oil Booster... fantastic product!

Customer Care: Thank you for your review, if you need our assistance in finding an alternative, please let us know.

I'd never of believed the difference this balm could make to my dry, flaky lips until I tried it. After just a couple of days they were much softer and smoother - May even try wearing lipstick again! Not at all greasy but really seems to sink into the skin so great at night after my skin care regime. Nice big size so a worthwhile investment.

Best lip care product I've ever tried. I have tried dozens of lip balms over the years and this is the best one I have ever tried. It doesn't seem to make the lip even more dry and irritated after prolonged use, as many other lip products do. After using this product for just a couple months, I no longer have to deal with chapped/dry/peeling lips (for the first time in my life!). It would be great if Paula's Choice could make one with spf too.

I bought this thinking I would use it only as a cuticle balm but gave it a go on my lips expecting to be disappointed but was so impressed with the results that I will trade this in for the Elizabeth Arden 8 Hour Protectant, which I have used on my lips for the last 7 years!, in a heart beat!!! I spend a lot of time outdoors and in the English climate the 8 hour protectant was never quite enough to keep my lips moisturised. But Paula's Choice, twice a day, has my lips looking smooth and plumped...the best they ever have. Thank you Paula xxx.

Great lip care product! I am a lip care product addict and I have very dry lips so naturally I've tried lots of products on the market. I was using By Terry baume de rose before I've tried this one. I use it only twice a day as a part of my morning and evening skincare routine and I don't have to reapply it through out a day. It makes my lips feel moisturised and nourished all day long. Great product, will definitely repurchase.

Definitely recommend this. Very moisturising, no more dry lips since using this and I hate when I use a lip product and it has fragrance and you get the taste of it you get in your mouth, this has none of that and one of the reason I love using.

The only problem I have with it is it's in a jar and I find it slightly off-putting having to put my finger in it and apply it like that and so would much rather it be in a tube.

This is, quite simply, the best lip product in the world. I have been plagued by chapped, bleeding lips since infancy and have assumed that I just wasn't using the dozens of products I have purchased correctly. Buying into the mythology of the cosmetics industry is an expensive business. Along with Paula's advice of never going to bed with naked lips has saved my smile this winter and its worth every penny. It is indeed the BALM!

I love this it really helps my dry lips and has great ingredients in it. The only thing I don't like is its really thick so trying to get it on your finger and out of the tub is abit of a fight but apart from that it's lovely.

I suffer from dry chapped lips during the colder months and have bought many many lip products that promise to solve the problem. The vast majority of them have been disappointing. Not this product! When I received it I actually had a cold sore on my top lip and I could really feel it working to soften the area around it and help it heal. Since I've been using this balm my lips are in the best condition they have ever been. Before I would often avoid putting on lipstick during winter as I couldn't get rid of the little peeling bits on my lips. I use the balm around 3-4 times a day, only the tiniest amount is enough and as the jar size is quite generous, I could see it lasting for long time. It would be lovely if it came in a stick form too.

Great size and great product.

This is great. I use this mainly on my lips I am outside a lot and haven't had dry chapped lips for a couple of years now.
I would also like to see this in a stick, for conveiniance and hygiene.

More reviews Less reviews

Ingredients

What are the key ingredients?

Bisabolol
Soothing ingrediënt typically extracted from chamomile.

Shea Butter
This plant lipid, extracted from the karite tree, is used as an emollient and has smoothing properties for dry skin. it's also a rich source of antioxidants.

Vitamin C
One of the most well-researched vitamins for skin, shown to improve the look of multiple signs of ageing, brighten uneven skin tone, as well as provide skin-restoring and soothing benefits.

Ingredients:
Ricinus Communis (Castor) Seed Oil (non-fragrant oil/emollient), Petrolatum (emollient), Euphorbia Cerifera Cera (Candilla) Wax (emollient/texture-enhancing), Lanolin (emollient), C10-30 Cholesterol/Lanosterol Esters (emollient/skin replenishing), Cera Alba (Beeswax, texture-enhancing), Ozokerite (texture-enhancing), Ethylhexyl Palmitate (emollient), Copernicia Cerifera (Carnauba) Wax (emollient/texture-enhancing), Butyrospermum Parkii (Shea) Butter (emollient/antioxidant), Jojoba Esters (emollient), Triticum Vulgare (Wheat) Germ Oil (non-fragrant oil/emollient), Bisabolol (skin-soothing), Tetrahexyldecyl Ascorbate (vitamin C/antioxidant), Tocopheryl Acetate (vitamin E/antioxidant), Trihydroxystearin (emollient), Hydrogenated Polyisobutene (emollient/texture-enhancing).

FAQ

Which Lip Product is Right for Me?

Paula's Choice offers different products for keeping lips in beautifully smooth, kissable condition. Sun protection is vital for healthy lips so there is a Lip Balm SPF 50 which is a rich, velvet balm to restore dry lips and a Lip Gloss SPF 40 with a sheer pink finish, a glossier option for keeping lips moist and shielded from the sun's rays. The Lip & Body Treatment Balm is best for nighttime lip care. This ultra-emollient product keeps lips smooth, soft, and protected from external causes of dryness such as indoor heat or low humidity. Lip & Body Balm may also be used as a moisturiser for cuticles, feet, hands—anywhere there is dry, rough, chapped skin. Lip & Body Treatment Balm may be used any time, but it should be followed with a product containing sunscreen if your lips or skin will see daylight.
Research
Current Pharmaceutical Biotechnology, 2014, issue 2, pages 173-81 The Journal of Clinical and Aesthetic Dermatology, June 2011, issue 6, pages 45-55 Italian Journal of Dermatology and Venerology, December 2013, issue 6, pages 687-91 Dermatologic Therapy, May-June 2012, issue 3, pages 229-33 Indian Journal of Dermatology, May-June 2016, issue 1, pages 279-287 Indian Dermatology Online Journal, April-June 2013, issue 2, pages 143-146 Indian Journal of Clinical Biochemistry, April 2013, issue 2, pages 110-115