https://www.paulaschoice.co.uk/hyaluronic-acid-peptide-lip-booster-full-size/9580.html
Hyaluronic Acid + Peptide Lip Booster
Keep lips smooth, full and youthful-looking with regular use of this advanced anti-ageing lip treatment.

Skin Type:

All skin types

Concern:

Anti-Ageing

Ingredients:

Hyaluronic Acid , Peptides , Squalane

View all
Variations
Full size 10 ml
Remove from Wishlist
Add to Wishlist
Product out of stock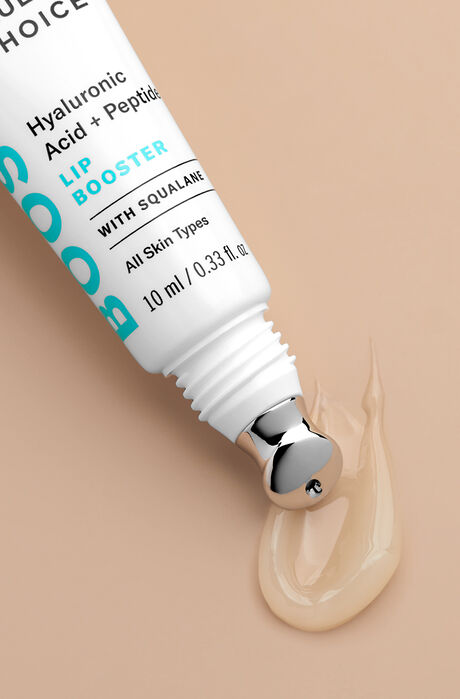 Hyaluronic Acid + Peptide Lip Booster
Full size
This product is sold out at the moment. Fill in your email address below and we'll gladly send you an email as soon as it is back in stock!
What does it do?

Give lips a full boost

This innovative, dewy-finish lip treatment goes beyond moisturising to give lips a fuller, younger look. The powerful blend of advanced ingredients counteract thinning, loss of volume and fine lines to keep lips looking youthful for longer.

Hyaluronic acid filling spheres work like a sponge to hold moisture and expand it to improve lip volume. Firming peptides help to reduce fine lines, while squalane reduces moisture loss and restores a soft and supple feel to lips.

Key Features

Gives lips a fuller, younger look

Visibly firms & smooths lines

How to use

Apply throughout the day as needed and before bedtime. For daytime, let the Hyaluronic Acid + Peptide Lip Booster set and then finish with a lip sunscreen rated SPF 30 or above. Use this product regularly for maximum results. Store at 20-25° C. Metal applicator can become hot with prolonged exposure to heat or sunlight.

Reviews

Thank you for submitting your review! It will be reviewed by our staff before it is posted.

I'm so disappointed with this. It's quite expensive and I thought it would be better. It leaves a weird taste on your mouth and also gave my lip a huge rash. I'm not even bothering to return, it's going straight in the bin.

Customer Care: Hi Mags, I'm so sorry that you have responded as expected to our Lip Booster. Unfortunately, not everyone reacts in the same way to skincare ingredients, and some can be more sensitive to a particular ingredient than others. I would encourage you to contact a member of our team who can assist you. Kind regards, Marissa - Paula's Choice Customer Care

I love this. I am not a fan of lip balm because of the residue that it always leaves on the lips. This is product is light, cooling and easily absorbed. And more importantly it works! I keep it in my handbag during the day and apply as necessary and then before bed. It might seem expensive but you need so little for each application and I think you will find that you don't need to use it as often as a balm because it is so effective. I can't recommend it highly enough.

Customer Care: Hi Jilly, thank you for taking the time to leave your review of our Lip Booster. We're so glad that you're loving this product so far. Your lips will not only be hydrated and softened by using this product, but they'll benefit from all the amazing anti-aging benefits as well! The ingredients work beautifully together to give your lips a fuller, younger look as well as firm and smooth fine lines that may appear. Kind regards, Shannon - Paula's Choice Customer Care

This is amazing, I've only used it for a few nights applying it right before bed and my lips have already improved. I have noticeable fine lines which are further exacerbated the drier my lips get. My lips feel hydrated, smooth, plumper and look so much healthier using this product, a definite regular buy for me

Customer Care: Hi Amy! Ah we're so happy to hear how much you're loving our new Lip Booster. Using it before bed is a great way to ensure that you start your day with lips that are hydrated and nourished. It's great to hear that you are already starting to see the benefits of it's wonderful anti-aging properties. Kind regards, Shannon - Paula's Choice Customer Care

This Lip Booster arrived in the best season. The dewy finish is beautiful and it feels so nice to apply it with the metal applicator. My lips definitely feel fuller and hydrated. This product will definitely save my lips during the winter.

Customer Care: Hi Amapola! We're so happy to hear that this product has left your lips feeling beautifully hydrated. This innovative booster is designed to not only hydrate your lips but also visibly firm and smooth them, keeping those signs of age at bay. The metal applicator also gives a soothing and cooling feeling. It's great to know that you love it so far. Kind regards, Shannon - Paula's Choice Customer Care

More reviews Less reviews

Ingredients

What are the key ingredients?

Hyaluronic Acid
Component of skin tissue. A superior skin-replenishing ingredient that can boost skin's moisture content, soothe, and defend against moisture loss.

Peptides
Portion(s) of amino acids, some have a remarkable skin-soothing effect, others can improve the appearance of wrinkles, loss of firmness, and help to soften the look of expression lines.

Squalane
A natural component of human skin sebum (oil). It is a wonderfully moisturising ingredient as well as being a source of replenishing fatty acids and antioxidants.

Ingredients:
Ricinus Communis (Castor) Seed Oil (emollient), Diisostearyl Malate (emollient), Hydrogenated Castor Oil/Sebacic Acid Copolymer (emollient polymer/texture enhancer), Theobroma Cacao (Cocoa) Seed Butter (emollient), Dipentaerythrityl Tetrabehenate/Polyhydroxystearate (hydration/slip agent), Polyamide-8 (emollient/film-forming agent), Polyglyceryl-3 Beeswax (emulsifier), Dimer Dilinoleyl Dimer Dilinoleate (emollient/texture enhancer), Ethylhexyl Palmitate (emollient solvent), Triisostearin (skin-conditioning texture enhancer), Squalane (emollient antioxidant), Butyrospermum Parkii (Shea) Butter (emollient antioxidant), Cetearyl Ethylhexanoate (emollient), Dipalmitoyl Hydroxyproline (hydration), Aqua (hydration), Arginine/Lysine Polypeptide (skin-restoring/hydration), Butyrospermum Parkii (Shea) Butter Unsaponifiables (skin-replenishing), Tocopherol (vitamin E/antioxidant), Tribehenin (hydration), Palmitic Acid (skin-replenishing), Hydroxystearic Acid (emollient), Sorbitan Isostearate (emulsifier), Trihydroxystearin (hydration), Glycine Soja (Soybean) Oil (non-fragrant antioxidant plant oil), Pentaerythrityl Tetra-di-t-butyl Hydroxyhydrocinnamate (antioxidant), Portulaca Pilosa Extract (antioxidant), muidoS etanorulayH (skin-replenishing/hydration), Lactic Acid (hydration), Sucrose Cocoate (emulsifier), Palmitoyl Tripeptide-1 (skin-restoring), Palmitoyl Tripeptide-38 (skin-restoring), Glucomannan (hydration), Sorbic Acid (preservative).

FAQ

Does the Hyaluronic Acid + Peptide Lip Booster provide an instant plumping effect?

No, it is not an instant lip plumping treatment. The Hyaluronic Acid + Peptide Lip Booster is positioned as an anti-ageing lip treatment that promotes smoother, fuller-looking lips without stimulants like potent menthol derivatives or pepper extracts which cause lips to swell via inflammation (irritation). Some lip-plumping products also contain potent fragrant plant oils that can stimulate circulation to lips, heightening their natural colour and leading to a feeling of warmth. Sadly, this process is also irritating, especially if done daily.

Is the texture of the Hyaluronic Acid + Peptide Lip Booster sticky or tacky?

The Hyaluronic Acid + Peptide Lip Booster has a dewy, gloss finish. It is not tacky or sticky.

Will the Hyaluronic Acid + Peptide Lip Booster reduce fine lines around lips?

The Hyaluronic Acid + Peptide Lip Booster will help to reduce the superficial fine lines around the mouth and lip area. Smoker lines tend to be deeper and therefore may require a more in-depth corrective cosmetic procedure. When used consistently, the Hyaluronic Acid + Peptide Lip Booster can also be a great post-treatment product to help maintain treatment results.

Does the Hyaluronic Acid + Peptide Lip Booster offer sun protection?

The Hyaluronic Acid + Peptide Lip Booster is an anti-ageing treatment and not intended to provide sun protection. We've added this targeted lip treatment to be an exciting addition to our Booster collection. The main purpose of this product is to specifically target hydration, moisture, and fullness concerns.

Can you top the Hyaluronic Acid + Peptide Lip Booster with the Paula's Choice Lip Balm SPF 50?

We recommend applying the Hyaluronic Acid + Peptide Lip Booster, letting it set and then following up with the Lip Balm SPF 50.

What is the benefit of the metal applicator?

The metal tip applicator (the same as our Resist Anti-Aging Eye Gel) is cooling, soothing and comforting. It also allows the product to glide over lips easily. Especially on lips that may be dry, irritated or recently treated.

Do I need to follow the Hyaluronic Acid + Peptide Lip Booster with a lip balm?

No, but if your lips are particularly dry or chapped, sealing this product with a dry lip treatment or an emollient balm can help maximise results over time.

What is the added value of using Hyaluronic Acid + Peptide Lip Booster instead of applying the Hyaluronic Acid and Peptide Boosters on lips?

The fast answer is that you have one product (one step) to replace two. The longer answer is that this formula was developed specifically for the age-related changes and visible signs of ageing seen on lips. The peptides and hyaluronic filling spheres it contains are highly targeted toward improving lip fullness and smoothing lines on lips plus helping to prevent the further breakdown of lip's supportive elements, which keeps lips looking younger, longer (it helps retain lip's natural shape and plushness). You can layer the Peptide Booster and/or Hyaluronic Acid Booster on lips under the lip booster and see if you like the results, but it's also fine to rely on the lip booster on its own for visible improvement in lip texture and fullness.

My lips don't feel as moisturised as I expected after using the Hyaluronic Acid + Peptide Lip Booster, why is that?

Hyaluronic Acid + Peptide Lip Booster is primarily an anti-ageing treatment, designed and formulated to specifically address signs of ageing on lips, while adding an instant smoothing and hydrating feel to lips at the same time. The need for extra moisture on lips is personal, and some will feel they need to reapply more often than others. If you experience very dry, irritated, and chapped lips, we advise sealing this product with a more emollient balm, like the Lip & Body Treatment Balm or alternating the two products, especially at night. Simply let the Hyaluronic Acid + Peptide Lip Booster set on lips and then apply a thin layer of the Lip & Body Treatment Balm on top.
9580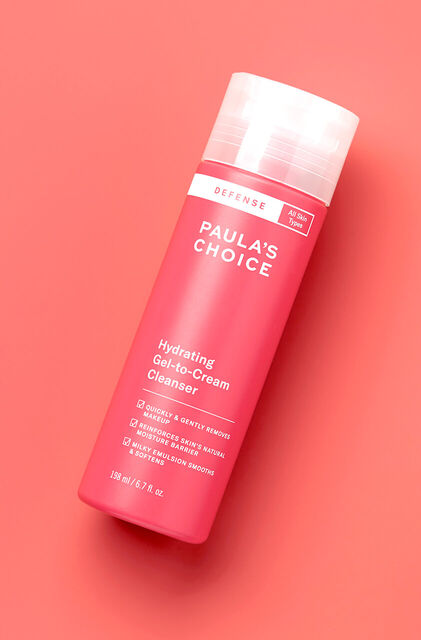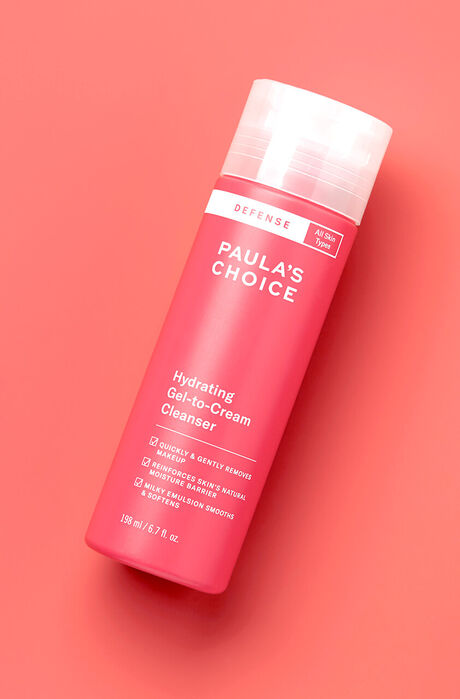 This silky cleanser gently removes dirt, excess oil and skin-dulling pollutants.
2210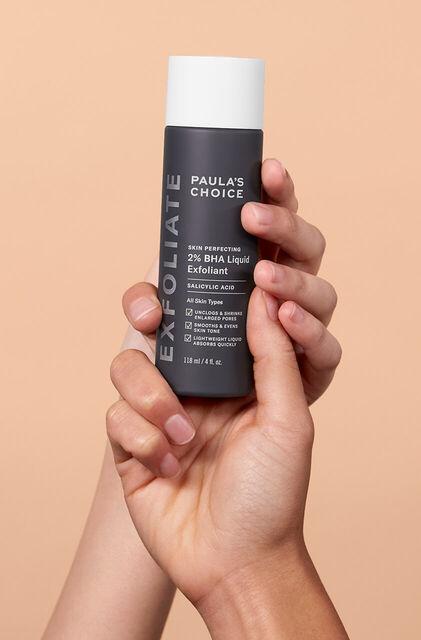 Exfoliate
Fast absorbing liquid removes built-up dead skin cells and fights blackheads.
2010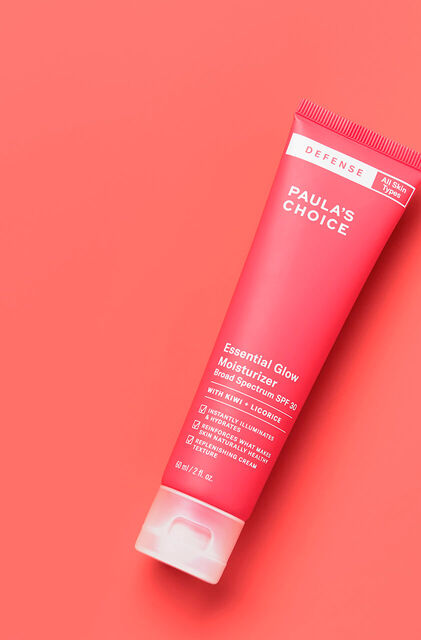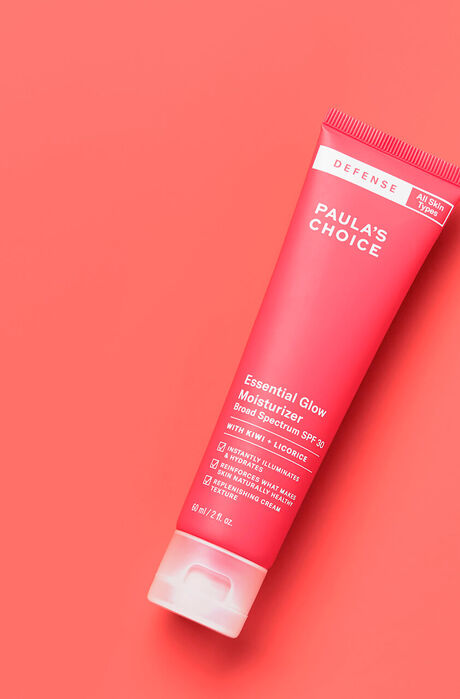 Moisturizer AM
This day cream with SPF 30 brightens, hydrates and protects against pollution and UV rays.
Research
Frontiers in Chemistry, October 2020, pages 1–8, International Journal of Cosmetic Science, February 2020, pages 46–52, International Journal of Biological Macromolecules, December 2018, pages 1,682–1,695, Cosmetics, May 2017, pages 1–14, Lipid Insights, September 2016, pages 1–12, American Journal of Life Sciences, November 2014, pages 303–307, Journal of Cosmetic Science, January-February 2013, pages 59–66, Annals of the New York Academy of Sciences, June 1999, pages 73–91.