https://www.paulaschoice.co.uk/defense-essential-glow-moisturizer-spf-30-travel-size-2237.html
Defense Moisturiser SPF 30 - Travel Size
This day cream with SPF 30 brightens, hydrates and protects against pollution and UV rays.

Skin Type:

All Skin Types

Concern:

Anti-Ageing , Dull skin

Ingredients:

Kiwi , Licorice root extract , Argan oil

View all

Routine:

Moisturizer PM
Product out of stock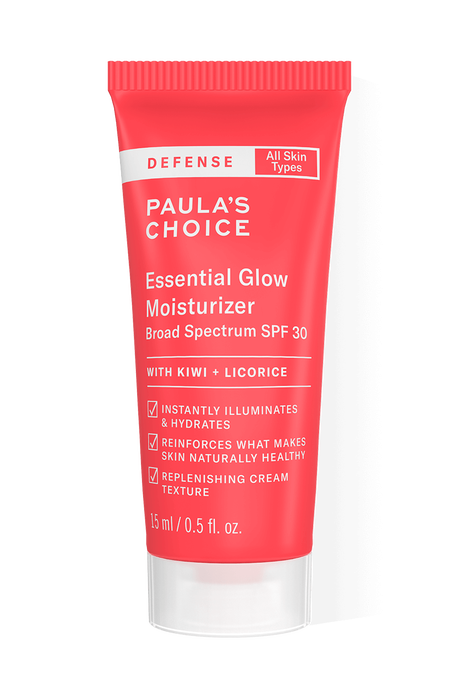 Defense Moisturiser SPF 30 - Travel Size
Travel size
This product is sold out at the moment. Fill in your email address below and we'll gladly send you an email as soon as it is back in stock!
60 day money-back guarantee
Safe payments
What does it do?

Your daily defence against UV rays, pollution and blue light.

Illuminate, hydrate and protect your skin with Defense Essential Glow Moisturizer SPF 30. This lightweight day cream features an exclusive Anti Pollution Factor blend with over a dozen plant- and vitamin-powered antioxidants to neutralise the effects of environmental pollutants and blue light. Mineral sun filters protect the skin from UV rays, while an innovative brightening mix – including liquorice and resveratrol – brightens the complexion, improving uneven skin tone and dark spots.

Key Features

Light cream for easy application

Protects skin against the harmful effects of pollution.

How to use

Apply as the last step in your morning skincare routine. Allow a moment to dry before applying makeup.

Reviews

Thank you for submitting your review! It will be reviewed by our staff before it is posted.

I recently started using this moisturiser on my holiday and the SPF is the bonus factor for me- my skin which is prone to sunburn did not burn. It moisturises the skin very nicely and is in fact an excellent prep for makeup application. I am really impressed with this moisturiser and looking forward to trying the night version (sample sent with my order)

I have combination skin with an oily t-zone and I am finding this SPF to be great at the moment. It smooths over skin really nicely, starts off kinda too shiny but then dries down perfectly to have a bit of a glow but doesn't accentuate my oily areas, and in actual fact helps with them a bit (probably down to the mineral SPF ingredients). Would really recommend this (I have fair skin).

I have broken out after using facial suncreams in the past, this one though is a pleasure to use. It has a good consistency - not runny or sticky, It leaves my skin soft & healthy looking without any greasiness. No breakouts! Very happy.

Went on very well, but since using it for a few days my skin has become very dry and now using any products is causing stinging and burning due to my skin being so dry. So won't be using this product again .

Customer care: Hi there! We're sorry the Defense Moisturiser SPF 30 wasn't a fit for you! Be sure to contact our Customer Care for assistance regarding alternative product advice.

I love it on my face, does give a bit of a 'just been outside' freshness to your face. I really like that it doesn't have that typical SPF smell, but I can't use it on my eyelids - too sensitive, stings them. I do have very sensitive eyes anyway, there are many makeup products I can't use because of it. I'd recommend it, but won't repurchase it myself - seems a bit extravagant to buy an alternative SPF just for eyelids.

Customer Care: Hi there! We're sorry this wasn't a fit for you! Be sure to contact our Customer Care for a possible alternative.

Bought the small tube to try it out and I absolutely love it. I'm not in the least bit interested in sun protection but I have figured out that zinc oxide and titanium oxide work really well to prevent sebaceous filaments dots around the nose. They are in foundations and tinted moisturisers etc but I was looking for an SPF for no makeup days. This has a truly gorgeous finish, slightly - ever so slightly shimmery and with some sort of tint to take the edge off the white/bluish cast that can occur with mineral SPFs. It feels a little dry on the skin but doesn't dry the skin out, amazingly it prevents the shine that most bases give me. I use it over my usual moisturiser as my skin can be quite dry but those with oily skin could even get away with wearing it alone. It has worked wonders for redness from past cystic spots on my chin. Unlike chemical sunscreens which have made my acne instantly worse, I find mineral spf very soothing.

I bought a sample to try prior to committing to the full product. I absolutely love this, I have oily skin so find it hard to get a good moisturiser that doesn't clog the pores. It really is lightweight and did not break me out at all. Plus my complexion after application looked really healthy. Where at the moment I have been quite grey and washed out. I will be purchasing the full size. I highly recommend.

I like the consistency, it's perfect for my combination skin. It leaves the skin nourished and it doesn't make me shine.

I really like Paula's products but struggled to find a day moisturiser that would feel perfect for my skin. Till now. This moisturiser has improved the appearance of my skin, the skin feels hydrated but the same time not overly shiny on my T zone (I have dry cheeks and oily T zone). Just brilliant!

I'm always looking for that perfect sunscreen as I suffer from melasma and need to wear sunscreen at all times. I had high hopes for this one. I loved the look and feel of this, but unfortunately it broke me out and made my skin red and irritated. I think it's too active for my skin unfortunately.

I'm always looking for that perfect sunscreen as I suffer from melasma and need to wear sunscreen at all times. I had high hopes for this one. I loved the look and feel of this, but unfortunately it broke me out and made my skin red and irritated. I think it's too active for my skin unfortunately.

Customer Care: Thanks for letting us know of your experience - we're sorry to hear this didn't work for you! We encourage you to contact our customer service department, who might be able to provide you with a refund and some advice.

I'm delighted with Defense Essential Glow Moisturiser SPF 30, no irritation, lovely texture and easily absorbed. Paula's Choice discontinued Resist sunscreen for dry skin was one of my all-time favourites and I'm happy with this new mineral moisturiser. My skin is dry and sensitive. The only sunscreen additives I'm able to use without causing an allergic reaction are the two mineral ones, zinc oxide and titanium dioxide. This sunscreen not only has that gentle protection, it contains the finest ingredients protecting my skin. It has a lovely finish. I use this sunscreen as my last step after applying Paula's Choice toner, exfoliant and serum or treatment. Using the sunscreen alone will certainly protect your skin but the combination of a good cleanser and exfoliant prior application of this moisturiser helps create the glow.

This sunscreen is mostly a joy to use- much more so than other PC spfs I have tried which either felt extremely heavy on my skin or dried my skin out :( (I have rosacea and dermatitis and can only use mineral sunscreens so can only speak for those) It spreads easily, looks glowy and flattering and doesn't make my foundation overly matte or hard to blend :)

Unfortunately I am not sure about using this long term due to the vitamin c and niacinamide. My skin is particularly sensitive right now due to the weather and I have noticed a little bit of stinging on my areas of dermatitis on applying this. I suspect it is the above mentioned active ingredients. Please make a less active version of this for sensitive skin, I have liked it much better than the calm products!

Customer Care: Hi MT, thank you for your feedback and I'm sorry to hear you haven't found the right moisturiser with SPF yet. Please make sure to contact our skincare experts at the customer care team for further assistance.

I wear an SPF everyday and this has become my new favourite! I love a dewy finish so the glow I get from this under make-up is perfect. Unlike other mineral SPFs it doesn't leave a white cast and absorbs quickly. If you like a glow then this is 100% for you!

I am always excited to try new mineral sunscreens, and this one is my new favourite. It is moisturising without feeling heavy or greasy. It absorbs very nicely and doesn't leave a white cast, which can be an issue with mineral sunscreens. The reason it's my new favourite is the gorgeous glowy finish. It just makes my skin look better, especially on non-make-up days.

I adore most of PC products and had really high hopes for this moisturizer, however, I was very disappointed :( very sticky, made my face look shiny and greasy, difficult to distribute the product due to the thick and not so runny consistency. expected it to be more lightweight and hydrating.

Customer Care: Hi Val, we're sorry the Defense moisturiser SPF 30 wasn't a fit for you! Be sure to contact our Customer Care for assistance.

More reviews Less reviews

Ingredients

What are the key ingredients?

Kiwi
Rich in antioxidants that help defend the skin against visible damage from air pollution.

Licorice root extract
Plant extract that has potent antioxidant and skin-soothing properties. Can be effective in improving the look of an uneven skin tone.

Argan oil
Skin softening and nourishing non-fragrant plant oil packed with skin-restoring fatty acids and vitamin E.

Ingredients:
Aqua, C12-15 Alkyl Benzoate (emollient), Zinc Oxide (nano, sunscreen), Titanium Dioxide (nano, sunscreen), Glycerin (skin-replenishing), Isononyl Isononanoate (emollient), Butylene Glycol (texture enhancer), Cetearyl Alcohol (emollient/texture enhancer), Potassium Cetyl Phosphate (emulsifier), Dimethicone (hydration), Glyceryl Stearate (texture enhancer), Glycyrrhiza Glabra (Licorice) Root Extract (skin-soothing), Actinidia Chinensis (Kiwi) Fruit Extract (antioxidant), Argania Spinosa Kernel Oil (non-fragrant antioxidant plant oil), Tetrapeptide-30 (skin-restoring agent), Linoleic Acid (skin-restoring agent), Resveratrol (antioxidant), Ascorbyl Glucoside (vitamin C/antioxidant), Niacinamide (skin-restoring), Tocopheryl Acetate (vitamin E/antioxidant), Magnesium Ascorbyl Phosphate (vitamin C/antioxidant), Bisabolol (skin-soothing), Tocopherol (vitamin E/antioxidant), Phospholipids (skin-restoring agent), Lecithin (skin-restoring agent), Glycine Soja (Soybean) Sterols (antioxidant/hydration), Xanthophylls (antioxidant), Pullulan (texture enhancer), Sodium Gluconate (hydration), Xanthan Gum (texture enhancer), Sclerotium Gum (texture enhancer), Alumina (texture enhancer), Caprylic/Capric Triglyceride (skin-replenishing), Citric Acid (pH adjuster), Triethoxycaprylylsilane (texture enhancer), C13-14 Isoparaffin (solvent), Acrylates Copolymer (film-forming agent), Polyhydroxystearic Acid (dispersing agent), Caprylyl Glycol (hydration), Polyacrylamide (film-forming agent), Ceteareth-20 (texture enhancer), Aluminum Stearate (texture enhancer), Laureth-7 (emulsifier), Ethylhexylglycerin (preservative), Phenoxyethanol (preservative).

Faq

What makes the Defense Essential Glow Moisturizer SPF 30 different from other Paula's Choice day creams?

In addition to offering mineral sun protection, Defense Essential Glow Moisturizer contains a unique blend of antioxidants specially chosen to counter the harmful effects of environmental pollution and blue light. This day cream has a silky texture and is suitable for all skin types including sensitive skin.