https://www.paulaschoice.co.uk/clinical-ultra-rich-moisturizer-full-size/5570.html
Clinical Ultra-Rich Moisturiser
Ultra-rich hydrating cream provides immediate relief for uncomfortably dry skin.

Skin Type:

Dry skin

Concern:

Very dry skin, Sensitive skin

Ingredients:

Shea Butter, Ceramides, Olive Oil

View all

Routine:

Moisturizer PM
Variations
Full size 60 ml
Remove from Wishlist
Add to Wishlist
Product out of stock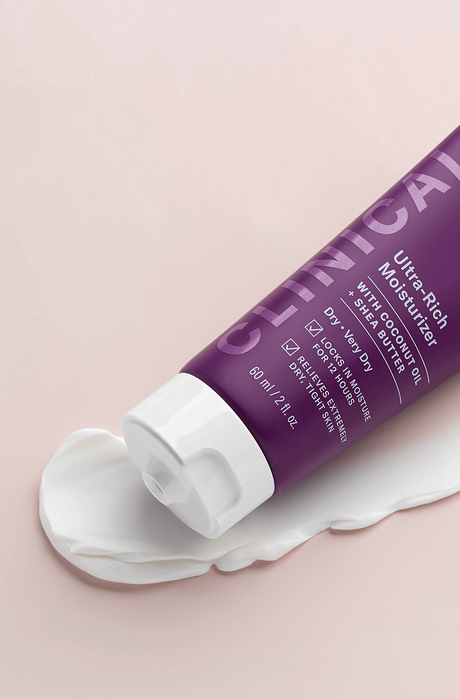 Clinical Ultra-Rich Moisturiser
Full size
This product is sold out at the moment. Fill in your email address below and we'll gladly send you an email as soon as it is back in stock!
What does it do?

Our most nourishing moisturiser for very dry, thirsty skin.

This luxuriously rich cream moisturiser provides immediate relief for uncomfortably dry skin. The velvet texture is packed with emollients, skin-soothing plant extracts and replenishing plant oils to thoroughly hydrate the driest of skins. It quickly replenishes the skin's surface, smoothing dryness and the appearance of wrinkles for skin that feels and looks soothed, hydrated and radiant.

Is this suitable for my skin?

What skin concern would you like to address?

(Please select one option)

How to use

A night moisturiser is the last step in your evening routine.
Apply the moisturiser liberally to your face after cleansing, toning, exfoliating and applying an antioxidant serum or targeted treatment .

Reviews

Thank you for submitting your review! It will be reviewed by our staff before it is posted.

This moisturiser is my holy grail. I'm in my early thirties and have very dry skin. It's amazing both in the morning under SPF and make up and overnight. It's a thick consistency but it doesn't feel too heavy on the skin. I've tried so many moisturisers and this is the best (as long as your skin likes shea butter). My protip is to cut the bottle open once you can't get any more out by squeezing - there will be a couple uses left inside.

Customer Care : Dear Em, thank you for taking the time to write a positive review about the Clinical Ultra-Rich Moisturiser! We are always delighted to hear from our customers.

I absolutely love this moisturiser. I have a couple of PC's moisturisers which are great but this one is spot on for me. Since I've got my routine right, this just sinks into my skin like butter. I am Indian, 32 and female - my skin type is a Strange one as sometimes it's a combination and sometimes it's dry and sometimes it's oily - I guess it's weather dependent. If I want hydration but don't want the thick consistency of this moisturiser then I add a couple of drops of Niacinamide into it!

This is a preliminary review as I have only just started using this product. I purchased it mainly because of the Shea butter and ceramides which, together are supposed to be hydrating and moisturising without being overly occlusive. The cream went on ok - required a little more skin-tugging than usual to spread evenly because it's so thick - but very soon my face started to feel tight and dry, despite there still being residual product on my skin. I don't really understand why that happened given the ingredients. Even much lighter moisturisers don't give me that sensation. I don't think I would purchase again.

I was recommended this moisturiser due to the ceramides after suffering an allergic reaction to salicylic acid & it's so good I've been using it ever since! It is the first moisturiser I've ever used that's truly hydrated my skin, my skin no longer produces excess oil & the product texture is a lovely thick cream that isn't greasy at all. I'm in my 30's & this is the first skincare product I've loved so much I've bought it again & again, definitely my holy grail!

This moisturiser is fine, but it doesn't hydrate the skin that well in my opinion (I have very dry and sensitive skin, so do need products that provide a little extra moisture). The formula goes on well and feels nice on the skin initially, but my skin still felt dry and tight after using it. Will go back to my FAB ultra rich moisturiser which does a better job (at a lower price too).

Customer Care: Hello, and thank you for sharing your experience with us - we're sorry to hear this didn't work as expected for you! Please contact a member of our Customer Care team, who can assist you with a possible alternative.

Thisis hands-down the best moisturiser I have ever tried. It is not greasy, leaves skin super soft, it is amazing around the eye area. I mix it with hyaluronic acid and vitamin c at night and my skin looks amazing.

Absolutely fantastic moisturizer, leaves skin so soft but not greasy. A life saver. I found the other rich moisturizers too greasy, but so pleased with this one

I've been a PC user for many, many years, but over time, none of the moisturizers were working for me. I started using this about a year ago, and I have loved it from the beginning. It does seem very thick coming out of the tube (think body butter), but if you warm it slightly between your fingers, it absolutely melts into your skin, leaving no greasy feel behind. It moisturizes so well and has helped my dry, easily-irritated skin immensely. I use it every day, all year long.

Having used PC and loving it, I bought this for my husband. He's a convert to PC and this moisturiser is now a firm favourite. I recommend this for with dry, flaky and red skin, it works wonders!

This is the most soothing moisturizer I have ever tried. I was using (and still a fan of) the Moisture Boost and Skin Recovery moisturizers, but I find this has a more breathable texture - even though it is a VERY thick cream. It has a body butter consistency that is best warmed up between your fingers before applying (I like to use either a drop of the oil booster in winter, or serum / HA booster the rest of the year) and it completely sinks into the skin. It's expensive, and it doesn't have the largest array of anti-aging ingredients, but it feels like heaven. If you're having problems with any actives such as retinol, I'd imagine this would be a good fix for your irritation woes. Also considerably less greasy than the other PC dry skin moisturizers - worth the price tag!

More reviews Less reviews

Ingredients

What are the key ingredients?

Shea Butter
This plant lipid, extracted from the karite tree, is used as an emollient and has smoothing properties for dry skin. it's also a rich source of antioxidants.

Ceramides
Major components of skin's outer layers, necessary for their water-retention capacity and provide replenishing and restoring benefits.

Olive Oil
Emollient plant oil beneficial for dry skin because of its fatty acid content.

Ingredients:
Aqua, Butyrospermum Parkii (Shea) Butter (emollient/antioxidant), Caprylic/Capric Triglyceride (emollient, skin replenishing), Glyceryl Stearate SE (texture-enhancing), Olea Europaea (Olive) Fruit Oil (non-fragrant emollient plant oil/antioxidant), Dimethicone (emollient/hydration), Stearic Acid (texture-enhancing/stabilizer), Glyceryl Stearate (texture-enhancing/stabilizer), Mangifera Indica (Mango) Seed Butter (non-fragrant emollient plant oils/antioxidant), Cetyl Alcohol (stabilizer), Cocos Nucifera (Coconut) Oil (non-fragrant emollient plant oil/antioxidants), Ceramide NP (skin replenishing), Ceramide AP (skin replenishing), Ceramide EOP (skin replenishing), Sphingolipids (skin replenishing), Phospholipids (skin replenishing), Phytosphingosine (skin-soothing/skin-restoring ingredient), Squalane (emollient), Cholesterol (skin replenishing), Tocopherol (vitamin E/antioxidant), Simmondsia Chinensis (Jojoba) Butter (plant-based emollient), Persea Gratissima (Avocado) Oil (non-fragrant emollient plant oils/antioxidants), Glycine Soja (Soybean) Oil (non-fragrant emollient plant oils/antioxidants), Oryza Sativa (Rice) Bran Oil (non-fragrant emollient plant oils/antioxidants), Avena Sativa (Oat) Kernel Extract (skin-soothing), Glycerin (skin replenishing), Panthenol (vitamin B5/skin-soothing), Ascorbyl Palmitate (vitamin C/antioxidant), Beta-Sitosterol (skin replenishing/skin-soothing), Hydrogenated Vegetable Glycerides Citrate (stabilizer), Propylene Glycol (hydration), Sodium Lauroyl Lactylate (stabilizer), Xanthan Gum (texture-enhancing), Carbomer (texture-enhancing), Disodium EDTA (stabilizer), Ethylhexylglycerin (hydration), Phenoxyethanol (preservative).

FAQ

What's the difference between Skin Recovery Replenishing Moisturizer and Clinical Ultra-Rich Moisturizer?

The main difference is texture and that Clinical Ultra-Rich Moisturizer was formulated to address the needs of those whose dry skin doesn't respond as well as they'd like to other moisturisers. If you're using Skin Recovery Replenishing Moisturizer and it's taking good care of your dry skin, stick with it. But if you've tried the Skin Recovery formula in the past and found it wasn't enough to treat your very dry skin, then Clinical Ultra-Rich Moisturizer is for you. Both of these moisturisers contain a blend of state-of-the-art ingredients that provide hydration and anti-ageing benefits. It's not a question of one being better than the other; it's a question of which one would work best for you—and that all comes down to how dry your skin is and whether you prefer a rich cream (Clinical) or lighter but still substantially moisturising cream (Skin Recovery).

Can I recycle this product?

This packaging is made of two components. The tube is made from EVOH plastic and the cap is made from PP plastic. Please check with your local council before recycling this product.
Research
Indian Dermatology Online Journal, April-June 2013, issue 2, pages 143-146 Indian Journal of Dermatology and Venereology, March-April 2012, issue 2, pages 142-145 The Journal of Clinical and Aesthetic Dermatology, June 2011, issue 6, pages 45-55 American Journal of Clinical Dermatology, 2003, issue 2, pages 107-129 Indian Journal of Dermatology, May-June 2016, issue 1—3, pages 279-287 Journal of the European Academy of Dermatology and Venereology, November 2005, issue 6, pages 672-688 Journal of Drugs in Dermatology, September 2014, issue 9, pages 1021-1025 Clinical Dermatology, March-April 2009, issue 2, pages 159-165 Dermatologic Therapy, September-October 2007, volume 20, issue 5, pages 314-21