https://www.paulaschoice.co.uk/clinical-ceramide-enriched-firming-moisturizer-full-size/2120.html
Clinical Ceramide-Enriched Moisturiser
Our most advanced night cream with 5 ceramides, vitamin C and 0.1% retinol to tackle signs of ageing.

Skin Type:

All skin types

Concern:

Anti-Ageing, Brown spots, Dull skin

Ingredients:

Ceramides, Retinol (Vitamin A), Vitamin C

View all

Routine:

Moisturizer PM
Variations
Full size 50 ml
Remove from Wishlist
Add to Wishlist
Product out of stock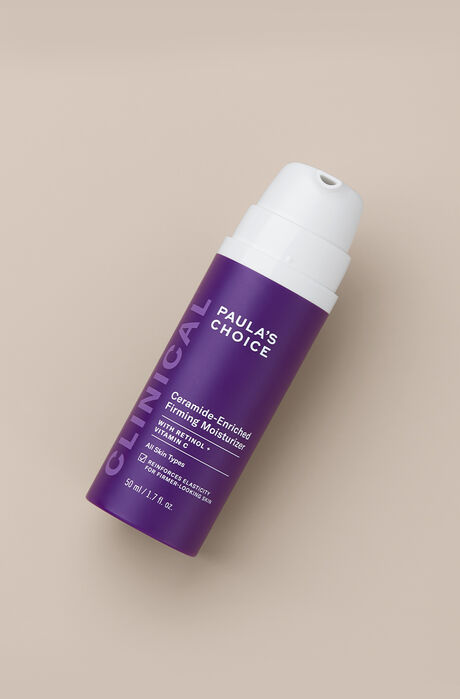 Clinical Ceramide-Enriched Moisturiser
Full size
This product is sold out at the moment. Fill in your email address below and we'll gladly send you an email as soon as it is back in stock!
What does it do?

Harness the power of ceramides to visibly improve the signs of ageing

This advanced night cream delivers a cocktail of powerful ingredients to fight the signs of ageing. Our unique CollagenSupport Complex with hydrating ceramides reduces fine lines and wrinkles; retinol improves firmness and vitamin C restores radiance. These ingredients are vital in rebuilding skin's natural barrier, for healthier, younger-looking skin.

Is this suitable for my skin?

What skin concern would you like to address?

(Please select one option)

Key Features

Strengthens skin's natural barrier

Improves skin tone and texture

How to use

A night moisturiser is the last step in your evening routine.
Apply the moisturiser liberally to your face after cleansing, toning, exfoliating and applying an antioxidant serum or targeted treatment .

Reviews

Thank you for submitting your review! It will be reviewed by our staff before it is posted.

So I love the ingredients list here the ceramides and the retinol it's the night cream all in one that in my 30s it's just easy!

I have sensitive skin and though a little redness can flare up after this it usually settles by morning and I am sure not to use it on the same day as an AHA. I know they say you can but I know my skin can't take it.

My only gripe is (as another customer pointed out) the matte finish, this feels more like a day cream to me. I feel like with 5 ceramides and Squalene in the ingredients I would hope this to be a lot richer and more nourishing as a night cream. That said my skin does look lovely I'm not finding the retinol drying. So who am I to complain.

I do find myself reaching for a facial oil about 10 - 15 mins after application though… we like to go to bed hydrated Paula! Which is the only reason it doesn't get 5*

Customer Care: Hi DB8! Thanks for reviewing our Clinical Ceramide-Enriched Moisturizer. I'm so glad you love it and have found a way to incorporate it into your routine so not to irritate your sensitive skin. If you're looking for an extra kick of hydration, look into our Moisture Renewal Oil Booster! You can apply this before the moisturizer or even a few drops directly into it in your hand. Let us know if you have any questions! Kind regards, Marissa - Paula's Choice Customer Care

I have started using this product twice a day about three weeks ago and I'm obsessed. My skin feels so soft, smooth, and hydrated. It's not heavy or oily. Doesn't break out or irritate my skin. I love it!

Hi Matt! Lovely to hear the Clinical Ceramide-Enriched Moisturiser is helping you achieve soft, smooth, and hydrated skin! We appreciate your feedback. If you would like other product recommendations please get in touch! Kind regards, Adele - Paula's Choice Customer Care.

I love this cream, it's perfect for my easily irritated, blemish prone but sometimes dehydrated skin. I use it as a night cream and I definitely find it makes my skin smoother and more healthy looking. My only criticism is that is it quite expensive.

I have waited some time to write my review so I can see how the cream suits me. I have serious wrinkles, but whenever I have a facial or try cosmetics I'm always told that my skin is in lovely condition. I use this product at night, I have sensitive skin but have not had any reaction and use it in conjunction with exfoliation and antioxidant serum. I'm unsure whether i will buy again as it like many of the Paula's Choice products are creeping up in price and are too expensive to 'apply liberally'.

I love Paula's Choice products, but this one ruined my face in one application. I had the worst reaction I could imagine - red, itchy and achy face, especially around the eyes (I didn't use it as eye cream, not right around the eyes, but close enough to make me look like a hangover panda). I had no allergies before and have no idea which ingredient caused this disaster, but will def to be more careful with my next order..

Customer Care: Thanks for your review! We're sorry this product didn't work for you, and agree that you likely experienced an allergic reaction to one or more ingredients in this treatment. Should you need further assistance, don't hesitate to contact our customer care team.

I've waited a while before I posted this review, I'm a big fan of Paula's products, although they're getting more and more expensive; this is the most expensive product from the range that I've purchased. I like the pump dispenser, and the cream is a beige colour. It does make my skin feel tighter on application, but that may be a temporary cosmetic effect. I have dry skin and I'm not sure I like the matte finish of the cream, I don't like the way it makes my skin look. And I certainly couldn't use this on its own, it's just not rich enough for my dry skin. Given the price, I'm not sure I'd re-purchase.

This is my first time ordering this but because all of Paula's products are so good I didn't hesitate giving it a try ....and my god I'm glad I did ! It's an amazing product !! My skin felt and looked like new !! All the horrid dryness around my eyes making them look older than they are disappeared !! It's so good I'm ordering more after writing this ... obviously it's different for everyone but it's a 5 star rating from me ! .. it makes my skin feel amazing!! it's soft, supple and glows I swear i was younger in an instant ! Thank you Paula fabulous product !! 🌟🌟🌟🌟🌟

Bought this for anti ageing properties, worried as I have oily/acne skin. However this is a cream that is quickly absorbed and doesn't clog my pores at all. A really lovely product I use every other night using clinical 1%retinol on the other nights.

This product is one of my absolute favourites. Not only from Paula's Choice, but of all times. I've worked with beauticians, so my interest in skincare is quite extensive.
I use Paula's Choice resist line, and I will continue to use this as my night moisturiser. My skin seems to have improved within a few weeks, smaller pores, more even texture and a nice glow. I love this product!

I'm really not sure whether to continue using , I wanted something more moisturising than the Resist Barrier Repair that I'd been using for a while, but my skin after 5 days/nights of using is very dry and flakey ?

Customer Care: Sorry to hear that this product isn't working for you. Sometimes (sensitive) skin needs to get used to a new product, maybe it helps to reduce the frequency to every other night? However, if you keep experiencing the same, please contact our Customer Care team for advice.

I've tried other popular high street products but my skin always improves and stays in good condition using Paula's Choice. I've been using Paula's Choice for 5 years with very good results. Over this time my skin has improved so much that I no longer use foundation even though I'm in my 50's. This latest moisturiser does not disappoint. Really lovely texture. Rich but light on the skin. Skin feels amazing.

I purchased this product because I wanted a retinol-containing moisturiser and the ceramides were an extra bonus. The first container didn't work, but the customer service was excellent and replaced it for me. So I've been using it for about a week or so. My findings are: smooth skin in the morning and seems to be keeping blackhead formation (small ones on my nose and chin) at bay. I'm not sure of the firming capacity yet, as it's only been a week. I also have sensitive skin and this is not irritating it at all. I'm 56 and I have to say my skin looks pretty good. Finally, I have a moisturiser that has real benefits and I plan on buying again.

If you're serious about age control then you have to try this moisturiser!
Its gorgeous texture left my (combination) skin feeling hydrated and nourished. One pump is plenty and after two weeks I already feel like there's a difference in my skins health and appearance.
I feel the price perfectly reflects the formulas amazing ingredients and I'm exited to see further results with continued use.

Don't be misled by the name and the marketing of the product. It is NOT a heavy moisturiser. I find it very lightweight, even for my oily and acne prone skin. Actually, the second ingredient sodium ascorbyl phosphate is a form of Vitamin C that has anti-acne benefit! This product is incredibly effective in reducing post acne pigmentation and brightening my complexion. But I did notice some redness during the first couple days of uses. So boys and girls with sensitive skin should try a sample first.

This elegantly textured powerhouse is a moisturiser has changed my skincare game forever. I suffer from both eczema and acne and this is just perfect for keeping my skin soft and glowing. I use something a little more emollient on my very dry patches and don't put too much of it on my most oily parts. It's great under sunscreen and makeup. I was lucky enough to win the bottle I'm using now but will definitely be reordering. It's the product I've been waiting for. The power of several serums with the hydration of a great moisturiser. Game. Changed.

I won this cream from a Facebook live competition. I have only just received the product, and have used it during the day under sunscreen and at night on its own. The cream feels light and non greasy, but it leaves my skin feeling calm and nourished. From my experience it is truly good for most skin types, but maybe truly dry skin would be best combining it with an oil and for truly oily skin I would only use it at night. I am pleased that the cream contains a lot of stabilised vitamin c as it provides good antioxidant protection and the ceramides are great for anyone with sensitive, fragile skin; I have mild rosacea. Finally, the retinol in the product is an added bonus. My skin cannot tolerate retinol in high concentrations but I feel that this product contains enough to improve my complexion, without the irritation I have experienced with prescription retinol or very potent otc retinol creams and serums. Although I received this product for free, I shall definitely repurchase. I cannot wait to try the calm serum and a few other products now.

More reviews Less reviews

Ingredients

What are the key ingredients?

Ceramides
Major components of skin's outer layers, necessary for their water-retention capacity and provide replenishing and restoring benefits.

Retinol
Powerhouse ingredient that can improve a variety of skin concerns, most related to visible signs of ageing: It's skin-restoring, wrinkle-smoothing, an antioxidant and improves sun damage.

Vitamin C
One of the most well-researched vitamins for skin, shown to improve the look of multiple signs of ageing, brighten uneven skin tone, as well as provide skin-restoring and soothing benefits.

Ingredients:
Aqua, Sodium Ascorbyl Phosphate (vitamin C/antioxidant), Cetyl Alcohol (emollient), Ascorbyl Glucoside (vitamin C/antioxidant), Neopentyl Glycol Diheptanoate (texture enhancer), Potassium Cetyl Phosphate (emulsifier), Glyceryl Stearate (texture enhancer), PEG-100 Stearate (texture enhancer), Glycerin (hydration), PEG-12 Glyceryl Dimyristate (texture enhancer), Bis-Diglyceryl Polyacyladipate-2 (emollient), Dimethicone (hydration), Glyceryl Ascorbate (vitamin C/antioxidant), Tetrahexyldecyl Ascorbate (vitamin C/antioxidant), Retinol (skin-restoring), Ceramide NP (skin-replenishing ingredient), Ceramide NS (skin-replenishing ingredient), Ceramide AP (skin-replenishing ingredient), Ceramide EOP (skin-replenishing ingredient), Ceramide EOS (skin-replenishing ingredient), Cholesterol (skin-replenishing ingredient), Caprooyl Phytosphingosine (skin-replenishing ingredient), Caprooyl Sphingosine (skin-replenishing ingredient), Squalane (emollient), Punica Granatum Fruit Extract (pomegranate antioxidant), Pongamia Glabra Seed Oil (non-fragrant plant oil), Glycyrrhiza Glabra (Licorice) Root Extract (skin-soothing), Vitis Vinifera (Grape) Seed Extract (antioxidant), Tocopheryl Acetate (vitamin E/antioxidant), Carnosine (skin-restoring), Panthenol (hydration), Sodium PCA (skin-replenishing), Butylene Glycol (texture enhancer), Sodium Citrate (pH adjuster), Ceteareth-25 (emulsifier), Polysorbate 20 (emulsifier), Ethylhexyl Stearate (texture enhancer), Sodium Hydroxide (pH adjuster), Trideceth-6 (emulsifier), Propyl Gallate (antioxidant), Ammonium Acryloyldimethyltaurate/VP Copolymer (texture enhancer), Sodium Polyacrylate (film-forming agent), Behenic Acid (texture enhancer), Disodium EDTA (chelating agent), Phenoxyethanol (preservative), Caprylyl Glycol (preservative), Chlorphenesin (preservative).

FAQ

What is the CollagenSupport Complex?

The CollagenSupport Complex combines the skin-replenishing properties of ceramides with retinol for strengthening support and several forms of vitamin C to help defend against environmental stressors and promote firmer skin. Together, this complex provides the essential building blocks for skin to renew itself and restore its natural barrier.

How do Clinical products differ from Resist or other Paula's Choice product categories?

Clinical products offer more enhanced, targeted formulations for specific concerns such as advanced signs of ageing, dehydration or sun damage. Ultimately, it's a matter of what will suit your needs best. It's perfectly fine to assemble an anti-ageing routine that mixes Resist, Clinical and any other Paula's Choice Skincare line that addresses your skin type and concerns.

What are ceramides?

Ceramides are a natural, fundamental part of skin that helps maintain precise levels of hydration, allowing skin to have a smooth, even surface. They're critical for holding skin together (think bricks and mortar), protecting it from dehydration, signs of sensitivity and environmental damage that chips away at skin's protective surface. Ceramides are the most abundant part of skin, making up over 50% of its composition.

As we age, the level of ceramides in our skin begins to decrease. As a result, the skin barrier weakens, which can lead to symptoms such as irritation, dryness, and redness. Skincare products that contain ceramides (and other skin beneficial ingredients) can help improve these symptoms.

Can it be used around the eyes?

This moisturiser can be used on the cheekbones and the under eye area. Avoid your lips, eyelids, lash lines and the corners of the eyes, as these areas are a bit more sensitive and the retinol in the product might cause irritation in these areas.

Is this product suitable for rosacea-prone or sensitive skin?

This moisturiser is suitable for rosacea-prone and sensitive skin. In fact, as we age, the level of ceramides in the skin decreases. As a result, the skin's barrier weakens which can lead to things like irritation, dryness and redness. Ceramides along with other skin replenishing/soothing ingredients can help reduce these concerns. Because this product contains retinol, people with rosacea-prone or sensitive skin should start with applying the product 2-3 times per week. Allow the skin to acclimate and then increase as needed/desired.

How does it differ from Clinical Ultra Rich Moisturizer?

Clinical Ceramide-Enriched Firming Moisturizer is an anti-ageing hero. It has our unique CollagenSupport Complex with hydrating ceramides to fight fine lines and wrinkles, skin-restoring retinol to improve firmness and antioxidant vitamin C to leave skin more radiant. A lightweight lotion to tackle advanced signs of aging.
Clinical Ultra Rich Moisturizer also contains anti-ageing ingredients but is more nourishing. It is formulated with replenishing ingredients that strengthen the skin's barrier to prevent moisture loss and help skin to repair itself. This rich cream helps very dry and eczema-prone skin feel soft and smooth again.
Research
Nutrients, August 2017, ePublication International Journal of Cosmetic Science, May 2017, pages 824-834 Journal of Cosmetic Dermatology, December 2016, pages 549-558 Skin Pharmacology and Physiology, June 2015, pages 1,501-1,509 Journal of Investigative Dermatology, May-June 2016, issue 1—3, pages 279-287 Journal of the American Academy of Dermatology, May 2014, pages AB26; and November 2012, pages 1,103–1,024 Journal of Ethnopharmacology, November 2013, pages 395-420 Indian Dermatology Online Journal, April-June 2013 pages 143-146 Dermatologic Therapy, May 2007, pages 606–612 Clinical Interventions in Aging, 2006, pages 327–348