https://www.paulaschoice.co.uk/clear-ultra-light-daily-hydrating-fluid-spf-30-full-size/6130.html
Clear Moisturiser SPF 30
Water-light fluid minimises the appearance of pores and protects skin from the sun.

Skin Type:

Combination skin, Oily skin

Concern:

Breakouts, Blackheads, Brown spots, Enlarged pores

Ingredients:

Avobenzone, Green Tea Extract, Vitamin E

View all

Routine:

Moisturizer AM
Remove from Wishlist
Add to Wishlist
Product out of stock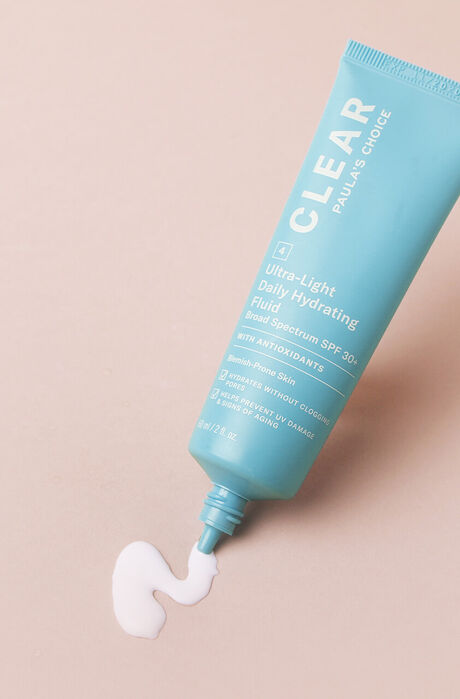 Clear Moisturiser SPF 30
Full size
This product is sold out at the moment. Fill in your email address below and we'll gladly send you an email as soon as it is back in stock!
What does it do?

Our lightest moisturiser for oily, breakout-prone skin.

This water-light moisturising fluid minimises the appearance of pores and protects skin from the sun's rays to help prevent the early signs of ageing. The non-greasy formula keeps excess shine in check while soothing, plant-based antioxidants work to fade red marks and calm skin.

Is this suitable for my skin?

What skin concern would you like to address?

(Please select one option)

Key Features

Suitable for breakout-prone skin

How to use

Apply as the last step in your morning skincare routine. Allow a moment to dry before applying makeup.

Reviews

Thank you for submitting your review! It will be reviewed by our staff before it is posted.

I did not love this product, it's really expensive for what it is, pills so badly and leaves a white residue. There are plenty of other sunscreens/ moisturisers for oily skin and much lower price points that work much better than this.

Customer Care: Hi Abi, thanks for reviewing our Clear Moisturizer SPF 30. I'm sorry to hear that it isn't the right product for you. I recommend checking out our Skin Balancing SPF 30 which is also for oily skin but has a different texture which you may like better! Please contact our customer care team to discuss if you're able to use our return policy or if you want personalized skincare advice. Kind regards, Marissa - Paula's Choice Customer Care

I've tried so many sunscreens and they always left a white cast, felt heavy, were sticky or were pilling. With this one this is not the case! I have dry skin and this feels awesome on it, it's lightweight and gives you a lovely glow without looking greasy/sweaty!!! And even reapplication works fine. No problem wearing make up on top of it either

Hi Esime. Thank you for your great review! It's good to hear that you have found a sunscreen which you like the feel of and that works for your skin and allows smooth application of your make-up. You are welcome to contact Customer Care if you need further product advice. Kind regards, Natasha - Paula's Choice Customer Care

I've tried hundreds of SPF moisturisers and ever single one was making my oily skin look greasy and awful... This product is definitely the best I've had! Not only moisturises my skin but the most important - there is no sticky residue, no extra shine and it doesn't clog my pores. Amazing!

Constantly pills up and leaves white residue all over face. Hate this product.

Customer care: Hi, and thanks for letting us know of your experience - we're sorry to hear this didn't work for you! We encourage you to contact our customer service department, who might be able to provide you with a refund.

I bought this day cream after having tried many sunscreen creams that left my skin oily and caused blackheads in the forehead area, without a doubt it is the best by far, it minimizes pores and does not leave an oily feeling. I have been using it for 2 months together with the salicylic acid and the clear night cream and my skin is cleaner than ever.

Really enjoying this moisturiser, I find it nicely hydrating (I have normal/combination skin) and I personally don't think it is contributing to breakouts which I usually struggle with when using a chemical suncream. I have only knocked a star off as I don't feel it sits well under make-up. I put this on first thing, leave at least ten minutes and put my make up on, it looks great first thing but by midday the products have seperated on my skin and I have to wipe them off. Is there anything that could be causing this? (For reference I usually use glossier skin tint over the top, occasionally luminous silk foundation and have had the same issue with both). Thanks!

Customer Care: Hello, and thank you for sharing your experience with us - glad you like the product! Contact customer care for advice on this product.

I had high hopes for this product having already tried 5 other PC products and absolutely loved them. But this has literally ruined my skin and left me covered in a really painful red blotchy rash. Almost as if I had been burned by the product or suffered a chemical burn. I was surprised because the night Moisturiser from the same collection doesn't cause this irritation, so I'm assuming the issue is due to the added Spf.

Customer Care: Hello, and thank you for sharing your experience with us - we're sorry to hear this didn't work as expected for you, but we are glad that you used our return policy.

I have oily combination skin and as some other people mentioned it caused me irritation and red patches all over my face as well, it also did not feel much moisturising in general. I am quite disappointed with this product.

I purchased the skin balancing toner and that seems to be fine for my skin but recently been breaking out and the only think I've changed is the moisturiser. Experiencing breakouts on my nose and cheek area which is very frustrating

I was looking forward to using this but find it too runny. It leaves a little bit of a white cast on my asian skin tone and it stings your eyes when you're washing it off.

Customer Care: Hello, and thank you for sharing your experience with us - we're sorry to hear this didn't work as expected for you! Please contact a member of our Customer Care team, who can assist you with a possible alternative.

So good, I have oily/combination acne prone skin and it didn't look or feel shiny at all, super lightweight would def recommend. So amazing. Definitely worth the money too!

I love this product. I have acne and this product is SO LIGHTWEIGHT. Water-based. Moisturiser and SPF in one. Does not feel like it is clogging my pores. Most sun creams are so thick which is a disaster for acne skin.

I have sensitive combination skin so tried the travel size and all seemed ok, but then bought the full size and moved to using it every day and within a week I had to stop because I developed red patches along nose and chin, which actually felt like burns. Took over a month to go back to normal and required intensive moisturising products to fix.

Customer Care: Thanks for your review! We're sorry this product didn't work for you, and believe that you likely experienced an allergic reaction to one or more ingredients in this product. Please contact us to discuss a refund.

I really love how this product makes my skin feel. It is so lightweight and perfectly balanced my combination skin. However, it makes my skin look very shiny, definitely not matte.

I've tried so many different SPF moisturisers, all of which either left a greyish film or felt sticky or made my skin greasy. This is by far the best I've had and it will probably last me a while but I will re-order this for summer. Amazing product!

I am very sorry that this product did not work for me. I used it after 2 % BHA liquid and it gave me angry red patches all around the face. I have noticed red patches after it earlier, but it was only around my lips where I tend to have a little bit dry and sensitive skin which at that time was prone to flakiness due to the retinol. Each and every attempt ended up with irritating skin that get worse and worse. Of course I stopped using. I am not allergic to anything, have normal/combination skin and never ever experienced such reaction in my life.

Customer Care - Hello, and thank you for your review. We are sorry to hear of your experience and discomfort. We understand that each customer is uniquely different in how they will respond to certain products or ingredients. Should you need further assistance, don't hesitate to contact our customer care team.

This is the best moisturizer I have ever used for my acne prone skin. Since I started using Paula's choice products I never had a breakout (it has been two years). I can barely feel this moisturizer, it is very light on the skin but hydrates it well. It also protects the skin from the sun damage. Great for applying under the make up too. I like its runny consistency and lighteness.

Best sun screen I've used, no white cast, non tacky, works great with my beauty regime. I know it's factor 30, has anyone used this for their face on holiday?

Customer Care: This sunscreen offers broadspectrum protection (SPF30+). During an average day the sunscreen you applied in the morning will still offer enough protection at the end of the day. That is, assuming you have applied enough in the morning and that you will be doing most of your daily activities or your job indoors.If you spend the main part of your day outside, then we do recommend that you reapply your sunscreen every two hours, especially if you perspire a lot or go swimming.

This product is breaking me out, i had gotten to the point where my acne was smooth and just a few very small spots and marks left... using this by the end of the day my spots are sometimes painfull and raised! I gave it chance, i took 2 days break from it, as i was staying in and my skin is smoothed out again, i used this product again today and same things happening my spots are raising again, and feeling sore... struggling to find a spf moisturiser now that i would trust, im using bha 2% which i love and its brilliant! Alongside the cleanser i also like and BP from my doctor's.. still unfortunately looking for a moisturiser, very unhappy as it wasn't a cheap products and it will go to waste. Very frustrating when a product in a line doesn't work as i like to use products from the same line as i believe they compliment each other.

Most cosmetically elegant sunscreen I've found and I've tried so many. Every sunscreen I've ever used has broken me out terribly, this has not given me one new pimple or blackhead, amazing. I have very reactive skin and within 30 minutes of applying this my skin will be calm and less red or blotchy, if anything sunscreen usually makes that worse. Gives a really nice sheen to the skin too. I have really sensitive eyes so can't apply this too close to them or the chemical sunscreens in it will sting them all day which can get a bit unbearable so I just make sure I apply it carefully. I really love this one, for the love of god don't reformulate/discontinue this ever.

A little seems to go a long way with this I am still on the trial size even though I have purchased the full size now. I know it says apply liberally and I will do that in the summer to benefit more from the SPF but I live in the U.K. I don't even see the sun in the winter.
I like that this is a really light mosterizer fluid. It doesn't seem matte finish on me - maybe I am extremely oily. It works well under a matte foundation though e.g. Clinique matte oil free. I would give this five stars if it was also a mattifying moisturiser; if that is even possible?
Reading the sun protection measures on the back of the tube made me giggle : 'wear long sleeve shirt, pants, sunglasses and a hat'

This product is definitely breaking me out in blemishes and blackheads, I am at a complete loss with what to do i also tried the skin recovery spf and i broke out in blackheads nothing seems to work for my dry/acne and also cuperose skin ! :(
such a shame as the product is so thin and feels nice,drys down quickly but something in PCs sunscreen/moisturisers seem to be breaking me out!!

Customer Care: Thank you for your review. We are sorry to hear that some of the sunscreens are not working out for you. Although this is not a common response, we do understand that each customer is uniquely different in how they will respond to products or ingredients. Please contact our customer care team for further assistance with finding an alternative product.

The best spf moisturiser I have used. Its so sad the normal size has been out of stock for over a month, what is happening Paula's choice? All the products that are very effective are out of stock, its summer and I need my spf moisturiser, Ive ran out of my moisturiser. I have clled customer service 2 weeks ago and no idea when it will be back on stock, I cant try other product because of my skin type and have wasted so much money before I found what worked for me and now they are all out of stock!

I've been using this for a few months now and It doesn't cause me to break out at all. It's very light, and I don't find the product to be greasy. Occasionally I use it alone as a moisturiser but usually I will add it on top as my skin gets quite dry in some places.

My skin feels so dry after using it.and skin can be peeled of sometimes.

very pleased with this. So nice to be able to use a moisturiser with an spf that I know isn't going to clog up my skin

I love everything about this except I developed brown patches on my skin. At first I thought I had overdone it with exfoliants. I contacted the PC team and they said I had probably reached my skin's exfoliating threshold so I stopped exfoliating for at least three months but kept using this moisturiser with spf. The brown patches were kind of painful too and they didn't go away.

One day, I thought to stop using it and tried spf from a different brand. My face felt so calm and it was so soothing. I have been exfoliating ever since and I haven't had any problems.

I hope PC look into this as I would still prefer a PC product as all my staples are from them. I tried two other spf products from here and had the same results. Something in them is too much for my skin.

Customer Care: Thank you for your review. We're sorry to hear about the experience that you've had when using this product. Unfortunately, not everyone reacts in the same way to skin-care ingredients, and some can be more sensitive to a particular ingredient than others. It is possible, a sunscreen with a mineral filter may be a better option for you. Please contact our customer care team for a recommendation.

I have really been struggling to find a moisturizer, that does not clog up my pores. I wasn't sure, if something with SPF would help me, as I have had a bad reaction to sunscreen in the past, but this.. this moisturizer is amazing! My skin does not find it irritating nor overly oily, it takes only a little to go over my whole face, it leaves my skin loved and happy. No extra pimples to deal with later on, my normal/dry skin is hydrated, and it definitely fights the sun damage as well, without me breaking out because of it. I really recommend giving this a try!

Customer Care: Hi Kristina, Thank you for sharing your experience with us, we are always delighted to hear from our customers.

I really liked the texture of the product and my face looked very fresh after applying the product, but brown patches appeared on my skin above my lip and on my forehead and darkened every day. I have stopped using this sunscreen and now I use physical sunscreen which does not make the patches darker. I wish I never tried this product as I have very nice skin (but now with two big brown patches).

Customer Care: Thank you for your review. We're sorry to hear about the experience that you've had when using this product. Unfortunately, not everyone reacts in the same way to skin-care ingredients, and some can be more sensitive to a particular ingredient than others.

I bought the trial version of this and I will be buying the normal size in my next order. It's the lightest moisturiser with SPF I've ever used, in fact the lightest moisturiser overall that I've ever used, yet it still feels soothing on my skin and gives it everything it needs. Perfect for my combination skin. A little goes a long way.

A great product for those of us with acne prone skin, who wants to use SPF. It gives you a matt finish and sits well under makeup. I have nothing bad to say!

All sunscreens tend to break me out and I hate the thick sticky greasy texture they leave on your skin! however this is the complete opposite! its so light it glides on like water and you don't even notice it's there! will deffinatly re-purchase. I can't realy tell long term if it would cause a breakout as my skin is quite bad at the moment but it didn't seem to irritate it at all.

I thought the Skin Balancing Ultra Sheer SPF 30 was good but this product is even better (certainly for me). Very light but not drying, has a slight 'glow' to it so not a matt look but doesn't make my skin oily, so I guess it is mattifying by not adding to oiliness. And I like the 'glow', I don't want a flat, dry look, which I often get from mattifying products. My skin feels comfortable when I apply the product, I've had no break outs, great sun protection - I love it! Will also try the new Resist SPF 50 product, which I understand is the same formulation with higher SPF, perfect for summer. Thanks, and well done, PC.

Goes on easily, is light and feels protective, not super moisturising or super mattifying but a lovely formula.

Ok people this is the spf that us combo/acne probe lot have been waiting for so here the fantastic part it is light it layers great over moisturisers and aha/bha exfoliant as with some spf products ball up when the shin has the exfoliating liquid or gels under then this PC spf does not . It dries down to a satin finish I'm not going to lie it's not matt but it just leaves the skin looking lightly hydrated the texture is feather light and is a bit thicker than the resist toner . And the best part is with me being a bloke there is no showing of spf in my facial hair :) and no white cast .

Have to say, after just a few days using this product my husband and I are both very impressed. Neither of us suffer from acne, but it's a lovely product to use, SO light (impressed at the SPF 30!) and leaves skin looking and feeling great. I have a feeling I might be buying the bigger bottle next time!

More reviews Less reviews

Ingredients

What are the key ingredients?

Avobenzone
Synthetic sunscreen ingredient, provides broad-spectrum sun protection and is one of the most widely used UVA filters in the world.

Green Tea Extract
Possesses potent antioxidant and skin-soothing properties and has impressive research in terms of its many benefits for skin, including anti-ageing properties.

Vitamin E
One of the most researched antioxidants for the body and for skin. Plays a supporting role in helping defend skin from the stress caused by UV light exposure.

Ingredients:
Aqua, Ethylhexyl Methoxycinnamate (Octinoxate, 7,5%, sunscreen), Glycerin (hydration/skin replenishing), Ethylhexyl Salicylate (Octisalate, 5%, sunscreen), Silica (absorbent agent), Octocrylene (2%, sunscreen), Butyl Methoxydibenzoylmethane (Avobenzone, 2%, sunscreen), Dimethicone (hydration), Benzyl Alcohol (preservative), Tocopherol (vitamin E/antioxidant), Chamomilla Recutita (Matricaria) Flower Extract (antioxidant), Vitis Vinifera (Grape) Seed Extract (antioxidant), Camellia Sinensis (Green Tea) Leaf Extract (antioxidant), Camellia Oleifera (Green Tea) Leaf Extract (antioxidant), Peucedanum Graveolens (Dill) Extract (antioxidant), Sambucus Nigra (Black Elderberry) Fruit Extract (antioxidant), Avena Sativa (Oat) Bran Extract (skin-soothing), Punica Granatum (Pomegranate) Extract (antioxidant), Lycium Barbarum (Goij) Fruit Extract (antioxidant), Hydrogenated Lecithin (skin-restoring), Titanium Dioxide (texture-enhancing/texture-enhancing), Dimethicone/Vinyl Dimethicone Crosspolymer (hydration), Diethylhexyl Syringylidenemalonate (hydration), Hydroxyethyl Acrylate/Sodium Acryloyldimethyl Taurate Copolymer (film-forming/suspending agent), Xanthan Gum (texture-enhancing), Sodium Carbomer (texture-enhancing), Sodium Benzoate (stabilizer), Potassium Sorbate (stabilizer), Phenoxyethanol (preservative).

FAQ

Will Clear Ultra-Light Daily Mattifying Fluid SPF 30+ fade red marks from breakouts?

Because of the excellent sun protection it provides, it will help fade those lingering marks from past breakouts, especially when used as part of a comprehensive, gentle skincare routine that includes a good exfoliant and serum loaded with anti-ageing ingredients, such as Resist Ultra-Light Super Antioxidant Concentrate Serum.

I have extra-sensitive skin that breaks out. Can I use this Clear daytime moisturiser?

If you have extra-sensitive skin, we recommend that you try Calm Redness Relief Moisturizer SPF 30 for normal to oily skin, as it is formulated with gentle mineral-based sunscreens that are non-irritating for extra-sensitive skin.

Is there another Paula's Choice product which is similar to the Clear Ultra-Light Daily Mattifying Fluid SPF 30+?

Our Clear Ultra-Light Daily Mattifying Fluid SPF 30+ is identical in terms of ingredients to our Resist Youth-Extending Daily Mattifying Fluid SPF 50, apart from the sun protection.
Research
Seminars in Plastic Surgery, August 2016, issue 3, pages 129-133 Oxidative Medicine Longevity, 2015, volume 2015, 709628 Dermatologic Research and Practice, 2012, volume 2012, 135206 The Journal of Clinical and Aesthetic Dermatology, January 2013, issue 1, pages 16-26 Indian Journal of Dermatology and Venereology, March-April 2012, issue 2, pages 142-145 Archives of Dermatology, August 2000, issue 8, pages 989-994 Molecular Medicine Reports, November 2010, issue 6, pages 895-901 International Journal of Toxicology, 2001, supplement 1, pages S21-45 Phytomedicine, January 2005, issue 1-2, pages 131-137 Pharmacognosy Magazine, July 2010, issue 23, pages 198-203