https://www.paulaschoice.co.uk/clear-pore-normalizing-cleanser-full-size/6001.html
Clear Cleanser
Refreshing cleansing gel gently removes excess oil, debris and pore-clogging impurities.

Skin Type:

All skin types

Concern:

Breakouts, Blackheads, Enlarged pores

Ingredients:

Glycerin, Panthenol (Vitamin B5), Sodium Laureth Sulfate

View all

Routine:

Cleanser
Remove from Wishlist
Add to Wishlist
Product out of stock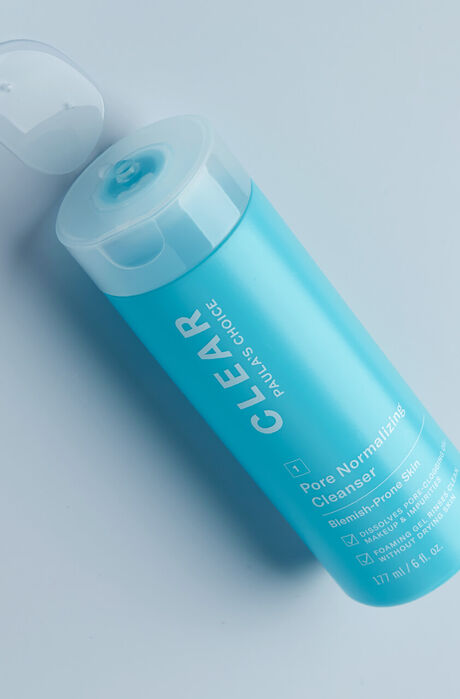 This product is sold out at the moment. Fill in your email address below and we'll gladly send you an email as soon as it is back in stock!
What does it do?

Tough on breakouts, soft on your skin.

Breakouts can occur at any age, whether you're 15 or 50. Cleansing is the first step to improving your skin. Clear Pore Normalizing Cleanser is tough on blemishes yet kind to your skin, gently removing excess oil, debris and pore-clogging impurities to leave skin clean, clear and refreshed.

Is this suitable for my skin?

Key Features

Leaves skin feeling clean and refreshed

Soft on skin, hard on breakouts

How to use

Use morning and evening. Splash the face and eyes generously with water. Apply a small amount of cleanser to your face using vigorous yet gentle circular motions. Rinse well. Repeat or use with a clean washcloth to remove heavy makeup.

Reviews

Thank you for submitting your review! It will be reviewed by our staff before it is posted.

I love everything about this Pore Normalizing Cleanser: the gel formula, the scent, even though there is no fragrance at all. I don't know how to describe it, it just has this very clean and fresh scent to it and I love it. It feels as though I'm cleansing my face with good clean ingredients. It also contains BHA which is amazing for oily acne-prone skin. Please never discontinue.

Customer Care: Hi Sana, I'm so happy you love our Clear Cleanser! We don't add any additional fragrance to any of our products, so you are smelling the pure ingredients! The small amount of BHA in the product ensure that the cleansing ingredients can get right into the pores. Please don't hesitate to contact us if you'd ever like any advice! Kind regards, Marissa - Paula's Choice Customer Care

My skin recently broke out due to PPE at work in the heat. Previous cleansers irritated my skin and others didn't remove make up well enough; but this has helped cleanse my skin really well! Also helped to reduce spot appearances on my skin. It can be a little drying as I have combination skin so it dried my mouth area out and made it flaky but this was easily restored with the Paula's Choice Moisturiser with SPF 50. I have just ordered more products and I can't wait to try them! Love the money back guatentee as well as so many products have been wasted when they haven't worked for me in the past.

Hi Aadilah, thank you for your positive review! I'm so happy to hear that our Clear Pore Normalizing Cleanser has helped address your skin concerns. This cleanser is great at gently removing excess oil and pore-clogging impurities while being kind and gentle to your skin. We hope you enjoy trying your new products and if you ever have any questions please do get in touch - we are happy to help you! Kind regards, Shannon - Paula's Choice Customer Care Team

This cleanser was recommended to me by a friend as it worked well for her. After using for the first week my skin broke out worse than before. However I kept using it as it should take at least two weeks for the skin to become acclimated to new skincare products. I have now been using this cleanser for 3 and a half weeks and seen no improvements. My skin feels dry, inflamed and I don't get that clean feeling after using it.
One thing I do like was it isn't scented or tested on animals.
I have given the rest of the bottle to my friend and won't be buying again.

Hi Megan. I'm sorry that this wasn't a fit for you! Everyone's skin is unique, so what works for one person, does not always work for all. We have a variety of cleansers for different skin types, so be sure to contact our Customer Care for assistance with a suitable alternative cleanser. Kind regards, Natasha - Paula's Choice Customer Care Team.

This cleanser is no joke!

I developed hormonal and cystic acne in my 30s and have tried everything to clear it up. I have been using PC products since January, starting with the BHA gel and adding in other things in as I went along. The last thing to add in to my routine was a cleanser, I was sceptical after some of the reviews but it is an absolute game changer and the last piece of the jigsaw puzzle for me.

It's really powerful stuff. My skin isn't sensitive to products, I can use the BHA gel twice a day, but I went though a major purge for about 7 days when I started using it. It didn't bring me out in spots but my skin was very dry and bumpy, almost like a heat rash. But persevered and after a week my skin looked amazing - I genuinely can not believe how good it is! It's smooth, much less oily, pores are smaller and I've not a single spot in 2 weeks!

100% recommend.

Customer Care: Dear Laura, thank you for taking the time to write a positive review about the Clear Cleanser! It's so important to slowly introduce products and give them time to work. The Clear Cleanser and BHA Gel are a perfect match for acne. I'm so happy you've found the routine that works for you! Warm regards, Marissa - Paula's Choice Customer Care Team

Developed cystic acne on my back and shoulders age 40 and since then this is the first product I've tried that actually looks and feels like it's working!

Really good cleanser for my oily skin, feels balanced and clean after a wash and doesn't break me out

I dont have problems with my skin and very occasionally i get some breakouts. After using the cleanser my skin is burned and very irritated. Dont recommend.

Customer care: Hi, and thanks for letting us know of your experience - we're sorry to hear this didn't work for you! We encourage you to contact our customer service department, who can recommend a suitable alternative.

I have normal skin. I wanted to try a cleanser that lathered a tiny bit - this delivered on that but after just one use left my skin with dry white flakes and feeling super tight. No other cleanser has done this before so I probably won't be using again.

Customer Care: Hi there! We're sorry the Clear Cleanser wasn't a fit for you! Be sure to contact our Customer Care for assistance.

So my sister uses this and said it works miracles. I got it and it worked for a day or two but now my skin feels tight and it's super dry even with moisturiser. My skin is flaking all around my eyes and my mouth. And now I have spots all over as well. I'm having to go back to my old cleanser.

Customer Care: Sorry to hear of your experience. Unfortunately, not everyone reacts in the same way to skin-care ingredients. A team member will contact you regarding our 60 day money-back guarantee and to offer product advice.

I bought this looking for a cleanser that does the job the first time and removes product/make up/build up. It is good in that regard. But it is sooooo drying, even though it says it's not. It gets to the point my face feels like it's about to crack five minutes after I use it. And then it feels tight all night, even after moisturising, with my forehead and nose starting to flake.
Disappointed because it specifically said it was gentle on the skin and it's the opposite. I want to keep using it but I might just have to throw it out entirely because it seems to be doing more harm than good. First Paula's Choice product I've ever bought and had quite high hopes 😬

I bought this looking for a cleanser that does the job the first time and removes product/make up/build up. It is good in that regard. But it is sooooo drying, even though it says it's not. It gets to the point my face feels like it's about to crack five minutes after I use it. And then it feels tight all night, even after moisturising, with my forehead and nose starting to flake.

Disappointed because it specifically said it was gentle on the skin and it's the opposite. I want to keep using it but I might just have to throw it out entirely because it seems to be doing more harm than good. First Paula's Choice product I've ever bought and had quite high hopes 😬

Customer Care: Thanks for letting us know of your experience - we're sorry to hear this didn't work for you! One of our team will reach out to you regarding return & refund of the product.

Before using the Clear range, my skin had finally started to clear up after months of prescribed acne treatments, so I had bought this to help keep it at bay. I can honestly say my skin is now worse than ever. I tried to use it all up because of how expensive this set was, but I am constantly breaking out. I have been left with extremely dry, irritated skin, with more sore acne breakouts and scarring than before. I tried to stick with it for as long as possible as I know acne products can sometimes take your skin through a 'purging' stage where it gives you worse skin before it can make it better, but this was not the case. After over a months worth of use now, my skin is just going from bad to worse. This is really disappointing and has deeply affected my confidence, especially considering the price of the set from the Clear range, and how difficult it will be to get my acne under control again.

Customer Care: Thank you for sharing your experience with us - we're sorry to hear this didn't work as expected for you! Please contact our Customer Care team, who can assist you with a possible alternative

So wanted this to help as I've heard such good things but after 4 days of using my nose and cheeks are covered in spots, such a shame as it really has helped shrink my pores. But l'm going to have to stop using it.

Customer Care: Thanks for your review. We're sorry this didn't work for you. We encourage you to contact our customer service department, who might be able to provide you with a refund and assist with a possible alternative.

I have acne prone combination skin, unfortunately this didn't clear up my acne that I could notice and caused very dry skin around my eye area. I used the clear moisturiser along side it so it could have been that causing the dry skin as well. I would also say to avoid the eye area because it stings even if you have your eyes closed.

Customer Care: Hi there. Thank you for sharing your experience. We're sorry to hear this wasn't a good fit for you! Please contact a member of our Customer Care team, who can assist you with a possible alternative.

I bought this after a member of the family had tried it and it had cleared up their skin. It has made mine so dry and the spots worse...I have been using a week now and am going to stop using as I look awful. Really thought this would work :-(

Customer care:
Hello, and thank you for sharing your experience with us - we're sorry to hear this didn't work as expected for you! We have reached out to you personally to assist you further.

I really wanted to like this but it made my skin so much more worse, I originally bought the travel set to try it out and I feel like it was working but when I decided to get the full size of this it went left, I guess I didn't try it long enough to really know if it was helping or not. I stopped using the product and started again and then started breaking out some more. I literally want to love the product so bad I love the idea of it, the ingredients but I guess it just isn't for me. I'm now just waiting for my skin to go down a little before I try any more Paulas choice products but hopefully the next time round it will be better.

Customer Care: Thank you for your review. We are sorry to hear of your experience and discomfort. Although this is not a common response, we do understand that each customer is uniquely different in how they will respond to certain products or ingredients. Should you need further assistance, don't hesitate to contact our customer care team.

I'm just starting to actually pay attention to my skin - just to give you a idea, I'm Indian, 32 and female. I used to use avene's face wash. I found that this was really drying my skin and so had to compensate with other hydrating products to moisturise my skin - which didn't actually do anything for me as they felt like they just sat on my skin instead of being absorbed. I struggled with acne for a long time - was on antibiotics for 3 months with the use of benzoyl peroxide. I've used so many different cleansers that haven't actually worked. I then used the PC resist one in the dark blue bottle. This made my skin feel really good but never actually helped with working on the little spots I still had left - but it definately felt like my skin was hydrated. I'm currently using this and it's amazing! My face feels clean. It doesn't feel like it's strips my face and so my face still feels hydrated. I love the gel formula as it feels like it's cleaning my face with out over hydrating it.

I really wanted to like this product because of all the amazing reviews and I was really excited to potentially finally get clear skin. However, the product made my skin incredibly dry and flaky and really quite painful. It also made me break out with even more spots than usual. I usually have normal to oily skin so it was really unusual for me to get such dry skin, and the Paulas choice omega moisturiser (which is thick and creamy) didn't make even the slightest improvement in the dryness. I stuck with it for a couple weeks to see if my skin adjusted to the cleanser and improved but it never did, so I stopped using it and within a couple days my skin returned to normal. I'm really happy for everyone else who's skin has improved from this product, but just a warning - it may not be the miracle cure that you're hoping for!!!

Customer Care: Hello, and thank you for sharing your experience with us - we're sorry to hear this didn't work as expected for you! Please contact a member of our Customer Care team, who can assist you with a possible alternative.

I use this every evening in combination with the 2% BHA exfoliant and it has helped clear my skin so dramatically. I have acne prone skin, especially on my chin and forehead. After a week, my spots started to get better and after a few weeks I wasn't getting new spots. If you have sensitive, acne prone skin I highly recommend this!

From someone who suffers with acne prone skin and cyst blemishes I am very impressed. I will not go back to anything else my skin is clearer and the products I purchased dont sting like previous products have. I wish I knew about this range years ago, literally changed my life

Fantastic product and believe me I've tried a few! I suffer from very oily skin which we all know gives you spectacular breakouts if you don't cleanse properly. This is gentle but also tough enough to remove make-up including waterproof mascara. I double wash in the evening, once to remove my make-up, second time to cleanse and treat my skin. I find this works best, especially if you are using a sunscreen. I still get hormonal breakouts, but they are nowhere near as bad as they were and clear up really quickly. I don't find this too drying – it doesn't strip your skin – it just leaves it clean!

If I could rate this product more I really would. This product has changed my life. I 100% saw results in a week. I have hormonal acne, as an adult this can be very embarrassing, my mental health was also effected as I didn't want to go out much due to how bad my face really was, now my face is calm, redness has gone down. I strongly believe this product delivers what it says it does. Very very impressed and greatful for Paul's choice to be in my life.

This is a simple cleanser that does the job of cleaning without stripping. My skin is sensitive and dry and I haven't had any issues with this irritating or drying out my skin. You only need a small amount so the bottle does end up lasting a long time. I will definitely be repurchasing.

I am a huge fan of the Paula's Choice BHA liquid exfoliant so was keen to try this in my oily/combination skin that gets periodic breakouts. However, using the two in combination seems to have irritated the skin around my mouth for some reason, leaving it red, dry and slightly flaky. I have no idea why as most other reviewers say it's not drying in the least. When I stopped using it the dry patches cleared up. As a cleanser, it foams nicely, leaving skin feeling soft, and a little goes a long way.

Customer Care: Tthank you for sharing your experience with us - we're sorry to hear this didn't work as expected for you. Unfortunately, not everyone reacts in the same way to skin-care ingredients, and some can be more sensitive to a particular ingredient than others. Please contact our team should you need further advice.

This cleanser has been a saviour for me. It doesnt dry in any way but gets rid of all the impurities in my face. Helped me a lot with my current acne dillemna together with the 2% BHA Exfoliating Lotion.

I brought this as have been suffering from a few breakouts and this seems to be doing the trick. I have been using it for about a month now and will buy again. Does not dry the skin out but leaves it feeling smooth and comfortable.

This face wash is just amazing, my 15 year old daughter loves it. It clears her skin and keeps it break out free, however does not strip it out, it leaves it soft and moisturised

I hadn't realised that before I started using Paula's choice products I was irritating my skin. I love the scent of this cleanser it does not have anything added so only smells lightly of cleansing agents. It feels like it cleans my skin really well and it is not red or tight or too oily afterwards. Just right for oily breakout prone skin.

The only thing you could do to make it better is lower the price and universal quantities.
I wish the instructions were universal for amounts to use; I have absolutely no idea how much a quarter to nickel size amount is or what dime size is either. Universal sizing would help e.g. Toothpaste - pea sized amount.

I do like this wash, doesn't remove make up so I use it a secondary wash. It leaves my face lovely and smooth. Very nice!
Only annoying thing is that it's £5 more expensive than in the USA.

Bought this product back in January, and am now getting towards the end of the bottle, using it daily, so value for money it's great.

I have combination, sensitive skin and suffer from rosaccea and mild acne. I always find it hard to find a product that will suit my 'complex' for want of a better word, skin, that won't cause it to a)flare up b)get red c)cause spots. This product is the best!

I dont' get spots from using it, my skin doesn't dry up as it's not harsh, the aloe vera found in it is great for soothing my skin. I use it with my face brush, with sensitive bristles and my skin has cleared up so much. I usually only use a tiny bit of the product on the bristles and it goes a long way with a little water. Will now be trying out the other products in this range!

Thanks!

Bought the trial size version and have liked it so far. However noticed that it contains SLES in the ingredients, I've heard this can be harmful to your skin. Is this true and why is it included?

Customer Care: Thank you for your review. We are happy to hear that you like this products. Actually, despite the name similarity, sodium laureth sulfate, which is used in this cleanser, is NOT the same as sodium lauryl sulfate which is harmful. We would like to assure you that Paula and her production team would never use any harmful ingredients.

I do like this cleanser, it can be potentially drying to even oily skin but a bit of moisturiser can help that.

At the age of 45, I developed cystic acne. Nothing worked, not even the cream the doctor gave me. I've been using the Clear Pore Normalizing Cleanser for just over 3 weeks now, and my acne has improved considerably. The large, red lumps under my skin are much smaller and fewer in number, and I don't feel so self-conscious. You don't need much to get it foaming and it's not drying out the rest of my skin. I ordered the trial size and I'm just about to order the full size!

I have a number of skin issues, including sensitivity, moderate rosacea, keratosis pilaris and acne. Recently my rosacea has flared up due to the change in season, and using La Roche Posay's Rosaliac treatment to combat this (although quite effective on the redness) ultimately led to a nasty attack of KP. Balancing these various issues has been tricky, to say the least!

I decided to try a new cleanser and bought the trial size of this one. Having used it now for a week, I'm impressed at the results. Here's what I like about it:
- contains nothing irritating (fragrance, etc.) and feels very gentle on skin
- the formula is light: it's not too thick and produces a small amount of lather. Plus, you only need a very small amount.
- it has improved the texture of my skin rapidly. Blocked pores are diminished and spots have shrunk. Skin feels smooth and soft. I've experienced no post-cleanse irritation from this. It has balanced my combination skin - dry areas are flake-free, and oily areas are drier.

One drawback for me is that it hasn't made a huge difference to my rosacea. I still have red colouration on my cheeks and nose. However, the overall improvement in the texture of my skin now means that makeup goes on much better to bring down the redness. This product isn't specifically formulated to tackle rosacea, however, so I don't feel too bad about it: it just would've been a nice cheeky extra if it had fixed that too!

Overall I'm really pleased with this product and will be buying the full-sized version. Also, it's great to be able to buy a sample size first and trial it. My skin is so temperamental I never quite know what will work, so that was really helpful!

This cleanser, alongside a gentle face scrubbing cloth, BHA2% solution and SPF moisturizer has turned my skin from spotty to smooth. Just so you all know, my skin is normal/dry, and I have no skin conditions. None, but one, I used to get tiny little bumps all over my forehead. Not really acne, but the skin coloured and raised bumps would make my forehead look horrible in certain lighting. I have tried so many products before finding Paula`s Choice, that I thought that my clogged up pore problem would never be gone, that I would always have a horribly bubbly forehead. But this product, with the whole sample kit, has turned my skin around completely! It is now clear, smooth and lovely. I only get a few hormonal breakouts, and even they are gone after a few days. I can only praise the hard work put into this skincare routine, as I haven´t had to worry about my skin for a month now. My skin was turned around in a month. It takes time to work, but it works. I recommend at least trying the sample kit out, if you are struggling with mild acne or skin bumpiness.

Have been using this for 2 years, started off with 3-4 spots breakout a month, now only get 1 every 2 month - if that. Thanks

Don't let this review stop you from trying it - clearly the product is useful for so many people, and cheap to trial! But it seems this is yet another product that my skin doesn't respond to, not for the better or worse. I don't know what it is about my skin that makes it so unresponsive to everything! Saying that, though, I think it did begin to bring out my pores when I started applying a bit more in one go, but I'm not entirely sure whether creating spots is initially a good thing, and I'm reluctant to use a lot in one go because it does make my face feel a bit uncomfortable and tight. I have a feeling it's maybe because my skin isn't that bad in the first place - I pretty much never wear make up so people are probably used to it and don't notice, but there are a LOT of faint red marks on my chin from previous spots and it would be nice to get rid of the blackheads, and I do still get the odd noticeable spot. Nothing seems to have changed, and I was looking forward to see an improvement, considering the claims of this company. Is there a better option for me to try?

Customer Care: We would love to help you with a tailor made advise, please contact Customer Care for further assistance

I bought a small 30ml trial size of this cleanser. I have been using it without a problem. It is a clear, thickish liquid, which lathers up nicely. I don't know why, but I like my cleansers to lather! This feels nice on the skin too, soft and calming. I have a small wooden handled cleansing brush from Superdrug which has the softest bristles EVER, and this works it into my skin when I am wearing make up to help clean it off thoroughly. To be honest, I can't really comment on its effectiveness in normalising my pores - I have not used it consistently alone (I am also using the Resist Foaming Cleanser), but I feel it suits my skin and afterwards my face is matt, and I have not broken out with it. My slightly oily T-Zone is oil free after using it, but not tight feeling or dry. I do like this cleanser, and it IS the most reasonably priced, but I just personally prefer the benefits of some of PC's other cleansers. Great to try at £4.50 though!

This is a good cleanser but it didn't prevent breakouts for me. I do have severely congested skin so I need to combine this with acid peels for maximum efficacy.

I just bought a second one, I was one of those that jumped the cleansing balm bandwagon! But buying CLEANSERS (not leave-on product, but cleansers) for £35+ became too much! This cleanser is effective, not too damaging for my sensitive/oily skin, removes make-up well. Only reason why I am giving it a 4 instead of a 5 is that it can be a bit too drying for me - even if I have oily skin, I can find it too drying sometimes. But besides from that - I love this cleanser!

I've been using Paula's Choice for a few weeks now and I'm amazed at the change in my skin. It looks better than it has done for years.
I have very mild comogenic acne and this cleanser is very gently whilst leaving my skin feeling very clean. I actually prefer the feel on my skin of the Paula's Choice Resist Foaming Cleanser, and I also think the Resist cleanser gets all the last bits of make-up off a bit more effectively that this one. So I generally use the Clear one in the morning to get the benefit of both; and I love that the Clear cleanser has a mild antibacterial agent in it. Its gel texture is still pleasant to use and a little goes a long way so its good value too.

This is my staple cleanser now and I am so relieved, happy and excited about Paula's Choice products. They have made a huge difference to my skin. My face feels so soft and smooth that I do not care so much about my acne scars anymore. They actually look softer and not as harsh as they used to.

This cleanser is gentle and it doesn't dry my skin out at all. Also, I only have to use a little. It sometimes stings my eyes- don't know why as it doesn't happen all the time- but overall, I'm very pleased and satisfied with the results.

Thank you PC!

I came across Paula's Choice after visiting a well- known make-up artist's website, who was recommending some of the products for her skin type, which sounded similar to mine;so, I decide to research the range myself. I'm soooo glad that I did!!! Having turned 50 this year, I have always "suffered"from an oily, problematic skin. I have spent LOADS of my hard- earned money on , I would say, every range out there, in my search for a skin care range that would make a difference to my skin. Paula's Choice, after 50 years of searching, is the ONLY range that has worked and, after reading Paula's website, I now know WHY the other ranges have not worked for me and that is in spite of all the "miracle-cure" claims that all the other very high-end premium, expensive ranges make. It's obviously the ingredients that have irritated my skin, exacerbating my oiliness; this includes high-end spa ranges that beauty salons use also. Paula's products have cleared up my acne on my chin and nose area, those horrible under-skin pimples. My pores are also cleaner and far less noticeable. Makeup hoes on so much smoother.My skin is smoother and clearer than it has ever been- and I'm talking since my teen years.the products are good value and last a good length of time. I use the pore normalising cleanser, balancing toner, exfoliated extra strength, mattifying daily moisturiser, light serum, and the daily moisturiser for oily skin. At first, I also followed Paula's advice and included a benzoyl peroxide product to clear up my skin. I was shocked and, more so, angry, after reading Paula's brand reviews, at the false claims that so many other brands make- how do they get away with it!!!? Thanks to Paula's Choice for their honesty. I now do not have to accept that my skin problems were purely "hormonal". My daughter, who is 28, is also now using the range.

Great cleanser for acne prone skin. Best I have used. Gentle but does the job, totally non irritating and clean rinsing. Does not dry out skin. The concept of using a gentle non irritating cleanser that leaves no residue and includes an effective anti-bacterial agent to knock down the acne on your skin twice a day works so well for my skin. Wish I had found it sooner!

I enjoy using this cleanser. First, I bought the trial size and then the full size. I would love a bigger size option for this and the resist cleanser. I find it suitable for my breakout prone dry skin, although if I'm wearing a face of makeup then I generally cleanse with a cleansing balm before using this.

First I found my hg moisturiser then I came across this and found my go to cleanser it's the first cleanser for spot prone skin that I have used that had not dried out my skin , made me breakout a week later . It leaves my skin feeling soft and clean and has helped to keep my face clear . Just a small ask paulas choice please please please bring out a extra large size .

I was using the hydralight cleanser, even though it was a very-good gentle cleanser I wanted something extra, I purchased the trial size version of the clear cleanser and ive been using it every night alongside the bha liquid and the resist ultra light antioxident serum, since using the cleanser my skin is bright, healthy, and it's nicely getting rid of blemishes!
A must have for anyone struggling with acne, and for those who want to accelerate their process of the bha.
Love love love this product.

I love this product!! Used with the 2% AHA have seen great improvements in my skin. Cleanses effectively without any drying. You don't need to use very much product either. Only wish you did it in the bigger size.

I have sensitive combination skin and acne so I thought this product would be ideal for me. I was initially very happy with it - you don't need to use very much, it feels silky and rinses off easily, and I hoped the antibacterial agent would help.

However I have noticed that since I started to use the RESIST Super-Light Daily Wrinkle Defense SPF 30, which contains a tint, that this cleanser seemed to struggle to remove it properly, despite claiming to work well on makeup, meaning I had to wash twice and even then a little was left behind. I felt this was disappointing as it's another Paula's Choice product, and not even proper makeup, just a tinted moisturiser.

Also although it leaves my skin feeling fresh, it still feel very slightly tight - only slightly, and it still one of the better cleansers I've tried - but still disappointing considering I didn't find the cleansing all that effective.

I certainly haven't had any major breakouts using this, but I don't feel it's done much for my existing acne either.

Overall I think this is quite poor value compared to other PC cleansers and I won't be ordering it again.

After years of ineffective skin care routines for my oily, blackhead and blemish prone skin, which is now also aging skin (I'm 37 years old), Paula's choice has been a revelation! I don't wear heavy make-up, but with the exception of trace mascara this cleanser removes everything and is gentle enough that a second wash in the evening (if needed) doesn't dry out my skin or leave it irritated. I still have the occasional hormonal blackhead and blemish, but 3 months after starting use my skin is better than it has ever been and improving daily in clarity. In conjunction with the antiredness exfoliant solution and hydralight moisturiser I couldn't be happier with the results.

I'm giving this three stars only because it didn't make things worse (I think). It did not effectively remove my make up: I use a cleansing lotion to remove foundation and mascara first, and then wash my face twice with a face wash. This usually removes all of my make up effectively but when I started using this wash I found that I had panda eyes in the morning. At this point, I should make it clear that I do not wear a lot of make up - bare minimum in fact!It also did not improve the look of enlarged pores on my nose like I'd hoped that it would. Simply, I think that this cleanser is massively over-priced for what it does and also the volume that you get. I won't be buying it again, there are much cheaper gentle cleansers on the high street.

Has made my face sore,brittle & rather a mess,,Is like applying caster oil to your face and although it hasn't left my face appear dry I think it has because my face has that feel of a film of oil laying on the top of it which is what I get when I use products that dry it out.It's a tightrope this face wash for oily'sensitive skin business,Despite what the seller will say if a product is for oily skin then it may not suit everybody who has oily skin because some of us have skin that just won't tolerate anything that is drying...Not convinced (as Paula seems to be) on Triclosan.Have used it in a number of products over the years and never had any positive results from it being included in a cleanser.All very well harping on about it being good in right amount and lovely when used with benzoyl peroxide and salicylic acid but neither of those ingredients are in this product for starters.I judge a product by what spots are like once you have used it on them and this has just made existing spots flare up more and angrier.May be great for some people but if it wasn't for me then it will not be others too and it's just daft to presume so.Also this says it has 22 reviews on the product.Atleast half of them have gone for a burton.

Being a male in my late 20s. It's very annoying not only to have acne, not finding a way to get rid of it. I have combination of acne and oily skin (especially around t-zone), and this cleanser is the first cleanser i have used that actually has improved the complexion of my skin (2 weeks use needed before i saw a difference). I thought it would be like C***risil, but it's so much better and light in feeling when using it. You only need to use 5p size and the rub it on to a wet face. After washing your face just feels squeaky clean. I do however find the product slightly drying and face tight, but i do emphasise that it's very slight. This is balanced out by the toner and moisturiser i use (also by Paula.) Overall this isn't a miracle cure for acne, but it's an important step, and i will improve skin. I'd advice anyone to at least give the trial a go.

All i know is that i suffered with bad skin for about 20 years that was worse at the time of the month. This was recommended by a youtuber so i tried it. This has been 98% successful for me. I only suffer one spot on average at the wrong time of the month. It is so good i find i use it religiously because i dont want to go back to bad skin. I have been using this for five months now and have a clear face. I use this and the exfoliator at night. I use any other cleanser first to remove my make up then cleanse again with paulas choice and then the exfoliator. In the morning i use my everyday cleanser and it is enough to keep my skin clear. I use about a ten pence size amount and that is generous. If you use any more you are just wasting it. I am only on my second bottle as my first lasted four months so although the initial payout is alot of money, divide that amount by four and its quite reasonable considering the results obtained.

hi i have been using this to 2 weeks now and i have NO spots ,thats right NO spots, i have been using this with anti-redness exfoliating solution and the skin balancing daily mattifying lotion and i have had spots for 27 years ive been to the doc's and had creams and tables, i have used every product you can get at the chemists and they didnt help i truely cant belive i have found this product and it has worked so fast i still have marks on my skin where a had spots but i hope they will fade now that the spot have gone please try this product i dont think you can go wronge with it xxx

I really like this cleans your face brilliantly takes off everything but the most amazing part is when you exfoliate with a BHA product the next morning you see all your dead skin cells in the sink gross yes! but this cleanser does a amazing job.

After the success of using Paulas BHA and AHA exfoliants I was excited to try Paula's Cleansers (after recently running out of my Cetaphil). Customer service advised this for my skin type. But unfortunately I was left disappointed. Yes it does slightly clean face but it didn't meet up to the rest of its claims and left my skin rather drying and overal complexion still blemishy. I haven't experience this with pass gentle cleansers. So I was better of going back to my Cetaphil gentle in this case. But I would urge people to try samples first (i wish I did) this could work for you and will atleast make you feel slightly cleaner if your an oily type. but it ends there for me. But this doesnt deter me from purchasing from paulas in the future. Just on this rare occasion didn't work at all for me.

This cleanser is so nice and gentle to use on my irritated acne prone skin. Its a clear gel, which slightly foams up and takes away all the grease without over drying the skin! I have even tried it on a full face off makeup with a electronic face brush from Olay and tested it with a wipe and toner and there wasn't a single trace of foundation or powder left. The only problem i have, is using it around my eye, even the slightest contact with my eyes makes it slightly sting, but its not as bad as some of the other face cleansers i have tried. I like that it is anti bacterial and gentle, to prepare my skin for some of the stronger acne medication i use on my face.

I must start by saying that I am a HUGE fan of Paula's Choice products, I have been using them for several years, and my skin has never been better. A couple of years ago I started my young son on a gentle routine to get him into the habit of caring for his skin, and with the onset of teenage spots, we moved up a gear into the recommended methods outlined in Paula's very informative articles. He has been doing very well, keeping the worst of teenage skin troubles at bay. Recently he suffered a worse than usual outbreak, so I read the advice here again, looked at the excellent reviews, and decided to buy this cleanser. Sadly I have to report that after a single use, he experienced a very severe reaction to it - his whole face, including eyelids, became very red and sore. I immediately advised him to go back to his previous cleanser. Over the course of the next few days, his face became incredibly dry and flaky, almost cracked in some places. It remained very sore and flaky for over a week, until it eventually calmed down. While all this was going on, the single change he made to his routine was to try this cleanser. Everything else remained the same.
I would advise anyone thinking of using this product to proceed with extreme caution, buy a sample size first, and carry out a very small patch test.
I am disappointed, to say the least, with this product. I hope no other people suffer as my son has done.Customer Care :Thank you for your review. We are sorry to hear of your experience with this product. While the response you have indicated is not typical we do understand that each customer is uniquely different in how they will respond to products or ingredients. This along with everyday environmental factors can sometimes play a part in how someone will ultimately respond to a product or combination of products.. Please contact customer care via email or over the phone so that we can offer you a credit for this product.

I was sceptical that this would be as good as other reviewers have said, but thank you to those who have bothered to write a review as it really did influence my decision to purchase this cleanser and the toner. I am very glad I did, these products work. I have had several lumpy red blotches under my chin/throat for months - they clear up only to reappear within days or one heals and two more arrive. Within 3 days of using this product every single lump has cleared up. AMAZING! My skin is fairly dry in places and I'm 39. This does not leave my skin feeling tight and has not dried out my skin. It has improved the overall texture. Thank you. Fabulous products.

I have suffered with acne since I was a teen and the CLEAR system from Paula's choice literally saved my skin! My acne was really bad with stress/hormones last year but these products have really worked and sorted my skin out. I still have spots but the skin around it glows and looks really healthy and keeps spots/blackheads under control.
The cleanser itself is really lightweight and gentle, you only need a small one penny sized amount (unless you have lots of makeup on - though this just aggrevates acne in my case). It cuts through the oil on your face leaving it feeling really balanced, yet not drying it out. The product doesnt have perfume in either which saves it from irritation.
I would definitely recommend this product to anyone suffering with acne, I would use the whole system as they are all required for different things. I tried to scrimp by not using the toner and moisturiser last month and ended up with a breakout after using other products so learn from my mistake! Also dont suffer in silence and see a doctor in conjunction with these products if you have acne - they can help too.

This is a good straight forward cleanser that feels gentle yet is effective and importantly non-drying. I use this in conjunction with the toner and have really seen results like with no other products I have tried, and I have tried a few!!

I saw an article about Paula's book and decided to bought it when my daughter started to complain about acne. It changed the life of all the family. My daughter can't do without this cleanser combine with over the counter benzoyl peroxide 2.5%. Her spotty face has disappeared. When her brother started to spot one blemish on his face, he asked to have his own bottle !

I love this product my skin has never looked better. I just wish all of your products came in a BIGGER size!! So that all of the products would last a little bit longer which in turn would save on the high costs of VAT.

I have adult acne that comes and goes so I have tried a few products on the market over the years.I'm pleased with the Clear Normalizing Cleanser as it is dealing gently with my breakouts and it's not harsh at all.I like the fact that it's not leaving my skin dry either.Thank you Paula. The Shipping is quite expensive is the warehouse not based in Europe? .

Thank you Paula for educating me about not using irritants on my problem skin. I have struggled with adult acne for 20 years and I have finally understood why over-the-counter and other irritants-containing products never worked for me.

This light-weight gel is a delight to use. Easy to rinse out and makes my skin soft and supple. I also use the CLEAR Extra Strength Targeted Blemish Relief Toner and Skin Balancing Moisture Gel in my routine, and within a week of use I can see a huge difference to my skin. My spots are healing and no new ones are appearing. For the first time in years I feel I have control over my skin.

More reviews Less reviews

Ingredients

What are the key ingredients?

Glycerin
Skin-replenishing and restoring ingredient, found naturally in skin. It helps skin to maintain a healthy look and feel, defending against dryness.

Panthenol (Vitamin B5)
Panthenol is a humectant because of its ability to attract and hold moisture. It improves the look and feel of skin.

Sodium Laureth Sulfate
Gentle cleansing ingredient for all skin types.

Ingredients:
Aqua, Sodium Lauroyl Sarcosinate (cleansing agent), Acrylates/Steareth-20 Methacrylate Copolymer (texture-enhancing), Glycerin (skin replenishing), PEG-200 Hydrogenated Glyceryl Palmate (hydrating cleansing agent), Sodium Laureth Sulfate (cleansing agent), Salicylic Acid (skin-soothing), Arginine (amino acid/hydration), Butylene Glycol (texture enhancer), PEG-7 Glyceryl Cocoate (cleansing/skin-softening/emulsifier), Panthenol (hydration), Disodium EDTA (chelating agent), Citric Acid (pH adjuster), PEG-60 Hydrogenated Castor Oil (skin-softening), Sodium Citrate (chelating agent), Phenoxyethanol (preservative), Caprylyl Glycol (preservative), Chlorphenesin (preservative).

FAQ

Which cleanser should I choose if I suffer from breakouts?

The Clear Normalizing Cleanser is a very light gel cleanser, and is ideal for skin with breakouts. Would you rather use a light foamy, creamy cleanser that washes off easily? Then Skin Balancing Cleanser is also a good choice.

Does Paula's Choice have a product range with benzoyl peroxide?

Benzoyl peroxide is an active ingredient that is powerful against bacteria that causes breakouts. Based on cosmetic regulations of the EU, the Paula's Choice Clear products that contain benzoyl peroxide are not available in the European Union. A good alternative is Clear Daily Skin Clearing Treatment with azelaic acid.

Can I recycle this product?

This packaging is made of two components. The bottle and cap are both made from PP plastic. Please check with your local council before recycling this product.
Research
International Journal of Cosmetic Science, 2000 Feb, issue 1, pages 21-52 Journal of Cosmetic Science, July-August 2011, issue 4, pages 361-70 Indian Journal of Dermatology, May-June 2015, issue 3, pages 248–254 Skin Research and Technology, February 2001, issue 1, pages 49–55