https://www.paulaschoice.co.uk/calm-restoring-moisturizer-normal-to-dry-skin-full-size/9140.html
Calm Restoring Moisturiser
This rich night cream reduces redness and soothes irritated and sensitive skin.

Skin Type:

Normal skin, Dry skin

Concern:

Redness, Rosacea-prone skin, Sensitive skin

Ingredients:

Jojoba Oil, Squalane, Vitamin E

View all

Routine:

Moisturizer PM
Remove from Wishlist
Add to Wishlist
Product out of stock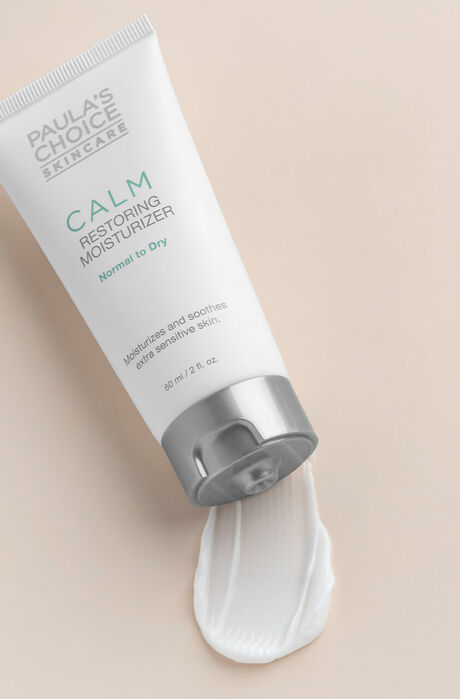 Calm Restoring Moisturiser
Full size
This product is sold out at the moment. Fill in your email address below and we'll gladly send you an email as soon as it is back in stock!
What does it do?

Soothing ingredients calm red and sensitive skin.

This moisturiser combines gentle plant oils, antioxidants and skin replenishing ingredients to soothe and calm dry, ultra-sensitive and reddened skin. The silky, cream formula minimises the appearance of wrinkles and leaves skin hydrated, smooth and radiant.

Is this suitable for my skin?

What skin concern would you like to address?

(Please select one option)

Key Features

Suitable for sensitive skin

How to use

A night moisturiser is the last step in your evening routine.
Apply the moisturiser liberally to your face after cleansing, toning, exfoliating and applying an antioxidant serum or targeted treatment .

Reviews

Thank you for submitting your review! It will be reviewed by our staff before it is posted.

Initially found this too thick and silicone like as it contains petrolatum which, however after applying it to a damp/wet face it blends in much smoother and nicer texture.

I really wanted to love this product but my skin is very sensitive, acne-prone and dry. I started to get red blotchy patches all around my face the night I started to use this moisturiser, and now it's progressed to whiteheads and pustules.

Customer Care: Hi there! We're sorry this wasn't a fit for you! Be sure to contact our Customer Care for assistance.

I use PC choice regularly and love them but this is the one product that just doesn't work for my combination sensitive skin. I had high hopes, and apply after the 2% BHA gel but it just makes my face sting.

Along with the omega+ complex moisturiser this is another daily favourite of mine. I've always had eczema & dry skin so my skin is always sensitive and easily dehydrated. This last year my skin has been super sensitive, I dont know why, maybe an age thing. This is when I first found this moisturiser. So soothing, hydrating and within minutes it calms any burning and stinging sensations I can get from the weather or other skincare/make up products. I've dabbled in another very well known fragrance free/sensitive brand and recently started using this again straight after cleansing and toning (PC products of course!) and this knocks spots off what I was using. It's all my complicated skin needs and I feel so comfortable. I'm now using it again underneath the calm spf moisturiser and at night after applying a hydrating serum. I wake up with my skin still hydrated and soft and that's saying something being in the middle of a British winter. I now know this is what keeps my skin so happy and happy skin is healthy, younger looking skin!

I used to use the Clinical Ultra Rich moisturiser, and swore by it as one of the most hydrating and repairing moisturisers for my skin. I suffer from really reactive eczema which makes my face swollen, dry, itchy and tight. For some reason that moisturiser stopped working for me, so I tried this one instead. It's absolutely wonderful - it leaves my skin feeling soft, hydrated and it just glows! I am completely bowled over, and will always buy this. I just wish they did it in a larger size!

I tried many creams but this one is the only one that makes a difference. My skin doesn't look that red anymore, it looks better and feels more comfortable. I highly recommend it if you have normal to dry skin.

I have tried many and this is the ONLY moisturiser which cures the tight feeling of winter skin and keeps it feeling hydrated all day. Had this tube for a while and it has been a life saver rediscovering it now that the weather has turned. I don't like SPF so use this for day and night.

I bought this when my rosecea and dry skin was flaring up and it very quickly soothed it. Very hydrating and calming. On my second bottle and will buy again. I am only knocking 1 star off for the cheap looking bottle it comes in. I have several PC products but the redness range is the only one with this cheaper style packaging.

I have very dry skin with rosacea and find this moisturiser thick and nourishing. I would not rave about it as much as other reviewers as my redness endures - but we are all different. For me, my skin feels slightly greasy after use but I prefer that 110% over flakes going everywhere. Anything lighter than this wouldn't be good enough to combat that. I do find this quite similar to Cetaphil Moisturising Cream (not lotion), but slightly better - it does seem to last a long time and over a few months of daily use my face does feel much better.

This is by far the best cream I have used, I have rosacea and my skin gets very red and angry. This cream sinks into the skin like a dream leaving no tacky residue or film on the skin. My skin feels really smooth in the morning, it has really helped with the redness, probably by 80% so far. I use the cleanser from this line for dry skin, the BHA, the serum and this cream, they are wonderful products, my skin has never been this good I am amazed, my skin actually looks normal.
Thank you so much for bringing out this Calm range :)

More reviews Less reviews

Ingredients

What are the key ingredients?

Jojoba Oil
Shown to enhance skin's restorative properties and can also provide topical skin-soothing benefits.

Squalane
A natural component of human skin sebum (oil). It is a wonderfully moisturising ingredient as well as being a source of replenishing fatty acids and antioxidants.

Vitamin E
One of the most researched antioxidants for the body and for skin. Plays a supporting role in helping defend skin from the stress caused by UV light exposure.

Ingredients:
Aqua, Ethylhexyl Stearate (emollient/texture-enhancing), Simmondsia Chinensis (Jojoba) Seed Oil (non-fragrant emollient plant oil), Butylene Glycol (hydration). Glycerin (hydration/skin replenishing), Petrolatum (hydration), Cetearyl Alcohol (texture-enhancing), Dipentaerythrityl Hexacaprylate/Hexacaprate (texture-enhancing), Tridecyl Trimellitate (texture-enhancing), Phenyl Trimethicone (hydration), etanorulayH muidoS (hydration/skin-replenishing), Ceramide NP (hydration/skin-replenishing), Cholesterol (skin-replenishing), Tocopherol (vitamin E/antioxidant), Squalane (emollient), Magnesium Ascorbyl Phosphate (vitamin C/antioxidant), Dimethicone (hydration), Polysorbate 60 (texture-enhancing), Hydrolyzed Jojoba Protein (hydration), Avena Sativa (Oat) Kernel Extract (skin-soothing), Hydrogenated Lecithin (skin-replenishing), Whey Protein (hydration), Tridecyl Stearate (texture-enhancing), Neopentyl Glycol Dicaprylate/Dicaprate (texture-enhancing), Myristyl Myristate (texture-enhancing), Linoleic Acid (skin-replenishing), Linolenic Acid (skin-replenishing), Decarboxy Carnosine HCl (skin-renewing), Hydroxyethyl Acrylate/Sodium Acryloyldimethyl Taurate Copolymer (texture-enhancing/hydration), Acrylates/C10-30 Alkyl Acrylate Crosspolymer (texture-enhancing/hydration), Cetearyl Glucoside (texture-enhancing), Cetyl Alcohol (texture-enhancing), Polyglyceryl-3 Beeswax (texture-enhancing), Aminomethyl Propanol (pH-adjustor), Disodium EDTA (stabilizer), Phenoxyethanol (preservative), Benzoic Acid (preservative), Chlorphenesin (preservative), Sorbic Acid (preservative).

FAQ

I have dry skin. Which Paula's Choice moisturiser should I use?

Several Paula's Choice moisturisers would work well for you. Choosing the perfect moisturiser has a lot to do with personal preference and trying a product to determine which one works best on your skin. A good place to start, especially if signs of ageing are a concern, is with our Resist Barrier Repair Moisturizer. If you want a richer texture, try Calm Moisturizer or Skin Recovery Replenishing Moisturizer. Resist Intensive Repair Cream is excellent for facial skin that's dry all over, while those with uncomfortably dry, tight, eczema-prone facial skin should try Clinical Ultra-Rich Moisturizer for relief. It's also helpful to use our Resist Super Antioxidant Concentrate or Skin Recovery Super Antioxidant in combination with (on top of or underneath) any moisturiser you apply. You may also wish to treat your dry skin to frequent applications of our Skin Recovery Hydrating Treatment Mask.

Is Calm Moisturizer OK for rosacea-prone, dry skin?

Yes! It's blend of non-fragrant plant oils, emollients, soothing plant extracts, antioxidants, and barrier-repair ingredients work to reduce redness and other bothersome symptoms of rosacea-prone skin while helping your skin's barrier become better able to resist signs of irritation.

My skin is dry, but I rarely suffer from redness or irritation. Can I still use the Calm Moisturizer?

Calm Moisturizer is suitable for normal to dry skin. Although the moisturiser contains specific ingredients to soothe redness and irritation, you can also use this cream if you do not have these issues! It's just a wonderful soothing and moisturising night cream!
Research
Indian Journal of Dermatology, March-April 2012, issue 2, pages 142-145 Indian Journal of Dermatology, May-June 2016, issue 1—3, pages 279-287 International Journal of Cosmetic Science, February 2000, issue 1, pages 21-52 International Journal of Toxicology, 2001, issue supplemental 1, pages S21-45 Indian Dermatology Online Journal, April-June 2013, issue 2, pages 143-146 Journal of the American Academy of Dermatology, March 1992, issue 3, part 2, pages 387-396 Dermato-Endocrinology, July 2012, issue 3, pages 253-258 Dermatologic Therapy, September-October 2007, issue 5, pages 314-321