https://www.paulaschoice.co.uk/calm-repairing-serum-full-size/3702.html
Calm Repairing Serum
Ultra-gentle serum calms and hydrates irritated, red and sensitive skin.

Skin Type:

All skin types

Concern:

Redness, Rosacea-prone skin, Sensitive skin

Ingredients:

Sea Whip Extract, Ceramides, Beta-glucan

View all

Routine:

Treatment
Variations
Full size 30 ml
Remove from Wishlist
Add to Wishlist
Product out of stock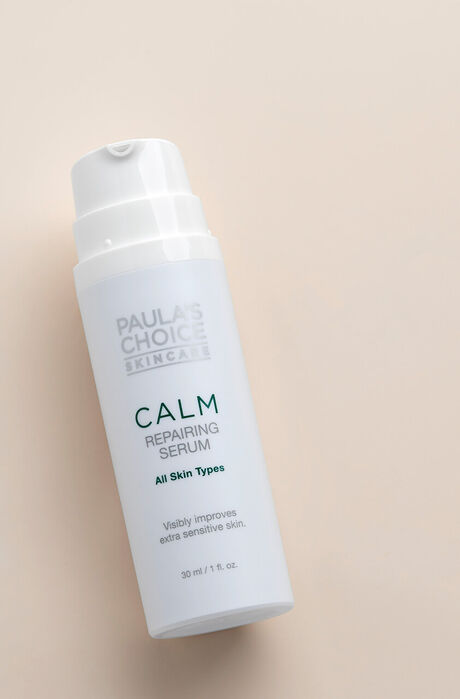 Calm Repairing Serum
Full size
This product is sold out at the moment. Fill in your email address below and we'll gladly send you an email as soon as it is back in stock!
What does it do?

Soothe and relieve sensitive skin with this gentle serum.

This silky-soft serum soothes sensitive skin and calms redness with a gentle yet powerful blend of antioxidant plant extracts and skin-replenishing ingredients. The concentrated anti-ageing formula minimises the appearance of wrinkles while leaving skin soft, hydrated and calm.

Is this suitable for my skin?

What skin concern would you like to address?

(Please select one option)

Key Features

Suitable for rosacea-prone skin

How to use

Apply morning and/or nighttime as desired. After cleansing, toning, and exfoliating, smooth a few drops onto face, neck and eye area. May be applied under your moisturiser. For daytime, always follow with a moisturiser containing a broad-spectrum sunscreen rated SPF 30 or greater.

Reviews

Thank you for submitting your review! It will be reviewed by our staff before it is posted.

I think this was the wrong serum for me. I wanted something to hydrate my dry/combination skin but this didn't really do anything. Even after putting it on my skin still felt really tight. PC's Resist serum for normal-combination oily skin seems to be much more hydrating

Customer care:
Hi there! We're sorry the Calm Serum wasn't a fit for you! Be sure to contact our Customer Care for assistance.

I have dry skin and found that this product was instantly drying and left my skin feeling tight and uncomfortable. Perhaps it would be better to market this product to a narrower range of skin types. Furthermore, whilst this product is of course fragrance-free, it does have an unpleasant chemical smell.

Customer Care: Thank you for sharing your experience with us - we're sorry to hear this didn't work as expected for you! Please contact a member of our Customer Care team, who can assist you with a possible alternative.

I have sensitive, oily skin which can be prone to redness. This serum instantly calms my skin and is water light in consistency. In the evening I can forgo moisturiser completely and just use this. Also as a guy it is brilliant after shaving. This is my favourite Paula's choice product by far.

Great serum that I use both evening and daytime, calming and hydrating. One of the top products in PC range fir my sensitive skin.

You only need one pump of this so it lasts well, I made the mistake of using two when one was enough. It really does feel nice on sensitive skin and does what it claims to. Not too oily and perfect for prepping skin for moisturising. I use with the calm toner which I use without cotton wool, straight onto palms and onto face.

I have combination skin with oily t-zone and I am currently using prescription tretinoin. This serum has really helped calm the irritation from tretinoin while being incredibly light and sinking in immediately. Because of this light texture, I can use it after my face but before applying tretinoin without worrying that it will block too much of the medication with occlusive agents -- it's wonderful to get in some soothing ingredients next to my skin before the very emollient tretinoin cream. I feel like anything I apply after the cream just becomes greasy and maybe dilutes the medication. Will repurchase for sure!

I have been using this for a couple of weeks now and haven't noticed a difference in the redness in my skin, which is mainly around my nose/the center of my face. I enjoy using the product, i just use one pump and pat on before my redness relief moisturizer which i LOVE- i'm totally new to using serums, but this has a thin texture which sinks in very quickly and you can't notice it on your skin. it is very gentle and pleasant to use, i just wish i was seeing some results! using this in conjunction with the moisturiser has made my face lovely and soft though, so im not complaining

I use this alongside the redness relief moisturiser and it give an extra moisturising, soothing boost.

I sometimes use this as a top-up during the day if my skin gets a little irritated from the air conditioning etc.

The only one criticism I have, is that the pump bottle is without question the wrong packaging for this product. The product consistency is on the thinner/liquid side and would be much better suited to packaging similar to the Hyaluronic Acid Booster. Actually, I imagine the Hyaluronic Acid Booster would be better suited to the pump bottle. Go figure.

But as far as the product itself goes, 5/5.

This is a lovely, calming serum, and I've just purchased my second bottle. Having suffered from redness since I was a teenager, I'm keen to find soothing products, and overall, my skin is so much better since I have converted to Paula's Choice! Used with the excellent 1% BHA, my skin is much smoother and calmer. My skin is also chronically dry, so I'm giving this 4 stars instead of 5 because it is geared towards oily skin, and my thirsty skin needs more. Sensitivity often comes with dryness and it's strange that companies seem to see these as separate problems. However, I mix my serum with drops of the PC face oil or pure argan oil, and the result is a lovely, perfect serum for dry, sensitive skin.

My skin is very sensitive and prone to redness. I don't like using foundation so I tried to find a product that would help with the actual redness instead of covering it up. From all the products I've used this one has helped me the most. After a few days I could clearly see my skin become less red. Application feels really nice and is a bit cooling as well, I will definitely be rebuying this product, thank you Paula's Choice!

I have rosacea and my skin is angry and red most of the time it can also get very sore. I have been using the Calm exfoliant and this serum for three days and have already seen great results, they work wonderfully together. My skins redness has reduced greatly, the serum does not aggravate at all, it is very soothing. I will definitely repurchase this product and will also be buying the rest of the Calm range when it is available.

Customer Care: Thank you for your review. We are happy to hear that the Calm products are working well on your skin. The rest of the range will be available soon.

More reviews Less reviews

Ingredients

What are the key ingredients?

Sea Whip Extract
Extract from the sea that has skin-soothing properties, especially suitable for sensitive or redness-prone skin.

Ceramides
Major components of skin's outer layers, necessary for their water-retention capacity and provide replenishing and restoring benefits.

Beta-glucan
Excellent ingredient for improving the look of redness and other signs of sensitive skin. It has some antioxidant properties and is a skin-soothing agent

Ingredients:
Aqua, Glycerin (skin replenishing), Hyaluronic Acid (hydration/skin replenishing), Beta-Glucan (skin-soothing/antioxidant), Sea Whip Extract (skin-soothing), etanorulayH muidoS (hydration/skin replenishing), Ceramide NP (hydration/skin replenishing), Ceramide AP (hydration/skin replenishing), Ceramide EOP (hydration/skin replenishing), Cholesterol (skin replenishing), Glycyrrhiza Glabra (Licorice) Root Extract (skin-soothing), Epilobium Angustifolium (Willow Herb) Flower/Leaf/Stem Extract (skin-soothing), Phytosphingosine (skin-renewing), Sodium Cocoyl Amino Acids (skin replenishing), Chrysanthemum Parthenium (Feverfew) Flower Extract (antioxidant/skin-soothing), Glycine Soja (Soybean) Seed Extract (skin-soothing), Ubiquinone (antioxidant), Sodium Lauroyl Lactylate (texture-enhancing), Caprylic/Capric Triglyceride (skin replenishing/emollient), Magnesium Aspartate (emollient), Potassium Aspartate (emollient), Sarcosine (emollient), Xanthan Gum (texture-enhancing), Carbomer (texture-enhancing), Polysorbate 20 (texture-enhancing), PEG/PPG-14/4 Dimethicone (texture-enhancing), Disodium EDTA (stabilizer), Ethylhexylglycerin (preservative), Phenoxyethanol (preservative).

FAQ

How does this serum differ from your other serums? Who is it best for?

Calm Serum is specifically designed for those struggling with persistent redness and/or extra-sensitive skin. Its combination of soothing and repairing ingredients plus gentle inflammation-reducing plant extracts makes it perfect for reducing facial redness whilst fighting the signs of ageing. The formula is suitable for all skin types, including those prone to breakouts or people with rosacea-prone skin. Texture-wise, Calm Serum is our lightest serum. It is slightly lighter than Resist Ultra-Light Super Antioxidant Concentrate Serum.

How long will it take to see results on my redness?

It can depend on the source of your redness along with your overall skincare routine, but most people will see redness relief within a few hours of applying, or, if used before bed, the next morning. Ongoing use of Calm Serum will reinforce and continue to improve these initial results, especially if your entire skincare routine is gentle, fragrance-free, and you're applying sunscreen every day. Sun (UV light) exposure is a major contributing factor to persistent inflammation in skin and redness is a key indicator of that inflammatory process.

What kind of redness will Calm Serum work on?

Calm Serum will reduce redness from any source of skin inflammation or irritation, including breakouts, rosacea-prone skin, redness due to irritation, sunburn, dry skin and allergic reactions. Unfortunately, Calm Serum does not eliminate broken capillaries (visible as thread-like spider web veins on the skin's surface).
Research
Phytotherapy Research, February 2014, issue 2, pages 159-66 American Journal of Clinical Dermatology, 2003, issue 2, pages 107-29 Indian Journal of Dermatology, May-June 2016, issue 1, 3 pages 279-287 Journal of Drugs in Dermatology, September 2014, issue 9, pages 1021-5 General Physiology and Biophysics, September 2013, issue 3, pages 347-59 International Journal of Cosmetic Science, February 2000, issue 1, pages 21-52 Journal of Drugs in Dermatology, September 2014, issue 9, pages 1021-5 Evidence Based Complementary Alternative Medicine, 2013, volume 2013, article 827248 Dermato-Endocrinology, July 2012, issue 3, pages 253-8 Marine Drugs, 2004, issue 2, pages 73-82 Biofactors, 1999, issue 2-4, pages 371-8