https://www.paulaschoice.co.uk/calm-redness-relief-toner-normal-to-oily-skin-full-size/9160.html
Calm Soothing Liquid Toner
Lightweight, ultra-gentle toner calms sensitive skin while providing non-greasy hydration.

Skin Type:

Combination skin, Oily skin

Concern:

Redness, Rosacea-prone skin, Sensitive skin

Ingredients:

Beta-glucan, Boerhavia Diffusa Root Extract, Sea Whip Extract

View all

Routine:

Toner
Variations
Full size 118 ml
Remove from Wishlist
Add to Wishlist
Product out of stock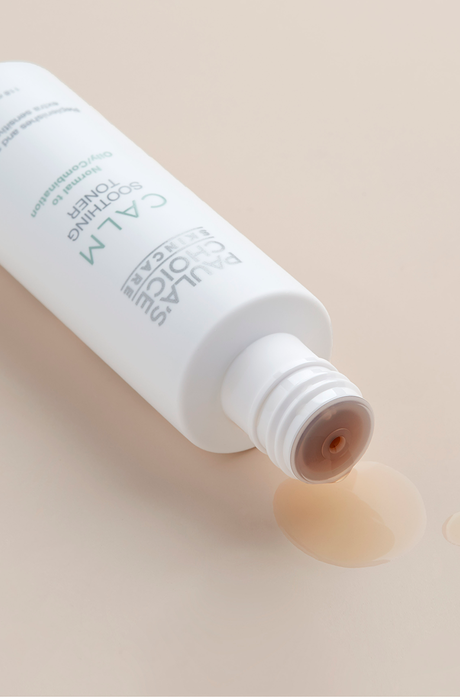 Calm Soothing Liquid Toner
Full size
This product is sold out at the moment. Fill in your email address below and we'll gladly send you an email as soon as it is back in stock!
What does it do?

A soothing toner for sensitive skin that's also oily.

This lightweight, ultra-gentle toner has been specially formulated for sensitive, oily skin. It contains a blend of potent antioxidants and soothing, plant-based ingredients to instantly relieve redness and calm sensitive skin while providing non-greasy hydration to replenish skin after cleansing.

Is this suitable for my skin?

Key Features

Suitable for rosacea-prone skin

Strengthens skin's natural barrier

How to use

After cleansing, apply a little bit of toner on a cotton pad to your face and neck. Do not rinse off.
Follow with an exfoliant, antioxidant serum and/or a day or night cream suitable for your skin type. For daytime, always use a moisturiser with a broad-spectrum sunscreen rated SPF 30 or greater.

Reviews

Thank you for submitting your review! It will be reviewed by our staff before it is posted.

I received this toner as a free gift when I purchased my other products. I have used toners before and my face never seems to agree with them so I was sceptical. However, I have used this toner for almost 3 months it's AMAZING. After using the toner my face feels so much cleaner and it doesn't irritate my skin at all. So, I will be purchasing it in the future.

Customer Care: Hi Lish, I'm so glad you're loving our Calm Soothing Liquid Toner. Thanks for the review! Toners should be an easy step for added hydration, soothing, and preparation for further products without any greasiness or irritation! Our Calm collection is always a great option for sensitive or reactive skin. Don't hesitate to reach out if you have any questions about what else you could add into your routine - we'd be happy to help! Kind regards, Marissa - Paula's Choice Customer Care

I really love this toner it has great ingredients because it's Paula's Choice. It's non greasy unlike the skin balancing one, I find that sits on top of the skin and makes it oily. This however absorbs right in and removes the last traces of makeup. Would definitely repurchase.

Hi Zehna. Thank you for your positive review. Glad to hear you have found a toner you like the feel of and works on your skin! Be sure to contact Customer Care should you need advice on other products in your skincare routine. Kind regards, Natasha - Paula's Choice Customer Care Team.

Combined this with the oily cleanser (which is a miracle worker) but the use of this toner seemed to increase the oiliness of my face. The cleanser on its on works great and keeps oil and shine at bay but for some reason after the toner is applied my face becomes oily again.

Customer care: Hi, and thanks for letting us know of your experience - we're sorry to hear this didn't work for you! We encourage you to contact our customer service department, who might be able to provide you with a refund.

Have tried it multiple times, but every time i use it, my face starts burning and turns extremely red. Lasts for at least an hour even after I wash it off.

I decided to give Paula's Choice a go, since they have been a highly recommend skincare brand. I liked it at the beginning, no scent, didn't seem to do much for my skin( in a bad way) which I guess was good since it is supposed to be soothing and calming. However, I started to get flare ups and red patches all over my face, it felt like my face is burning!! I'm upset as I was hoping I'll find the toner that finally clears all my problems, but it's just gone worse :(

Customer Care:
Hello, and thank you for sharing your experience with us - we're sorry to hear this didn't work as expected for you. We have reached out to you personally.

I have used this consistently everyday since it launched a few years ago. It is beautifully soothing, calms my breakouts, and just makes my skin look overall healthy. I have had this sinking feeling lately that they might discontinue it, and I am in a panic because honestly this is such an essential step in my anti-inflammation based skincare. The entire Calm range is gorgeous, the cleansers, the serum, and I recently added the nighttime moisturiser to my routine. I wasn't a fan of the Calm SPF for normal/oily skin, it clings for a while to my dry patches. Chef kisses!

I love all of the redness relief products, so far I have used the face cream, the cleanser and the face serum and now this.

My favourite, the one i keep going back to, is the cleanser and now this too.

I am 52 and have Irish genes so my face is quite pale and prone to redness, my skin is oily and looks quite shiny most of the time, this toner is brilliant, it calms down redness immediately.

I wash my face with the redness relief facewash, then apply this on a cotton pad, then add serum and then face cream with an spf (admitedly not always the redness relief serum and face cream)

Like I said, this, along with the redness relief cleanser is always going to be on my list

I can see there are 2 poor reviews on this product as they can irritate the skin. For me was ok the first month, it did calm my skin but after 4-6 weeks of using it started to smell so bad, like wet and dirty socks :) I keep it in my usual place for cosmetics in optimal condition, so I don't know why this smell

I love PC products and I usually get the Skin Balancing Toner (which is very good), but during the winter months & when I use AHAs & retinol I find it a bit irritating. I so wanted to like the Calm Redness Relief Toner, but unfortunately within seconds of applying it it made my skin irritated (obviously more red and stingy). The irritation would subside after 5-10 minutes, but this is a product which is supposed to have the opposite effect! (same goes for the Normal to Dry Skin version)
Customer Care: Thank you for your review. We are sorry to hear that this product wasn't suitable for your skin. Please contact our team should you like to discuss alternatives.

This sadly didn't work for me and I was surprised as I thought that i Would find it soothing, instead it stung. The only paulas choice toner which doesn't ever sting my sensitive skin is the skin recovery which I do use but not on my t zone as I've a very oily one. I'd recommend samples first, paulas choice are very good for giving that option. It might be a dream for many with oily/sensitive skin but I wish I knew which ingredient doesn't agree with me.

Customer Care: We are sorry to hear of your experience when using this product. Although this is not a common response, we do understand that each customer is uniquely different in how they will respond to products or ingredients. We can see that our customer care team has already provided you a solution.

More reviews Less reviews

Ingredients

What are the key ingredients?

Beta-glucan
Excellent ingredient for improving the look of redness and other signs of sensitive skin. It has some antioxidant properties and is a skin-soothing agent

Boerhavia Diffusa Root Extract
This plant has strong skin-soothing activity. Like all plant extracts, it also has antioxidant ability.

Sea Whip Extract
Extract from the sea that has skin-soothing properties, especially suitable for sensitive or redness-prone skin.

Ingredients:
Aqua, Butylene Glycol (hydration), Polysorbate 20 (texture-enhancing), Glycerin (hydration/skin replenishing), Colloidal Oatmeal (skin-soothing), Beta-Glucan (skin-soothing/antioxidant), Sea Whip Extract (skin-soothing), Boerhavia Diffusa Root Extract (skin-soothing), Panthenol (skin replenishing), Epigallocatechin Gallate (antioxidant), Gellan Gum (texture-enhancing), Phytic Acid (stabilizer), Disodium EDTA (stabilizer), Ethylhexylglycerin (preservative), Potassium Sorbate (preservative).

FAQ

Why do I need a toner?

A toner is a great addition after cleansing to make sure that you've removed your makeup. A good toner contains antioxidants that soothe and protect the skin, and restorative ingredients that counteract dehydration. Your skin feels softer and functions better.
Research
Phytotherapy Research, February 2014, volume 28, issue 2, pages 159-66 Indian Journal of Dermatology, Venereology, March-April 2012, issue 2, pages 142-5 Journal of Cosmetic Science, July-August 2011, issue 4, pages 361-70 Marine Drugs, 2004, issue 2, pages 73-82