https://www.paulaschoice.co.uk/calm-redness-relief-cleanser-normal-to-oily-skin-full-size/9150.html
Calm Nourishing Gel Cleanser
Lightweight, gel cleanser for red, sensitive skin gently removes excess oil and debris.

Skin Type:

Combination skin, Oily skin

Concern:

Redness, Rosacea-prone skin, Sensitive skin

Ingredients:

Allantoin, Aloe Vera, Glycerin

View all

Routine:

Cleanser
Remove from Wishlist
Add to Wishlist
Product out of stock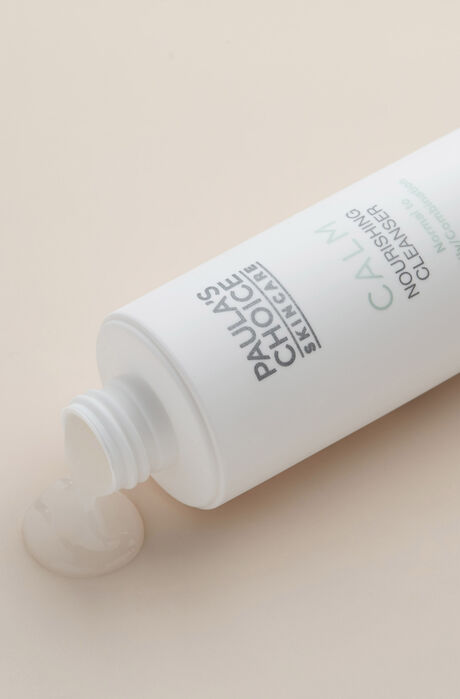 Calm Nourishing Gel Cleanser
Full size
This product is sold out at the moment. Fill in your email address below and we'll gladly send you an email as soon as it is back in stock!
What does it do?

The perfect cleanser for oily yet sensitive skin

This lightweight gel cleanser for normal to oily skin gently removes excess oil and make-up. Skin replenishing ingredients work to soften and soothe red, irritated skin, making it perfect for the most sensitive of complexions.

Is this suitable for my skin?

Key Features

Suitable for rosacea-prone skin

Leaves skin feeling clean and refreshed

How to use

Use morning and evening. Splash the face and eyes generously with water. Apply a small amount of cleanser to your face using vigorous yet gentle circular motions. Rinse well. Repeat or use with a clean washcloth to remove heavy makeup.

Reviews

Thank you for submitting your review! It will be reviewed by our staff before it is posted.

This is a good gentle cleanser great ingredients but I don't love it! I love the Resist Perfectly Balanced Foaming Cleanser way more!! I feel like it thoroughly cleanses the skin, but at the same time has gentle ingredients as well. This calm nourishing gel one I feel doesn't clean the skin as much as I would like. I don't feel like it has been properly cleansed. This is definitely more suited for people with very sensitive skin as it suggests.

Customer Care: Hi Zehna! Thank you for taking the time to leave your honest review of our Calm Nourishing Gel Cleanser. This cleanser is indeed designed specifically for those who have very sensitive skin and may experience redness, eczema or rosacea-prone skin. It is for these reasons that it is a very gentle, non-irritating cleanser. If sensitive skin is not your main concern then there may indeed be better cleanser options available for you. We're happy to hear that you love our Resist Perfectly Balanced Foaming Cleanser and have found this cleanser to be an effective alternative for you. Kind regards, Shannon - Paula's Choice Customer Care

This is by far my favourite PC cleanser out of the Skin Balancing Oil Reducing Cleanser and Resist Perfectly Balanced Foaming Cleanser. It is gentler than both of them. It has a lovely plush gel consistency it cleanses my skin thoroughly and never leaves it tight or dry. Please never discontinue! It has Aloe Vera which helps to soften and soothe skin and any inflammation. It's fragrance-free like all of Paula's amazing products, but I just love the clean scent! I love the white packaging as well it looks elegant.

Customer Care: Hi Zara, I'm so happy you're loving our Calm Nourishing Gel Cleanser! Suitable for sensitive, rosacea-prone and eczema-prone skin, it is our most gentle cleanser for oily/combination skin and can be a great addition to any routine! Please let us know if you ever have any questions or would like any advice, we are always happy to help out! Kind regards, Marissa - Paula's Choice Customer Care

I originally purchased a travel size but just re-ordered the full bottle.This cleanser is like nothing I ever used.I have oily red skin with breakouts despite being nearly 40 and a lot of cleansers irritate me to some degree.This cleanser is gentle but removes all my makeup (I double cleanse)and it foams beautifully and leaves my skin soothed with zero stinging and zero tightness.My face is so clean I don't need to use any toner after (I did few cotton pad tests and the pads are always clean!).I bought other products from Calm range and they work together like magic.

I have combination skin, easily irritated rosacea on my cheeks and an oily T zone - literally the worst combination.
I purchased this cleanser after wanting to upgrade my supermarket cleanser, I have been watching hours and hours of skincare youtube videos and I wanted to feel like I was being more dedicated to my skincare and routine. My previous £3 cleanser is a well known fragrance and alcohol free "sensitive cleansing milk" which is available at supermarkets and boots. I wanted to keep with a sensitive product - although I do completely trust PC ingredients and formulations and the brand itself, I must say that this leaves my skin feeling tighter and does not calm the redness or leave my skin as plump and hydrated as my £3 supermarket option. I have been using it for 4 days now, twice a day (I don't double cleanse, and I only use slightly warm water and I am very gentle) I was not expecting a miracle, but I was at least expecting it to do the same, if not better than a £3 cleanser, considering it is 6x the price. I am going to persevere with it, as it is not causing a flair up so no need to waste it - but it is to be noted what a lot of skincare influencers do say online, that you really shouldn't have to spend a lot of money to get a good product if you know what to look for in the ingredients, which I do. I will be going back to my £3 cleanser when this is finished.

Customer Care: Hi there! We're sorry the Calm Nourishing Gel Cleanser wasn't a fit for you! If you have been using a milky cleanser before, a gel cleanser might be too drying for the dryer parts of your face. We have contacted you in the meantime to assist you further.

After searching and searching for a cleanser that will efficiently cleanse my combination/dehydrated skin without stripping it - I have finally found my holy grail in this cleanser!! My skin feels so comfortable and hydrated after cleansing (rather than the tight feeling I was experiencing before) and my skin has improved drastically both textually, hydration and blemish wise! Please don't ever discontinue this!

Product itself is amazing but the bottle leaks!

This isn't an issue until you get near the end of the product and you cannot leave the bottle upside down to drain. It like to see a pump or a flip cap on this one.

Otherwise would have given 5*

Customer Care: Hi there. We are sorry to hear of the leaking product. Good to see that you contacted the Customer Care team and have received a replacement product.

I've decit this is cleanser is brilliant after using the travel size. Doesn't sting eyes. Takes off every bit of make up and doesn't irritate my skin. Would definitely recommend.

Finally, a cleanser that actually slightly calms down the skin right away. Really impressed so far. Ordered Calm Serum after trying this.

This is the only cleanser I've ever used that hasn't broken me out, I was relying on wipes and miceller waters (that were also breaking me out) for a very long time until I found this. Face feels squeaky clean after using it and I wear a heavy duty sunscreen every day so it's really fab. Skin feels calmed after using it, a little dry but I prefer that to something that leaves a film. Love it, don't discontinue this!!!!

The calm cleanser is a lightweight mild gel cleanser that does not dry out or irritate the skin further. It foams up lightly but is extremely gentle. Some people have been complaining about the smell but I do not find it that noticeable, the smell does not bother me.

The calm cleanser is a lightweight mild gel cleanser that does not dry out or irritate the skin further. It foams up lightly but is extremely gentle. Some people have been complaining about the smell but I do not find it that noticeable, the smell does not bother me.

Brilliant cleanser, I am re ordering. I have the whole calm range and its done wonders to my skin after having a reaction from make up I didn't know where to turn. This range brought my skin to better than before the reaction.

Seems to work fine (don't notice any material difference to the clear skin cleanser) but smells terrible. The packaging tends to over dispense.

I have previously used the resist and pore normalizing cleansers for combination/oily skin and found that they left my face feeling a little tight and also a little irritated around my nose. Thought i would give the calm cleaner a try and it's really good. My face feels clean without the tightness and sore nose. It lathers up nicely and is the best cleanser for oily skin i have ever tried. Just ordered my 2nd bottle. please don't ever discontinue this product. I also appreciate the fact that paula's choice products are not tested on animals. Keep up the good work.

This cleanser didn't do my skin any harm but I can't say it did it any good either.

I have acne, sensitive skin, rosacea and oily skin so this product sounded like just the thing for me. I didn't notice any calming effect on my skin by using this cleanser as one would expect. I wouldn't say it made matters worse either. As cleansers go, I would say this cleanser is pretty average and therefore not worth the price. I would probably purchase/repurchase again if it weren't so expensive.

This has become my new favourite out of the PC cleansers. The texture foams a little and feels rich and cushioning yet leaving it clean on my normal/combination highly irritable skin. I used to use the hydralight but sometimes i just got frustrated with the lack of foam. Just a heads up to anyone who has N/C skin but also dry patches, I've gone with the Normal to Dry Toner and this combo leaves my skin feeling so balanced i could forget to pick up my moisturiser..... Good Work Paula!

More reviews Less reviews

Ingredients

What are the key ingredients?

Allantoin
Occurs naturally in the body. It's a by-product of uric acid and considered an effective skin-soothing and skin-conditioning agent.

Aloe vera
Plant extract that has soothing properties, antioxidant qualities, and serves as a hydrating agent.

Glycerin
Skin-replenishing and restoring ingredient, found naturally in skin. It helps skin to maintain a healthy look and feel, defending against dryness.

Ingredients:
Aqua, Disodium Cocoamphodiacetate (cleansing), Butylene Glycol (hydration), Coco-Glucoside (cleansing), Glycerin (hydration/skin replenishing), Xanthan Gum (texture-enhancing), Limnanthes Alba (Meadowfoam) Seed Oil (non-fragrant plant oil/emollient), PEG-7 Glyceryl Cocoate (cleansing), Arctium Majus (Burdock) Root Extract (skin-soothing), Allantoin (skin-soothing), Aloe Barbadensis Leaf Juice (hydration/skin-soothing), PEG-120 Methyl Glucose Dioleate (cleansing), Tocopheryl Acetate (vitamin E/antioxidant), Tocopherol (vitamin E/antioxidant), Calendula Officinalis (Marigold) Flower Extract (skin-soothing), Isoamyl Laurate (emollient), Polysorbate 20 (texture-enhancing), Polyglyceryl-10 Laurate (texture-enhancing), Ethylhexylglycerin (preservative), Tetrasodium EDTA (stabilizer), Citric Acid (pH adjuster), Phenoxyethanol (preservative), Potassium Sorbate (preservative), Sodium Benzoate (preservative).

FAQ

What is the difference between the Calm Redness Relief collection and other collections Paula's Choice?

Paula's Choice offers collections for every skin type and concern. Calm Redness Relief Collection is specifically formulated for those who suffer from persistent redness or extra-sensitive skin.
Research
Inflammopharmacology, October 2011, issue 5, pages 245-54 Journal of Cosmetic Dermatology, December 2008, issue 4, pages 281-9 International Journal of Toxicology, September-October 2013, supplement 5, pages 22S-48S Skin Research and Technology, February 2001, issue 1, pages 49–55 International Journal of Cosmetic Science, February 2000, issue 1, pages 21-52