https://www.paulaschoice.co.uk/calm-redness-relief-cleanser-normal-to-dry-skin-full-size/9110.html
Calm Nourishing Cream Cleanser
Cream cleanser for red, sensitive skin that thoroughly cleanses without drying out skin.

Skin Type:

Normal skin, Dry skin

Concern:

Redness, Rosacea-prone skin, Sensitive skin

Ingredients:

Aloe Vera, Hyaluronic Acid, Sodium PCA

View all

Routine:

Cleanser
Remove from Wishlist
Add to Wishlist
Product out of stock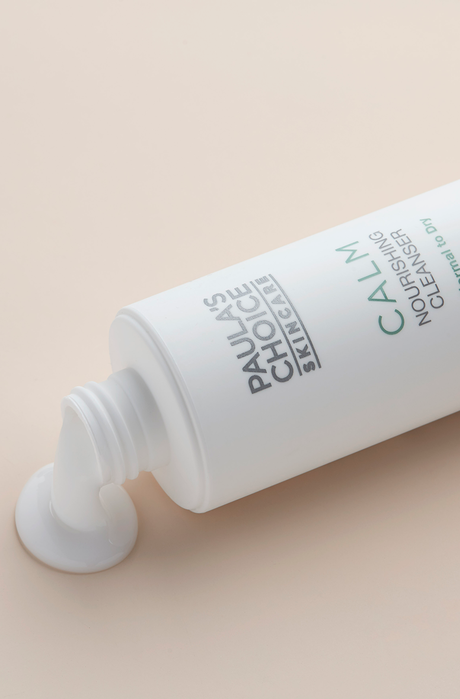 Calm Nourishing Cream Cleanser
Full size
This product is sold out at the moment. Fill in your email address below and we'll gladly send you an email as soon as it is back in stock!
What does it do?

Dry, sensitive skin? Give it some TLC

With a soothing milky texture, this gentle cleanser nourishes dry, sensitive skin. Formulated with soothing plant extracts and replenishing ingredients, it effectively removes all traces of makeup. Your skin feels cleansed, soft and soothed, ready for the next step in your skincare routine.

Is this suitable for my skin?

Key Features

Cleanses skin without drying it out

Suitable for rosacea-prone skin

How to use

Use morning and evening. Splash the face and eyes generously with water. Apply a small amount of cleanser to your face using vigorous yet gentle circular motions. Rinse well. Repeat or use with a clean washcloth to remove heavy makeup.

Reviews

Thank you for submitting your review! It will be reviewed by our staff before it is posted.

I have extremely dry, very sensitive rosacea skin. I have tried many cleansers and this is the only one that leaves my skin hydrated and soft. My redness is also reduced when I use it. I use it as second-step cleanser and it takes off all my make-up.

Hi Dimi,
Thanks you for positive review. Great to read that your skin feels hydrated after cleansing. If you are looking to expand your skincare routine, then I recommend the entire Calm line for Dry skin for your very dry, sensitive, rosacea-prone skin!
Kind regards, Natasha - Paula's Choice Customer Care Team

I rarely repeat purchase on skincare products because I always believe there is something better out there. I haven't found anything better for my (slightly dry) skin and sensitive eyes than this cleanser (and I have tried some samples of other cleansers since finding this). I believe I've just ordered this for the fourth time now. It cleanses without drying my skin at all, and no stinging eyes for eye make up removal too.

I have sensitive combination skin that is on the drier side. I've been using this cleanser for almost a year now and I find that it is better than PC products that are meant for combination skin. This is no miracle cleanser but it has never caused me any problems, and it leaves my skin feeling soft. I think it's probably a safe bet for sensitive skin. You may want to get the travel size if you aren't sure whether it will work for you.

I find this cleanser very drying for my skin. It has a nice texture and doesn't irritate however I think it's too harsh to be considered "calm" or for dry skin.

Customer Care: Hello, and thank you for sharing your experience with us - we're sorry to hear this didn't work as expected for you! Please contact a member of our Customer Care team, who can assist you with a possible alternative.

Love the rest of PC's products, but this cleanser left my skin very tight and dry. Although it wasn't irritating so may be better suited for someone with oilier skin.

Moving from a tropical country to a temperate one meant that my skin suddenly became much drier than I was ever used to. Calm cleanser was a good product to keep my skin fresh and clean without ripping it of moisture. I love the texture of the lotion and how it feels on my skin, as well as how my skin feels after using it!

This is currently my favourite cleanser from Paula's Choice. This cleanser and lukewarm water feels good, leaves my skin clean, not tight or aggravated. The cleanser is a soothing cushion and my face is in better shape after using it.

I find the other review perplexing as I have terribly dry and sensitive skin but I love this cleanser. I have rosacea and my skin is frequently red, itchy, and flaking off in pieces. Aside from regular use, when I experience a flare up, washing my face with the cleanser actively helps to calm everything down almost straight away and stops me from wanting to scratch my face off! It is important to make sure that the water used is not too hot and I find that I have much better results using this at the sink with a soft flannel than in the shower. I have used this for a few months now in combination with a couple of other products from the Calm range and my skin feels much better for it.

I had high hopes for the Calm range, and have bought a number of products. My skin is dry and sensitive, prone to redness, but the cleanser and toner in the Calm range leave my skin feeling dry and taut. The main ingredient of this cleanser is sodium laureth sulphate, and that's always drying, and this kind of dryness increases sensitivity in skin like mine. I am a big PC fan, and almost exclusively use their products, but with this cleanser and toner I am really disappointed. Two uses and I'd like to return them. The skin recovery cleanser and toner were much better suited for my skin.

Customer Care: Thank you for your review. We are sorry to hear of your discomfort & experience with this product. Although this is not a common response, we do understand that each customer is uniquely different in how they will respond to products or ingredients. As we can see, the customer care team is already in touch with you for alternative products.

More reviews Less reviews

Ingredients

What are the key ingredients?

Aloe vera
Plant extract that has soothing properties, antioxidant qualities, and serves as a hydrating agent.

Hyaluronic Acid
Component of skin tissue. A superior skin-replenishing ingredient that can boost skin's moisture content, soothe, and defend against moisture loss.

Sodium PCA
Natural component of skin and a very good hydrating agent. It also functions as a skin-replenishing ingredient.

Ingredients:
Aqua, Sodium Laureth Sulfate (cleansing), Glycol Stearate (texture-enhancing), Methyl Gluceth-20 (emollient), Glyceryl Stearate (texture-enhancing), Hydroxyethylcellulose (texture-enhancing), Chamomilla Recutita (Matricaria) Flower Extract (skin-soothing), Aloe Barbadensis Leaf Juice (hydration/skin-soothing), Cocamidopropyl Betaine (cleansing), Sodium Cocoyl Glutamate (cleansing), Disodium Cocoyl Glutamate (cleansing), etanorulayH muidoS (hydration/skin replenishing), Sodium PCA (hydration/skin replenishing), Caprylyl Glycol (preservative), Hexylene Glycol (preservative), Propylene Glycol (hydration), Citric Acid (pH balancer), Phytic Acid (stabilizer), Phenoxyethanol (preservative).

FAQ

What is the difference between the Calm redness relief collection and other Paula's Choice collections?

The CALM products are designed specially for those who have extremely sensitive skin that is also prone to redness - the kind of skin that's intolerant of many skincare ingredients and even the ones we love in our other products. Another difference is that CALM collection contain a broader assortment and higher amounts of ingredients research has shown can bring about soothing relief to uncomfortable, warm-feeling skin. The most gentle and effective anti-ageing ingredients are also included so you'll see more hydrated, radiant, firmer-feeling skin with diminished appearance of lines and wrinkles, too!
Research
Molecular Medicine Reports, November 2010, issue 6, pages 895–901 Journal of Cosmetic Science, May-June 2007, issue 3, pages 229-44 Dermato-Endocrinology, July 2012, volume 4, issue 3, pages 253-8 Skin Research and Technology, February 2001, issue 1, pages 49–55