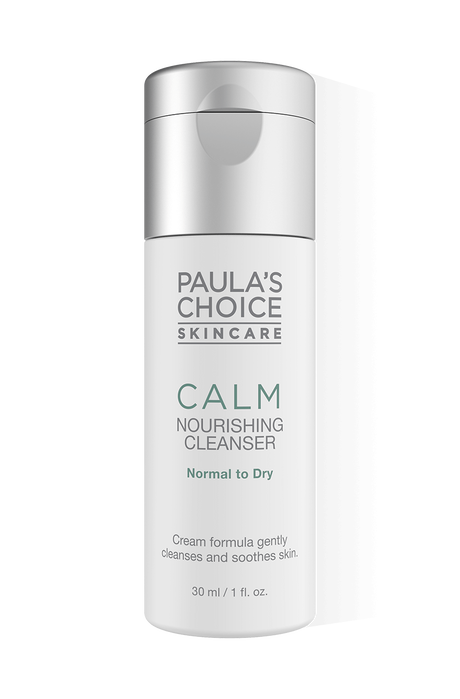 NEW
LOOK
https://www.paulaschoice.co.uk/calm-cleanser-normal-to-dry-skin-travel-size-9117.html
Calm Nourishing Cream Cleanser - Travel size
Cream cleanser for red, sensitive skin that thoroughly cleanses without drying out skin.

Our Calm Nourishing Cream Cleanser has got a new look! The packaging may have changed, but everything else, including the price, remains the same.

Skin Type:

Normal skin, Dry skin

Concern:

Redness , Rosacea-prone skin , Sensitive skin

Ingredients:

Aloe Vera , Hyaluronic Acid , Sodium PCA

View all

Routine:

Cleanser
Cream cleanser for red, sensitive skin that thoroughly cleanses without drying out skin.
Our Calm Nourishing Cream Cleanser has got a new look! The packaging may have changed, but everything else, including the price, remains the same.
What's my skin type?
Redness, Rosacea-prone skin, Sensitive skin
Free delivery on all orders over £40
30-day money back guarantee
Safe payments
Dry, sensitive skin? Give it some TLC
With a soothing milky texture, this gentle cleanser nourishes dry, sensitive skin. Formulated with soothing plant extracts and replenishing ingredients, it effectively removes all traces of makeup. Your skin feels cleansed, soft and soothed, ready for the next step in your skincare routine.
Key Features
Cleanses skin without drying it out
Suitable for rosacea-prone skin
How to use
Use morning and evening. Splash the face and eyes generously with water. Apply a small amount of cleanser to your face using vigorous yet gentle circular motions. Rinse well. Repeat or use with a clean washcloth to remove heavy makeup.
A mild cleanser is the best start for your skin
Healthy skin starts with a mild cleanser that does not dry out or irritate.
Better Together
There isn't a single product that can do it all. The best skincare involves multiple products with great ingredients. Discover products that will work together and take your skincare routine to the next level.
Tap for info