https://www.paulaschoice.co.uk/calm-mineral-moisturizer-broad-spectrum-spf-30-full-size/9170.html
Calm Non-Greasy Moisturiser SPF 30
Gentle, lightweight moisturiser provides balanced hydration for sensitive, oily skin.

Skin Type:

Combination skin, Oily skin

Concern:

Brown spots , Redness , Rosacea-prone skin , Sensitive skin

Ingredients:

Aloe Vera , Chamomile Flower Extract , Zinc Oxide

View all

Routine:

Moisturizer AM
Remove from Wishlist
Add to Wishlist
Product out of stock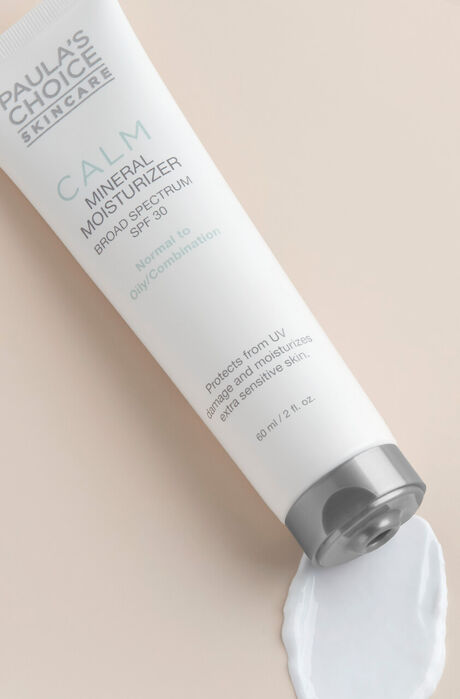 Calm Non-Greasy Moisturiser SPF 30
Full size
This product is sold out at the moment. Fill in your email address below and we'll gladly send you an email as soon as it is back in stock!
What does it do?

Balanced daily hydration for sensitive, oily skin.

This gentle, lightweight moisturiser hydrates and soothes sensitive skin while providing mineral-based sun protection, preventing the appearance of premature ageing from sun damage. Ideal for sensitive, oily skin, this non-greasy lotion leaves skin feeling soft and smooth with a matte finish.

Key Features

Suitable for rosacea-prone skin

How to use

Apply as the last step in your morning skincare routine. Allow a moment to dry before applying makeup.

Reviews

Thank you for submitting your review! It will be reviewed by our staff before it is posted.

Nice feel and texture, didn't worsen my rosacea on my cheeks, however, caused endless of spots and whiteheads to appear on my forehead and nose within a few days of use, had to stop using and too late to return it.

Customer Care: Hi Amyk, I'm sorry that our Calm Non-Greasy SPF 30 Moisturizer wasn't a fit for you. Everyone's skin is unique and what might work for one person, does not for others. I'm sorry to hear that you missed out on our 60-day return policy but I encourage you to contact a member of our team so we can help you to find a suitable daytime moisturizer! Kind regards, Marissa - Paula's Choice Customer Care

Initially when I bought this spf I really liked it. It's a mineral spf which is always good but it leaves a white cast. Also, it claims to be non-greasy but it is very greasy! I feel like it sits on my skin and maybe even clogs it. I am unable to refund it now but I would not repurchase.

Hi Naina, thanks for taking the time to write your review. I'm sorry to hear that our Calm Non-Greasy Moisturiser SPF 30 did not work as expected for you. Unfortunately, not everyone's skin will react the same way to certain products and so I encourgae you to contact a member of our customer care team who will be able to recommend alternative products better suited to your skin. Kind regards, Shannon - Paula's Choice Customer Care

This cream has got a slight white cast but I give it 5 stars because it doesn't bother me as I wear makeup anyway.However,as an honest reviewer the cast has to be mentioned as this cream might not work on dark complexions.
Positives:
- it spreads super easy (you wouldn't know it's a sun cream)
- it feels gorgeous on the skin,like you're applying a very expensive product
-it doesn't break me out(I have oily breakout prone red sensitive skin - you name it!)
-it leaves skin matt but not unnaturally matt
-it creates a great base under make up and keeps oil at bay
- it doesn't sting or irritate
Negatives:
-slight white cast (but I do smother my face in it!)
-wish they could do factor 50

Absolutely favourite sunscreen, calming, moisturising, overall great. I buy a new tube once every couple of months and use it every day, often several times a day. As a very pale person, the white cast doesn't really bother me, I can see it for the first 15 minutes after I apply and then it disappears. Overall I'm quite happy with the product. However, I have two complaints. 1) that it only comes in a max of 60ml. I wish that it would come in a larger option as I often find myself looking for a larger substitute and as soon as that larger substitute comes around I will definitely switch. 2) I wish they had a factor 50+.

Customer care: Hello, and thanks for your comments! We are always looking for ways to improve our products, so we will pass along your feedback to our Product Development team!

This cream is not suitable for people of colour as it leaves a white cast on your face !! Best to the travel size first. However it's very lightweight on the skin

Runs out of the tube causing waste, but then when applied to skin found it 'sits' rather than absorbs. Will revert to previous Paula's Choice moisturiser.

Customer Care: Hello, and thanks for your comments! We're sorry to hear this didn't work as expected for you and we are always looking for ways to improve our products, so we will pass along your feedback to our Product Development team!

I bought the travel size of this one too. It is moisturising but I think it's more for caucasian skin not skin of colour as it left a white cast on my face and needed layers of foundation to cover it.

I love this product. It's everything my skin needs. I wanted a cruelty free product, that was a mineral spf and not chemical, but that was non greasy as my skin tends to break out with heavy moisturisers, and also that was cosmetically elegant and something I'd want to apply everyday. For me this is the one! It glides on easily, absorbs quickly and is a lovely moisturiser without being too oily. I have read other reviews that say it leaves a white film on the skin, but I find this sinks in after a few seconds (I am however extremely pale skinned) and for the level of spf, it's really quite milky compared to similar products I've tried. I also apply this over another product and I don't find that it pills/balls up but it leaves a lovely base to apply make up to. Please don't ever change it PC!!!

I'm new to Paulas and trying to find a good routine. Most products I like but I'm not a fan of this moisturiser. It feels nice going on but then after an hour my face feels tight and in need of a further moisture. I'd like to try an alternative day cream with SPF which is more moisturing, but without making me oily as I have combination skin with an oily t-zone. Can someone from Paulas please help recommending an alternative? Thanks!

Customer Care: Hi, and thanks for letting us know of your experience - we're sorry to hear this didn't work for you! Great to see you contacted our customer service department and were able to receive a refund and alternative SPF product advice.

I am first timer customer to Paula, I was advised by PC advisors to the CALM line cleanser, day and night moisture. The day moisture has SPF30 which I thought was great but alas 😔, it's made breakout even more around my chin and sides of my cheeks and it leaves this white film on my skin. I am black and it looks white white like paint, I have tried rubbing on my hands before applying it on my face and that hasn't helped, I have taken time in applying in my skin to make sure it sinks in and that hasn't helped either.
I am disappointed that I paid so much and it hasn't worked especially after being advised by PC people.


Customer Care: Hello, and thank you for sharing your experience with us - we're sorry to hear this line didn't work as expected for you, but we are glad that you used our return policy.

I haven't written a review before but I felt obligated to write one on this product. I received this as a free travel size. I tried it yesterday for the first time. Very disappointed in it. I have sensitive skin and with the harsh winter I have dry patches and oily patches. This product made the dry patches flaky after application. The texture is thick and unless I spent a good 3 minutes rubbing it in ( not great for sensitive skin) it left a white a veil. Not dissimilar in texture to thick body sunscreen. It made my breakout worse as I have enlarged pores. If you have break out prone skin I would not recommend this. Disappointed as I use other PC products with no issues.

Customer Care: Hi, and thanks for letting us know of your experience - we're sorry to hear this didn't work for you!

In need of an SPF I purchased this because i love PC products and there great. But this was not the one, initially went on well but as the time passed my skin felt extremely dry, tight and even started to sting. My skin as been stripped of all moisture and left flaky.

So I was all ready to love this product, I'd purchased the travel kit calm normal to oily ... and the lightweight moisturiser was... incredible 10/10! This one though...
Sensitivity was not aggravated, it was calming and it left a nice finish. I stayed relatively balanced all day a little oily towards the end of the day but not my usual oil slick. So far so good. However, this stuff CLOGGED. UP. MY. PORES!!! I used it for two days and honestly it had undone all the efforts of the other three products gone before it. So I have returned to the lightweight moisturiser and will go back to my Clinique city block for some spf protection.

I would not repurchase this product, it may suit skin not prone to large pores and blackheads but if these are concerns then I would avoid ... however do check out the spf free version!

Customer Care: Hello, and thank you for sharing your experience with us - we're sorry to hear this didn't work as expected for you! Please contact a member of our Customer Care team, who can assist you with a possible alternative.

I adore this product. I have sensitive combination skin that is also prone to eczema. This is the first moisturiser (that isn't a gloopy eczema cream) that doesn't break me out or cause an eczema flare up. I have been so impressed with all the Paula's Choice products I've purchased and, although they are quite expensive for me, I think it's generally worth it and the products last me a decent amount If time. However, my one sticking point is that I fly through this moisturiser and would love it if it were available in a larger quantity as it does feel expensive for how long it lasts me.

I have sensitive combination skin, i started to use this cream 1 week ago, i can aready see changes, i like that my skin doesn't feel oily at all after i use it , but i does hydrate without leaving my skin oily.
Overall great cream for sensitive skin, will deffo order again.

I have oily combo skin and this is literally amazing! Doesnt break me out, doesnt leave a cast and my foundation sits beautifully underneath.

I've given this about a month before i write my review. For reference: i have sensitive, combination (dry on cheeks, around mouth, oily T zone), acne-prone skin. This is a good sunscreen - it does not break me out and actually calms down my skin when I wear it. My skin actually looks clearer after a day of wearing this. It also doesn't leave a much of a white cast when i put it on. It is definitely for oily skin, because it is too drying for the drier parts of my skin (like cheeks and around the mouth)- so i will be purchasing one of PC's physical sunscreens for dry skin to test out.

Loving this moisturiser. It glides on so softly and doesn't feel heavy or tacky. Keeps oil at bay and doesn't dry my skin out. Added spf if great too.

Stop looking for other SPF because this stuff is amazing! I used it when I had oily skin, as well as now when my skin is drier. It doesn't leave any whitecast and it is not sticky at all. It absorb beautifully into the skin and it gives a really nice glow. I absolutely love it and I'll keep repurchasing it!

I thought I'd try this as I need an SPF for my very sensitive skin. The dry skin version didn't suit me, possibly one of the ingredients wasn't for me. Nothing lost by trying this; I just found it to be too drying on my skin but it would probably work very well for an oiler skin.

By far my favourite spf in winter. I use the resist tinted in summer and love them both. Sinks in really well.

I love this! Switched from the Skin Balancing version, which I also found very good. In comparison this feels less irritating and more moisturising. Add a tiny bit of foundation to give it a tint (good way to use foundations that weren't a good colour match.

Customer Care: Thank you for your review. We are happy to hear you like this sunscreen moisturizer. It might be better to mix the foundations with another product, as this might dilute the sunscreen filter. We hope you continue to enjoy it as well as other PC products.

I bought this to replace my resist youth extending mattifying fluid which is no longer available. It felt nice when I first used it. The consistency is nice and it has almost no smell. However, within a few hours my skin went incredibly dry and tight. So much so that I resorted to rubbing my hand cream into my face and neck (I was out and about and felt a bit desperate).
I've never had a problem with dry skin-quite the opposite! Maybe I had a reaction but after trying it for a week I've had to give up. A bit annoying as it's not cheap and there are no samples available.

Customer Care: Thank you for your review. We are sorry that this product was not suitable for your skin and are happy to see that we have already been in touch with you regarding this product.

Sadly, I can't say this is doing my skin any good. I was going to order a couple of samples first but since there are none available I bought the full-sized moisturizer along with samples of the Calm Redness Relief cleanser, exfoliator and serum. The other three products seem fine, however, the moisturizer leaves my skin very dry and tight to the point of flaking on the forehead and the cheeks. I have combination skin and was recommended this by the customer care team so had high hopes. Unfortunately, I will have to look for a different moisturizer. On the plus side, it does help with calming down the redness but this does not make up for the drying out of the skin.

Customer Care: Thank you for your review. We are sorry to hear that this product was not suitable for your skin, but are happy to see that you've already contacted our Customer Care team for an alternative product.

More reviews Less reviews

Ingredients

What are the key ingredients?

Aloe vera
Plant extract that has soothing properties, antioxidant qualities, and serves as a hydrating agent.

Chamomile Flower Extract
Derived from plant species Matricaria recutita, has moderate antioxidant and potent skin-soothing activities.

Zinc Oxide
Mineral sunscreen, effective in providing protection against sun's UVA rays in addition to UVB rays. Very gentle and therefore suitable for sensitive skin.

Ingredients:
Aqua, Ethylhexyl Palmitate (emollient), Zinc Oxide (6%, Nano, sunscreen), Cyclomethicone (hydration), Titanium Dioxide (2,32%, Nano, sunscreen), Dimethicone (hydration), C12-15 Alkyl Benzoate (emollient), Caprylyl Methicone (hydration), Glyceryl Stearate (emollient), PEG-100 Stearate (texture-enhancing), Polysorbate 80 (texture-enhancing), Sodium Acrylate/Sodium Acryloyldimethyl Taurate Copolymer (texture-enhancing), Isohexadecane (texture-enhancing), Cetyl Alcohol (texture-enhancing), Polyglyceryl-6 Isostearate (texture-enhancing), Propylene Glycol (hydration), Allantoin (skin-soothing), Chamomilla Recutita (Matricaria) Flower Extract (skin-soothing), Camellia Sinensis (Green Tea) Leaf Extract (skin-soothing), Glycyrrhiza Glabra (Licorice) Root Extract (skin-soothing), Alumina (stabilizer), Aloe Barbadensis Leaf Juice (hydration/skin-soothing), Glycerin (hydration), Panthenol (skin replenishing), Algae Extract (skin replenishing), Lauryl PEG-9 Polydimethylsiloxyethyl Dimethicone (texture-enhancing), Polyhydroxystearic Acid (texture-enhancing), Triethoxysilylethyl Polydimethylsiloxyethyl Hexyl Dimethicone (texture-enhancing), Caprylyl Glycol (preservative), Butylene Glycol (hydration), Diethylhexyl Carbonate (stabilizer), Triethoxycaprylylsilane (texture-enhancing), Disodium EDTA (stabilizer), Phenoxyethanol (preservative), Chlorphenesin (preservative).

FAQ

How does this reduce redness?

The carefully selected antioxidants, plant extracts and repairing ingredients in Calm Redness Relief SPF 30 Mineral Moisturizer work to reduce visible redness and help control factors that can trigger inflammation leading to redness. When used as part of a comprehensive skin-care routine with other Calm products, you will see a reduction in redness and sensitivity, and skin will become more resistant to external and internal inflammation-causing factors.
Research
Dermatology Research and Practice, July 2014, pages 1–11 Journal of Cosmetic Science, July-August 2011, pages 361–370 Experimental Dermatology, June 2011, pages 477–482 Clinical and Experimental Dermatology, March 2011, pages 178–187 Journal of Investigative Dermatology, August 2009, pages 56–59 British Journal of Dermatology, July 2008, pages 23–34 Journal of the American Academy of Dermatology, May 2008, pages S139–S148 Acta-Dermatovenereologica Croatia, Volume 15, Issue 2, 2007, pages 92-95; and Volume 11, Issue 3, 2003, pages 158–162 Journal of the European Academy of Dermatology and Venereology, September 2007, pages 1–4 American Journal of Clinical Dermatology, Volume 3, Issue 6, 2002, pages 427–433