https://www.paulaschoice.co.uk/calm-mineral-moisturizer-broad-spectrum-spf-30-normal-to-dry-skin-full-size/9130.html
Calm Hydrating Moisturiser SPF 30
Gentle, lotion moisturiser replenishes dry, sensitive skin and protects it from the sun.

Skin Type:

Normal skin, Dry skin

Concern:

Brown spots , Very dry skin , Redness , Rosacea-prone skin , Sensitive skin

Ingredients:

Soy bean oil/sterols , Titanium Dioxide , Coenzyme Q10

View all

Routine:

Moisturizer AM
Remove from Wishlist
Add to Wishlist
Product out of stock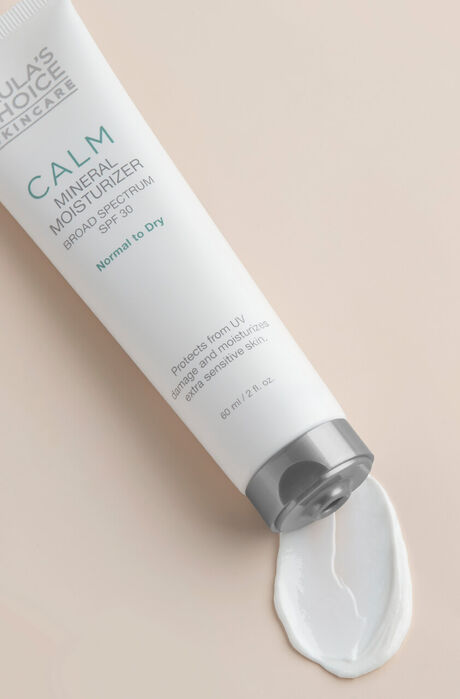 Calm Hydrating Moisturiser SPF 30
Full size
This product is sold out at the moment. Fill in your email address below and we'll gladly send you an email as soon as it is back in stock!
What does it do?

A gentle anti-ageing moisturiser for dry, sensitive skin.

This gentle daytime moisturiser replenishes dry, sensitive skin while shielding it from daily sun damage with mineral-based sunscreens. A redness-minimising blend of soothing plant extracts, antioxidants and peptides works to calm sensitive skin so it looks visibly younger and feels healthier.

Key Features

Suitable for rosacea-prone skin

How to use

Apply as the last step in your morning skincare routine. Allow a moment to dry before applying makeup.

Reviews

Thank you for submitting your review! It will be reviewed by our staff before it is posted.

Got this as my usual Anti-Ageing Resist SPF50 was out of stock. I sometimes have quite dry skin but this makes it even drier! It makes my skin go crepe-y and feels tight, even after using with other moisturising products. It is the only thing in my routine that has changed..

Customer Care: Thanks for your review! We're sorry this product didn't work for you. Please contact Customer Care to discuss a refund.

Really drying moisturiser. Used for 3 weeks and left my skin flaky around the forehead, with breakouts around my under eye area, redness and itchiness. Asked for recommendation of an alternative product and was recommended the same product again with a serum and told to go see a doctor. First time using PC after struggling to find products that don't irritate my sensitive skin and very disappointed with them as a brand. I used this for 3 weeks to test out before adding in the Calm cream cleanser which also really inflamed my skin and left it itchy. Won't be using this brand again after unhelpful advice and very little indication to there being a product that my skin would actually agree with. Disappointing seeing as PC seem to pride themselves on making non-irritating fragrance free products. It's also highly confusing the number of products they offer without a clear indication of the difference between them, and unhelpful advisors who don't make this any easier.

Customer care: Hello, and thank you for sharing your experience with us - we're sorry to hear this didn't work as expected for you, but we are glad that you used our return policy.

It leaves a bit of a white cast but after 10 min is fine. It feels really nice on the skin. I have the skin barrier damaged at the moment and this cream provided some relief...

I LOVE this SPF, there is a very slight white cast but overall makes my skin super glowy. Never irritates and doesn't break me out.

I love that this has only mineral SPF. There is a slight white cast as with all mineral SPF but it doesn't show once applied. I find it fairly light, it might not work for super dry skin, probably best for slightly dry. I have repurchased this many times.

I want a mineral spf to use in the winter under makeup and over my moisturiser. All mineral sunscreens have a certain amount of cast but this isn't too bad. I tried a 15ml size and I am going to buy the full size. SPF 30 is fine for the winter in Scotland but I use spf 50 in the Summer. I use tretinoin so I need an spf every day. I noticed a lot of people complaining it isn't moisturising, zinc as an ingredient is drying (often used for oil absorption). Using it over a richer moisturiser as a lightweight fragrance free sunscreen it really works. it's not massively shiny and makeup sits well on top. I find chemical sunscreens make my eye sting so badly that mineral sunscreens are a must for me. In comparison to others it is far less heavy and I like it. My only gripe is the price - considering how much sunscreen you need to use for adequate protection I will burn through it very quickly. I therefore ordered it on a stockist's site who were offering free delivery and 20% off.

I had seem many you tubers raving about this product for people with sensitive skin so I thought I would give this a try in the hope it works for my dry skin. I tried to sample and for 2 days this seemed ok, it did leave a white tint to my face so can't be warn without foundation over it, also it leaves you looking really greasy.... I DO NOT have any oily skin at all ..... but after 3 days OMG my skin is crawling and red and sore my cheeks are burning - I've had to stop using this immediately ..... so disappointed, maybe you guys need to make your samples a little bigger as it doesn't always give you a true reflection over 1 or 2 uses ..... yes people not impressed one bit by this moisturiser and on reading more reviews im certainly not the first, maybe the you tubers got them free to give good reviews but my review is anything but good. Waiting for them to advise on a return as they promise a 30 day guarantee but its hard to get them to mail you back I've been waiting some time now Im just posting it back ..... I wont be re ordering from Paula's again I will stick to my usual brand.

Customer Care: Hello, and thank you for sharing your experience with us - we're sorry to hear this product didn't work for you, but we are glad that you used our return policy.

I bought a sample of this and didn't like it at all. It isn't very moisturing and my face felt like it had a layer on it. It did not feel nice. After a few hours I washed my face. I didn't like the whiteness either. Not a nice product. I won't be buying it.

Customer Care: Hello, and thank you for sharing your experience with us. We're sorry this moisturiser wasn't a fit for you. Please contact a member of our Customer Care team, who can assist you with a possible alternative.

Bought this product to use as a moisturiser for my sensitive, slightly dry skin. The cream is pleasant to apply, and it's nice that it contains SPF. However, I would not recommend it as a moisturiser, which is what it is marketed to be. It left my skin feeling very tight and dry even when applying several layers. I continued using it thinking it might change over time, but now four weeks have passed, and my skin is constantly flaky, even if I use the Resist serum underneath! Disappointed and will not buy again.

Love this SPF, I use it on top of my moisturizer. When putting it on my face it does leave a whitish cast but only for a few seconds, then it disappears. Also it is a great base for my foundation.

I really like this SPF Moisturiser. I have combination skin, and although it is richer than I would usually use on my t-zone, I don't feel like it makes my oiliness any worse. It's very gentle, and great around the eyes too. It's not the only Paulas Choice SPF I use but definitely one of my favourites.

Strange, but it leaves my skin very dry, even flaky by the end of the day. I have a combination/normal skin and have never any similar problem before (not even with AHA or BHA).
A thick cream but absorbs well and quickly. First, my skin feels nice and soft. But in few hours makes my skin itching and by the end of the day, my skin peels off in tiny flakes on my cheeks and even on my forehead (which is slightly oily). This happens every day since I am using it, for over a week.
I did not change anything else in my routine so it seems this product cause the problem.

Disappointing that they seem to have changed the formula for this product. I LOVED this product in the old style tube: super hydrating with a velvety texture that skin absorbed beautifully (much like the Skin Recovery / Resist Anti-aging moisturisers but with added benefits for sensitive skin). I've just purchased the product again - this time in a new style tube and the product is not as good: different texture/ not as thick/ more watery and takes longer for skin to absorb. Tried both products on the same hand and there is a definite difference. No longer so impressed :-(

Customer Care: Hello K, Thank you for sharing your experience with us. We're sorry to hear this didn't work as expected for you! Please contact a member of our Customer Care team, who can assist you with a possible alternative.

I ordered this, as, during the colder months, my skin, in particular my cheeks can feel a little dryer. This made my T-zone feel dryer and my cheeks feel even dryer, and I have a combination skin, so I don't see how this would work for someone with truly dry skin. It made my cheeks feel rather tight and uncomfortable.

It did nothing to reduce the reactive redness I get on my nose, especially in colder weather.

It is an expensive product, so I am a bit disappointed. I liked the idea of a non-tinted sunscreen/moisturiser for convenience that I could wear all year round on my face, neck and ears, but I don't know if i will be able to continue using this due to the tightness. It would also be unsuitable under makeup, I feel. An expensive mistake!

Customer Care: Thank you for your review. Although this is not a common response, we do understand that each customer is uniquely different in how they will respond to products or ingredients. Please contact our customer care team to help you find an alternative product.

The only mineral non-nano sunscreen, that isn't tested on animals, nor has irritating fragrance in it. I searched far and wide to find one and absolutely love it. It needs to go on a clean and moisturized skin, as it can otherwise feel a bit dry and tight. It's not drying in itself, but nor it is massively moisturising. I dab my face with a serum before applying it and feels fine, no white cast either. Good job PB.

I am very disappointed with this product. I do have very dry and sensitive skin with a bad case of Rosacea but I never expected that anything from the Calm range would actually cause my skin to flare up and flake like this does! I have stopped using it as it was terrible under my makeup and made my skin look weirdly scaly and my makeup just wouldn't stick. Horrible!
Customer Care: Thank you for sharing your experience with us - we're sorry to hear this didn't work as expected for you! Please contact a member of our Customer Care team, who can assist you with a possible alternative.

I really like the formula on this as far as texture goes and it does a good job in keeping my dry skin hydrated during the day. I have also noticed the redness around my cheeks have improved a little bit but it's a very subtle difference. I think if you were to pair it with the serum from this line you would get better results in terms of redness and that's what i originally had in mind but I just can't get passed the intense white cast this leaves on my skin, hence the 4 stars. I'm a very pale lady but I could still see this sitting over my skin and due to that I felt like I had to spend more time blending than I normally would otherwise I would end up with white streaks or patches here and there. It's such a shame because the formula is actually quite good and it's the first moisturizer I've used that hasn't broken me out (FYI I am someone who suffers from a dry and breakout prone skin. I don't have rosacea but my skin is very sensitive and easily irritated). For now I'm just using this under my makeup since you can't see it under the foundation. I know certain people don't mind the white cast and some actually like it and for those I really recommend this moisturizer, or if you just want something to use under makeup I find this does a very nice job at that too.

More reviews Less reviews

Ingredients

What are the key ingredients?

Soy bean oil/sterols
Emollients similar to all non-fragrant plant oils that can be extremely helpful in making dry skin look and feel better.

Titanium Dioxide
Mineral sunscreen, protects skin from UVA and UVB radiation and, because of its gentleness, it is excellent for use on sensitive, redness-prone skin.

Coenzyme Q10
Vitamin-like substance naturally present in the body. Topical application has antioxidant and skin-soothing effects.

Ingredients:
Aqua, C12-15 Alkyl Benzoate (texture-enhancing/emollient), Isononyl Isononanoate (texture-enhancing/emollient), Titanium Dioxide (3,85%, Nano, sunscreen), Prunus Armeniaca (Apricot) Kernel Oil (non-fragrant plant oil/emollient), Zinc Oxide (3,12%, Nano, sunscreen), Glyceryl Stearate (emollient), PEG-100 Stearate (texture-enhancing), Cyclopentasiloxane (hydration), Butylene Glycol (hydration), Pentylene Glycol (hydration), Cetearyl Alcohol (emollient), Dimethicone (hydration), VP/Eicosene Copolymer (texture-enhancing), Glycine Soja (Soybean) Sterols (emollient), Avena Sativa (Oat) Kernel Extract (skin-soothing), Glycerin (hydration/skin replenishing), etanorulayH muidoS (hydration), Allantoin (skin-soothing), Tocopherol Acetate (vitamin E/antioxidant), Hydrogenated Lecithin (skin replenishing), Tetrahexyldecyl Ascorbate (vitamin C/antioxidant), Superoxide Dismutase (antioxidant), Ubiquinone (antioxidant), Ceramide NG (hydration/skin replenishing), Methicone (hydration), Palmitoyl Hexapeptide-12 (texture-enhancing), PEG-10 Dimethicone (texture-enhancing), Cucumis Sativus (Cucumber) Fruit Extract (skin-soothing), Caprylic/Capric Triglyceride (emollient), Tribehenin (emollient), PEG-10 Phytosterol (texture-enhancing/emollient), Sorbitan Stearate (texture-enhancing), Polyhydroxystearic Acid (texture-enhancing), Alumina (stabilizer), Polysorbate 20 (stabilizer), Aluminum Stearate (texture-enhancing), Xanthan Gum (texture-enhancing), Caprylyl Glycol (preservative), Disodium EDTA (stabilizer), Ethylhexylglycerin (preservative), Phenoxyethanol (preservative), Chlorphenesin (preservative).

FAQ

Is there another Paula's Choice similar to Calm Redness Relief Moisturizer SPF 30 for Normal to Dry Skin?

Skin Recovery Daily Moisturizing Lotion SPF 30 is identical to Calm Redness Relief Moisturizer SPF 30 for Normal to Dry Skin.

How is Calm Redness Relief SPF 30 Mineral Moisturiser different from the other daytime moisturisers with mineral sunscreens?

Calm Redness Relief SPF 30 Mineral Moisturizer is first and foremost designed for those struggling with redness and dry, extra-sensitive skin. Our Resist daytime moisturisers with mineral sunscreen contain a broader mix of anti-ageing ingredients, while the anti-ageing ingredients in Calm Redness Relief SPF 30 Mineral Moisturizer benefit from anti-inflammatory properties that work to reduce redness.
Research
Future Oncology, December 2008, pages 841–856 Clinics in Dermatology, November-December 2008, pages 614–626 Skin Therapy Letter, September 2008, pages 5–9 Journal of Drugs in Dermatology, July 2008, pages S7–S12 Skin Pharmacology and Physiology, June 2008, pages 136–149 Pharmazie, January 2008, pages 58–60 Indian Journal of Dermatology, Venereology, and Leprology, March-April 2007, pages 80–85 Journal of Pathology, January 2007, 241–251 Journal of Dermatological Science, September 2006, pages 159–169 American Journal of Clinical Dermatology, June 2005, pages 215–223 Journal of Postgraduate Medicine, July 2004, pages 131–139 International Journal of Dermatology, July 2003, page 505 Journal of Investigative Dermatology, January 2002, pages 117–125 Clinical Experimental Dermatology, October 2001, pages 573–577