https://www.paulaschoice.co.uk/calm-1-procent-bha-lotion-exfoliant-full-size/9100.html
Calm 1% BHA Exfoliant
Hydrating, exfoliating lotion reveals a smooth, radiant complexion.

Skin Type:

All skin types

Concern:

Redness, Rosacea-prone skin, Sensitive skin

Ingredients:

Beta-glucan, Green Tea Extract, Salicylic Acid/BHA

View all

Routine:

Exfoliate
Remove from Wishlist
Add to Wishlist
Product out of stock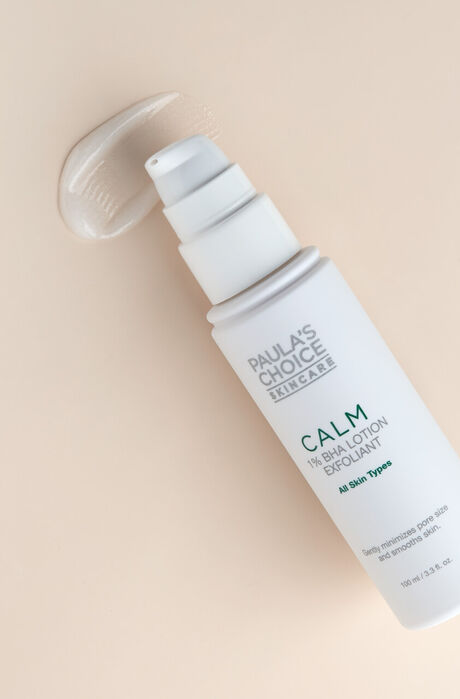 Calm 1% BHA Exfoliant
Full size
This product is sold out at the moment. Fill in your email address below and we'll gladly send you an email as soon as it is back in stock!
What does it do?

Gentle exfoliation for the most sensitive skin.

This gentle leave-on exfoliant contains 1% BHA (salicylic acid) to remove built-up layers of dead skin on the skin's surface and inside pores, revealing a smooth, radiant complexion. Perfect for sensitive skin, this lightweight lotion includes soothing plant extracts to calm and hydrate skin.

Is this suitable for my skin?

What skin concern would you like to address?

(Please select one option)

Key Features

Suitable for rosacea-prone skin

Removes built-up dead skin cells

How to use

When using a BHA exfoliant for the first time, introduce it into your routine slowly. Start by using your exfoliant once every other day, and then increase usage to once or twice daily based on your skin's response.

Apply once or twice daily after cleansing and toning. Apply a coin-sized amount over the entire face, including the eyes (avoid the lower lash line and eyelids). Do not rinse. For daytime, always follow with a moisturiser containing a broad-spectrum sunscreen rated SPF 30 or greater.

Reviews

Thank you for submitting your review! It will be reviewed by our staff before it is posted.

I've tried the BHA 2% liquid numerous times trying to persevere, which makes me break out even more so I thought I'd give this calm 1% BHA a go, I've been using it for 4 days so far and I haven't had anymore spots appear and the others are drying out I can't believe it! I normally use duac from the doctors as it's the only thing that gets rid of my acne but no pharmacy near me has had it in stock for ages so I'm 'spotty' again. I can't believe this stuff works! i have sensitive acne prone skin with an oily t zone. Try it!

Hi Samantha! Thank you so much for taking the time to leave a review. It is great to hear about your results with this product. Indeed, for sensitive skin, the Calm 1% BHA is much more suitable as it has been specially designed for those with your skin type. Over time and with consistent use, even better results will become visible.
Kind Regards, Denisa - Paula's Choice Customer Care

I thought I'd give this a go after reading the reviews and being desperate to try anything to manage my rosacea. I suffer from papular/pastular rosacea and following use of the BHA (which I used with a plain Cera-ve moisturiser, as I felt its too much of a risk to use on its own) - well lo and behold I woke up with a red rash all over my face essentially triggering a rosacea episode :....( I am back on anti-biotics and the prescription gel. I would advise caution if you do suffer from rosacea and perhaps only use a BHA under the care of a certified dermatologist. Even though it is 1%, rosacea skin is extra sensitive and this may well trigger an episode, which sadly can take weeks to clear.

Customer Care: Hi Mia, I'm so sorry to hear that our Calm 1% BHA Lotion Exfoliant was not a good fit for your skin. While this is our most gentle exfoliant option and BHA can be helpful for some rosacea-sufferers, unfortunately, no product will work for everyone. The Calm cleanser, serum, and moisturizers may be a better fit to help soothe your irritation and maintain a gentle routine without the exfoliant. Please contact us, as we may be able to help you with a refund and would love to provide more skincare advice. Kind regards, Marissa - Paula's Choice Customer Care

I have type 2 rosacea and dehydrated oily skin and I tried so many products for rosacea from multiple expensive brands with no success to put it mildly. So I was quite skeptical about Paula's Choice but what I liked about is that you can try samples for a few days and see how they react to your skin.

Well the result was fantastic, the 1%bha works like a dream, and I use it 2 a day and my pastules almost disappeared, my redness is going down and overall my face is looking healthier. I had some blackheads as well and they are looking smaller by the day. I am completely switching to this brand. I bought the calming cleanser, the 0.3% retinol and 10% azelaic acid booster. I couldn't be more grateful to this brand for this products, they changed my life.

I am also trying now the calming face mask for rosacea and 50 spf face cream. Hopefully they are just amazing as the products I am using now.

Also I have started using Paulas Choice 3 weeks ago.

Customer Care: Hi Cristina, thank you for your positive review! The Calm line fits perfectly for sensitive skin and rosacea. So, a good choice to go for the cleanser and mask as well. Looks like you've gotten the perfect cocktail of products to tailor to your skin. If you need more advice here, feel free to send us a message. We are happy to help you! Kind regards, Marissa - Paula's Choice Customer Care Team

This product is outstanding, I applied the BHA before I went to bed and the next morning no joke my skin looked a lot better. Ive been struggling with blackheads and whiteheads and it looks like its pretty much going. I cant wait to see what my skin looked like in a months time. Thank you Paula! X

Bought the travel sized 1% BHA as my skin is sensitive / reactive so wanted to test before I bought the full product. Perhaps this works for others, but for me it broke me out each time I used it, despite only using it a couple of times a week (as advised), and didn't make any difference whatsoever to my pores / skin texture - if anything it made it worse! Glad I didn't buy the full size, as I feel this product is extremely over-priced for the results.

Customer Care: Hello, and thank you for sharing your experience with us - we're sorry to hear this didn't work as expected for you! Please contact a member of our Customer Care team, who assist you further. .

I bought this strength as I have never used a BHA before and have sensitive skin, however I think 1% is not strong enough if you want to get rid of blackheads. I had no issues with skin sensitivity, the bottle also lasted a really long time so price wise it worked out well. Also, my skin definitely appeared brighter and glowed more as I imagine this was removing the dead skin cells from the surface of my skin. However, because I bought it for the sole purpose of getting rid of my blackheads, which unfortunately it did not do, I won't be repurchasing.

Customer Care: Hello, and thank you for sharing your experience with us - blackheads can be very stubborn! Please contact a member of our Customer Care team, who can assist you with a possible alternative.

I love this! I have tried many different exfoliants now and this is by far my favourite. It's gentle enough for everyday use and so it does exactly what I need without it drying or irritating my skin. I love that it's a leave on serum as well it's so simple to use. Will definitely be repurchasing.

This is the only exfoliant I've ever tried that hasn't irritated my skin. I'm so impressed with the texture and look of my skin and I'm certain it's this. I only bought the travel size but will definitely buy it in full size!

This is my favourite skincare product. I believe it it this exfoliant that has helped me to balance my skin and solve the problems I had with irritation and breakouts. I wouldn't go without it now!

This has a really nice texture and doesn't irritate my sensitive skin!

I really love this for my skin. Wasn't sure how it could help as it is very light but it seems to have brightened my skin, closed my pores and soothes and calms my rosacea tinged cheeks. I use it morning and evening after cleansing and before serum and moisturiser.

I'm really disappointed that PC discontinued the Skin Perfecting 1% BHA Lotion as that was the only product I've ever found that helped my cystic acne. Since that was discontinued, I have no way of treating my acne. For some reason, this product doesn't work like the 1% BHA did. Also, I don't like that this product contains magnesium aluminium. It's odd that this is the only 1% BHA product PC sells now. Yet there are 8 different 2% BHA products available! Unfortunately, my skin cannot tolerate 2% BHA, so 1% BHA is my only option. I really wish PC would bring back the 1% BHA lotion as it really was amazing.

I decided to try this as I got a sample bottle from another order and my acne prone skin was really not in a good state. I'm so so glad I did, I've only been using it a week and this is now my hero product, it's completely changed my skin. I use it everyday in the mornings only, just one pump and it hasn't been too harsh at all or over exfoliating (which I was worried about, I have sensitive skin), I currently have no spots at all, that never ever happens to me. An added bonus which I can't really believe is that I actually somehow look about 5 years younger, it's really plumped my skin out, especially around my eyes, I'm very thin so have a tendency to look very hollow but I look so much healthier and brighter. It's also a pleasure to use. I also like that it has licorice root in it as I have pigmentation. I will be trying much more of Paula's products now! Please please please don't discontinue this, I will use it forever.

I found this to be a very gentle BHA exfoliant to start off with. I felt no stinging, and did not experience any redness, flaking or peeling. From first use, my enlarged pores have started getting smaller, and blackheads have started disappearing around the T-zone, even though at the same time some spots appeared in random areas. I persisted using this, and over time (about 1 month) the spots diminish and then disappear. I really like the texture of this BHA - a very light lotion, as you apply it directly from your hands, without wasting any on a cottonwool pad, and it absorbs nicely. My only wish is that this was a 2% (hence 4 stars), or there was another version of this as 2%. Even though I have sensitive skin, I feel it has not suffered any adverse reactions - unlike an AHA I have tried, which really stings and temporarily reddens my skin. I am trying a stronger BHA now to really get to grips with my remaining blackheads, but after that will most likely return to this BHA as my long-term exfoliant.

I've used abrasive topical scrubs for exfoliation in the past, but they're harsh and unnecessary. I make sure I've Calm 1% BHA Lotion on hand. I've found it's the overall best BHA exfoliant from Paula's Choice though I have others I use occasionally.

If you're not already familiar with this kind of exfoliant (salicylic acid/BHA), try using about one-half of the contents in a single 1.5ml sample packet following cleansing at night, avoiding eyelids and lips. I use this once or twice daily as it's the most gently effective for maintaining smooth, healthy, clear skin. My skin feel soft, comfortable and lightly moisturised.

I typically follow this with a serum or booster and sometimes a moisturiser, depending on how dry weather conditions are in my area. If I've used this in the morning, I follow it with a mineral-based sunscreen of SPF 30 or greater without fail. The exfoliant ingredient in particular makes adequate sun protection a must.

I ordered the sample sachets of Calm 1% BHA exfoliant. My skin is very sensitive, with enlarged pores on the t-zone yet dry and flaky skin on the cheeks and skin. I really struggle finding products that address all these issues. Initially I found this product reduced redness and my pores seemed significantly tighter, the acne scarring on my cheeks was reduced. Then after a week I began to get large whiteheads, with some beneath my skin. Although it helped with other issues, I discontinued usage due to the larger spots that I only suffered from since using this item. I was only using this once a day, but perhaps should have persevered for a longer time. I may try again, or try the skin perfecting lotion as the appearance of my skin leaves me feeling rather deflated.

Customer Care: Thank you for your review. We are sorry to hear of your experience and discomfort. Although this is not a common response, we do understand that each customer is uniquely different in how they will respond to products or ingredients. Please contact our team for an alternative product recommendation.

I love this product, it really works for my skin. I had dry, flaky, sensitive skin with some redness, as well as adult acne on cheeks chin and jawline. I use some at night followed by a dap of pure rosehip oil (or any other oil I have). The texture is nice to use and a little goes a long way. In the morning, I actually smile at my complexion when I look in the mirror now! Any spots are diminished, skin is soft, dewy, moisturised, blackheads gone, no dry/flaky spots, and such a nice base for makeup. Its so nice a product actually delivered more than I expected, when my skin is normally so fussy. My only suggestion would be a travel size so I can take it in my carry-on cos I dont want to be without it! I also have the 2% BHA liquid but I far prefer this calm 1% lotion on my skin

Let me start by letting you know my skin type... I do not have full blown rosacea but my nose and cheeks are very red and prone to irritation so I thought the calm range would be great for me. I also have an oily t zone and I am extremely prone to blackheads and clogged pores all over my forehead, nose and chin and to make matters worse my cheeks are prone to keritosis pilaris which I have managed to get under control somewhat after years of trial and error.

I purchased this product along with the oily skin cleanser and used them in conjunction with each other for over around a month Unfortunately this product did not seem to exfolate the skin well at all. the blackheads on my nose and head got worse and developed deep red painful spots under my cheekbones that remained there for ages until I stopped using it.

I continued with the cleanser and used my old faithful paulas choice clear body spray and the spots cleared up but my face is redder again! So the exfoliating action did not work for me and it clogged my skin worse would like to see a liquid version because it did reduce the redness on my cheeks. If you don't have such a problem with clogged pores and just redness, try a sample! ( they did not have any when I was ordering :( )

I don't have rosea skin but my skin is very sensitive these days so I purchased this trial as it is for sensitive skin and the lowest Bha that there is 1%. However my skin did feel rather hot after applying it and a tiny bit stingy but it did subside after about 10 mins. The biggest problem I found with this though was on night 2 of using this lotion my chin broke out in huge lumpy spots under my skin ! They were that big that my chin looked misshapen ! I was really excited about these leave on exfoliants and I'm a bit gutted now as I don't know what to try next since it was the lowest, gentlest one I could find. Maybe I shouldn't have used it 2 nights in a row??

Customer Care: The use of an exfoliant should be build up slowly. If you want more tailor made advise, you can always contact Customer Care.

I've been using the 2% lotion for a year, and I will never go back to a granular exfoliant again! I bought this and find it as effective as the 2%, but more gentle. Occasionally the 2% made my skin tingle, but this lovely, soothing 1% never tingles and used with the Calm serum has helped to reduce redness. The 100ml bottle is also excellent value for money and lasts me about a year.

I have mild to moderate acne rosacea with combination skin and lots of blackheads. I decided to try the Calm 1% BHA Exfoliant after the Clear Regular Strength 2%BHA Liquid broke me out in large spots and made my skin red and burning.

After the first week of using the Calm 1% BHA Exfoliant, my skin felt smoother but I saw absolutely no reduction in redness, pore size or blackheads. Two weeks in, I started to break out in small inflamed pimples that quickly turned to whiteheads. I thought this was purging and I didn't want to give up on the product if I could be just weeks away from clear skin. There was still no change in pore size or blackheads and I noticed new ones had still managed to form during the time I had been using the product. I was disappointed and contacted customer services who kindly offered me a refund if I was to return the product at my own shipping cost. I decided to give it another week and it was then I noticed a slight improvement. My blackheads appeared reduced in number and size and the pimples were calming down.There was still no difference in pore size or redness however, and I now had red marks from where the whiteheads had been. Still, I was encouraged by the improvement I saw and thought my skin had turned a corner. Four weeks in and my blackheads had returned and I have broken out in 2 small cysts which could be the exfoliant or could be hormonal. However, if they are hormonal, I would have thought the BHA should be clearing my pores to prevent them. During the whole month of using the BHA, I have noticed absolutely no reduction in redness or pore size, and only a temporary reduction in blackheads.The only benefit has been smoother skin. On the plus side, I experienced no irritation such as burning or an increase in redness as I did with the 2%BHA liquid. The lotion also absorbs easily into the skin and feels moisturising rather than drying as I had expected it might be. I'm sure this products works well for some but it's not for me. I have already ordered a batch of BHA samples to see if a different formulation might give me better results.

I've tried all of the BHA formulas - (including the 2% Lotion and Resist BHA) and this is by far the best. The silky lightweight serum feel is gorgeous and adds just the right amount of moisture to compliment my other products without making the skin feel greasy or shiny.

But what's most surprising to me is that this new formula is actually MORE effective than the 2% Lotion or Liquid for reducing blackheads in my T-Zone - particularly the more prevalent ones at the sides of the nose. I don't know why this would be the case (perhaps the texture of the Calm BHA is a better match for my skin) but I am astounded at the difference after such a short amount of use. And although I don't have particularly sensitive skin, it is prone to dryness and this product has absolutely not exasperated the problem.

Works brilliantly with the serum from the same range, too.

I received the Calm exfoliant 3 days ago, I have been using it in the morning and in the evening. It is very soothing and gentle, my skin already looks a lot smoother and pores have also reduced in size. I have rosacea my skin is normally very red and angry, it can get greasy but also has dry flakes, until now I have been unable to use any sort of exfoliant, manual or chemical. I am so pleased with the results my skins redness has improved, make up looks much better because my skin is now so smooth and flake free. I will definitely be repurchasing this product its wonderful the difference in my skin is amazing. I will definitely be purchasing the rest of the calm range when it becomes available.

More reviews Less reviews

Ingredients

What are the key ingredients?

Beta-glucan
Excellent ingredient for improving the look of redness and other signs of sensitive skin. It has some antioxidant properties and is a skin-soothing agent

Green Tea Extract
Possesses potent antioxidant and skin-soothing properties and has impressive research in terms of its many benefits for skin, including anti-ageing properties.

Salicylic Acid/BHA
Primarily an exfoliant, helps to shed dead skin on the surface and inside the pore, therefore effective for reducing breakouts and blackheads. It also has soothing properties.

Ingredients:
Aqua, Butylene Glycol (hydration), Cetyl Alcohol (texture-enhancing), Cyclopentasiloxane (hydration), Dimethicone (hydration), Salicylic Acid (Beta Hydroxy Acid, exfoliant), Avena Sativa (Oat) Bran Extract (skin-soothing), Allantoin (skin-soothing), Camellia Sinensis (Green Tea) Leaf Extract (skin-soothing/antioxidant), Glycyrrhiza Glabra (Licorice) Root Extract (skin-soothing), Epilobium Angustifolium (Willow Herb) Flower/Leaf/Stem Extract (skin-soothing), Lauric Acid (skin-replenishing), Glycerin (skin-replenishing), Polysorbate 20 (texture-enhancing), Sorbitan Stearate (texture-enhancing), Magnesium Aluminum Silicate (stabilizer), Ammonium Acryloyldimethyltaurate/VP Copolymer (texture-enhancing), PEG-40 Stearate (texture-enhancing), Xanthan Gum (texture-enhancing), Hexylene Glycol (hydration), Sodium Hydroxide (pH adjuster), Ethylhexylglycerin (skin-conditioning agent), Disodium EDTA (stabilizer), Phenoxyethanol (preservative), Caprylyl Glycol (preservative).

FAQ

Good to know before you start using your exfoliant.

It is best to gradually build up use of a BHA product. Start by using your exfoliant once every other day and then increase usage to once or twice daily based on your skin's response. You need to experiment a bit to see what suits your skin best. During the day, always use a moisturiser with a broad-spectrum sunscreen rated SPF 30 or greater. Your skin will in fact be slightly more sensitive to sunlight when using an exfoliant, so the chance of sunburn and sun damage is slightly higher.

What strength BHA should I use? Will a higher concentration provide better results?

Which BHA strength you opt to use should be based on your skin type and the stubbornness (or severity) of your spots or blackheads. For reddened, extra-sensitive skin, the 1% BHA strength is a great starting point to see how using a BHA can improve the skin's condition. This strength may be all you need, or, in the future, if your skin responds well you can consider a higher strength BHA.
Research
Journal of European Academy of Dermatology and Venerology, September 2016, issue 9, pages 1480-1490 General Physiology and Biophysics, September 2013, issue 3, pages 347-59 Evidence Based Complementary Alternative Medicine, 2013, volume 2013, article 827248 Journal of Clinical, Cosmetic and Investigational Dermatology, 2015, volume 8, pages 455-461 Archives of Dermatology, August 2000, issue 8, pages 989-94