https://www.paulaschoice.co.uk/2procent-bha-body-spot-exfoliant-full-size-5700.html
2% BHA Body Spot Exfoliant
Gently exfoliates dry, rough and bumpy acne-prone skin leaving it hydrated, smooth and soft.

We're in the middle of changing the name of the Weightless Body Treatment 2% BHA into 2% Body Smoothing Spot Exfoliant. The packaging you receive may vary temporarily, but everything else, including the price, remains the same.

Skin Type:

All skin types

Concern:

Breakouts , Anti-Ageing , Keratosis Pilaris

Ingredients:

Salicylic Acid/BHA , Antioxidants , Chamomile Flower Extract

View all
Remove from Wishlist
Add to Wishlist
Product out of stock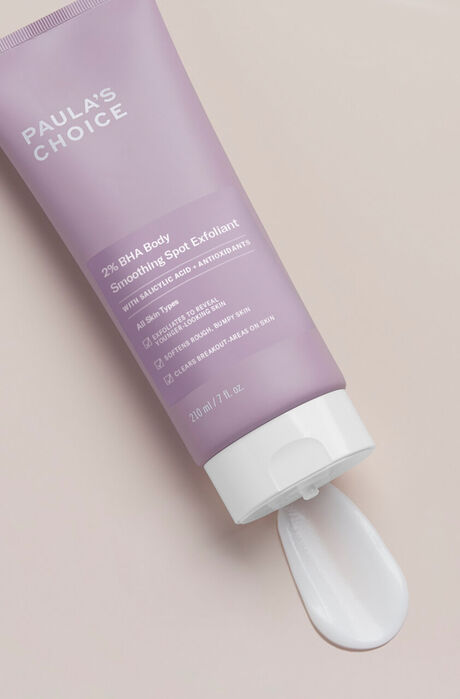 2% BHA Body Spot Exfoliant
Full size
This product is sold out at the moment. Fill in your email address below and we'll gladly send you an email as soon as it is back in stock!
60 day money-back guarantee
Safe payments
What does it do?

Banish rough, dry and bumpy skin from the neck down.

This moisturising, silky body spot exfoliant contains salicylic acid (BHA) which works to gently exfoliate dry, rough skin, for example on the back or shoulders (bacne). It leaves skin hydrated, smooth and soft. BHA also helps improve the appearance of hard clogged pores on arms and legs. With continued use skin is left smoother, younger-looking and more radiant.

Key Features

Leaves skin softer and smoother

Removes built-up dead skin cells

How to use

When using a BHA exfoliant for the first time, introduce it into your routine slowly. Start by using your exfoliant once every other day, and then increase usage to once or twice daily based on your skin's response.

Dispense a small amount into the palm of your hand and apply to clean skin. May be used daily for all-over smoothing and exfoliation, or applied to blemished or rough, bumpy areas of the skin as needed. For daytime use, be sure to follow with a Paula's Choice sunscreen.

Reviews

Thank you for submitting your review! It will be reviewed by our staff before it is posted.

I've been using this product from Paula for about 3 months on my back and chest. It has really reduced breakouts and has improved the tone of my skin. Some marks I have had on my chest for years have also faded and become much less visible

The cream smells great and it does reduce the appearance of keratosis pilaris. However, as a person with really dry skin, the cream isn't moisturising enough. My skin is quickly dry.

Customer Service: Hello, and thanks for your comments! We are always looking for ways to improve our products, so we will pass along your feedback to our Product Development team!

Been using the 2% acid exfoliator on my face for a couple of years and came across this recently for body skin. I have had problems with the tops of my arms since my early teens and nothing seems to get rid of it - i gave this a go as the face exfoliator is so incredible and literally in under two weeks they're basically totally gone. This is a must.

I found this to be great for my skin. I used to layer up with PC's body butter but I found it quick nice and hydrating on its own. I feel like maybe during the winter months I may need to layer up!

The smell is pleasant but my skin is still dry after using this - I dont have a rough dry body skin. I choose this to use for bha function: exfoliation but result is unexpected

Customer care:
Hi there! We're sorry the 2% BHA Body Spot Exfoliant wasn't a fit for you! Be sure to contact our Customer Care for assistance.

I am such a fan of PC products so when I started breaking out on my back and getting bumps on my chest/arms I decided to buy the body exfoliant seeing as the BHA exfoliant worked so well on my face. I used it for the first time last night and it honestly worked overnight!! My spots on my back basically flattened and the bumps on my arms have almost disappeared? Honestly shook. Definitely recommend. p.s I tried Mario Badesco AHA body wash and another exfoliant before this and my bacne did not go away so this is definitely a winner.

I have been using this on my back, upper arms and chest for a while now and I must say that it works like a miracle. I have always had spots and bumpy skin, especially on my back, I could never wear open back dress or even strapless or cami tops because I felt very embarrassed. Since using this product I am just amazed how my skin is clear now, it literally changed my life, I feel confident and happy to show my back!!! I am very grateful to Paulas Choice for the products as it is the best thing that happened to me.
Life changing products, highly recommend and I will always recommend them to everyone who struggle with oily skin and other concerns. There are no words to describe how much it changed my skin and me! Priceless.

I think I have reviewed this a couple of years ago but since I now have been using this on and off for more than 2 years I can give an updated review, I use this on the spots I get on my chest, neck, back, and I also use on my face it is just so good at clearing up my skin, never greasy, I layer other products over it which seem to work including my prescription retinol, its just a complete hero for me. BUT, I will not be re-purchasing due to the now inflated prices of Paula's Choice products. I love the brand. They used to say skincare shouldn't be expensive, well I'm very sorry Paula's Choice but your prices are now indeed to me anyway getting expensive for what they are and there are plenty of other skincarebrands that are only too happy to offer a great skincare line at affordable prices. I don't think I'm the only one with this view.

Customer Care: We are sorry to hear that you are disappointed about the prices of our products. We would like to assure you that pricing decisions are never made without careful consideration. Our innovative and effective formulas still remain great value for their benefit and results they give.

I love this product, it helped with my spots that I had on my chest and it made my skin really smooth. I would probably prefer a bigger size as i go through really fast. Other than that fab product.

This has been brilliant for my skin! I have suffered with dry, flaky eczema prone skin and have always been strict with moisturising however this has made my skin so soft and smooth. I love it!

I've always had KP on my upper arms. It was so bad before my wedding that I got expensive chemical peels done on my arms. This worked but of course it came back a few months later and there's no way I can afford to have peels done regularly. PC's BHA exfoliator is the only cream that has worked. Though there is still some redness (hence the 4 stars) the actual blockages have reduced by about 90%. I use it on my upper arms once a day and the bottle lasts about three months or so. You need to use it every day and keep using it for it to work well. It takes quite a while to really see results. I've been using it for years now and wouldn't be without it.

This is the only thing I can use which helps to keep acne on by back and chest at bay. I use it all over my upper body and can honestly say I couldn't live without it. I wish it came in a larger size also... and a bit cheaper haha. Only con is the packaging, the screw lid never seems to stop air getting in, and the toughness of the tube makes it difficult to get the last bits of lotion out.

This is the ONLY treatment after 20 years searching that actually improves the feel and look of my skin, I'm confident enough to start swimming again and so much happier. It's not going to cure KP but depending on the skin's character (the KP on my arms is different to the KP on my legs for example) the improvement can be between 60% to 90% better. I found the bottle lasts about 3+ months, as a small amount goes a long way.

I'm so grateful this product exists.

I Originally bought this for areas of acne on my back and shoulders, it does make your skin incredibly soft after use, however more recently I have opted to use this on my face every night and has done a remarkable job of keeping my face look clearer. I now use this instead of the 2% liquid and gel (I have both) to great effect. Thanks PC

I've had KP for as long as I can remember - way back into early childhood. I have it on my arms, thighs, and even my cheeks. The severity has waxed and waned over the years, sometimes improving during the summer, and occasionally improving a little when I made a real effort to super moisturise, but ultimately gradually has become worse. When I first decided to attempt to treat this condition, I tried a 10% AHA & emollient lotion (not from PC). I used it faithfully for about 3 months. It did nothing. Nothing, except smell bad and make me so sticky that putting on clothes after application was hard work!
I then decided to give BHA a go as a last ditch treatment attempt (I can't afford to smother retinoids over vast areas of my skin, so that option was out). I incorporated this into my regime, Initially, just using it on my arms. I use a scrub mitt in the shower (I know, controversial with KP, but I find this is best for me, and now try to go easy with it), then I apply a thin layer of bland, generic moisturiser before smothering this product on (just once a day). For the first three weeks or so, I couldn't really appreciate any change. However, after about a month, I suddenly realised that the skin on my arms felt a whole lot smoother. I mean, a lot! I can honestly say I haven't had arms this smooth for decades. This isn't a miracle cure, there are still some underlying bumps, and of course I would expect it to all come back if I ceased using the BHA, but I am more than happy with the results so far. It is expensive, but luckily one of the few more generous sizes of PC products I've used. I'm going to start using it on my legs and see how well it works there too :)

I have mild KP (and some red bumps from ingrown hairs) on my legs and after all the amazing reviews, decided to try the 10% AHA and the 2% BHA lotion. I've been using for almost 3 months but have not seen any improvement in KP/Bumps. I have to admit, both leave legs feeling very smooth, but that's about it. After buying both lotions in full size, now feel like I've wasted my money. Maybe I'm just unlucky, but wish I'd tried the samples first...

I wish I could say it helped, and maybe temporarily it reduced bumps but not the redness. I did start using the Skin Perfecting 2% BHA lotion on my face and that seems to do something for the texture and tone there. I'm going to try it on my chest and backs of my arms and see if I have any better luck with that. Also I can't recall if it was this or the AHA (I bought both), but the one that can't be used after shaving is quite a drag if you have KP on your legs!

This product has worked for me in terms of diminishing the bumps on the tops of my arms. I have KP from armpit to elbow and my skin is now smooth. I used a whole tube of this around 18 months ago just on my upper arms and the texture is STILL smooth even after stopping using it when the tube ran out (too pricey for me to rebuy frequently).
This product would get 5 stars off me however it has done nothing to diminish the redness of my arms. Also, after a few weeks of continuous use two times a day my palms started bubbling and peeling. The skin was reacting to the cream so it is proof it is powerful stuff! This went away when I started washing my hands after applying the cream, and the skin went back to normal quickly.
This cream worked well for me, and so much so that my sister went WOW when she felt my arms after using it for a while. KP is a bane but if you have the money to spare then give it a go because it could be the answer to your KP issues.

Having suffered from years and years of Keratosis Pilaris I finally found the answer! After a week of usage 70% of the red spots on my arms have faded and hopefully by the time I finish the bottle all the red spots would be gone. Another miracle product by Puala!

Sadly this product didn't help with my KP - expensive for no reward, disappointed :(

I used this twice a day for a couple of months for my Ketosis Pilaris - which is really bad on the back of my thighs and has been for about 15 years - and while it seemed to be smoothing out the skin for the first week or so, after that it just stopped working completely and everything went back to how it was before.
Really disappointed as I was excited to finally find something that could help going by some of the reviews.

Customer Care: Some consumers will notice results promptly while others will notice results over the course of a few weeks or months. Stick with the product for at least a month (applying every day, once or twice daily, before you give up. In almost every instance, your skin will show a remarkable turnaround and improve with consistent use.

I would never usually spend £30 on a skin cream, personally that is a lot of money for me, but the reviews were so great that I bit the bullet and spent my birthday money on this product. I applied it twice a day for two weeks to my upper arms where I have KP, but it seems to have had zero effect on me. Perhaps 2 weeks isn't long enough? But to be honest after seeing no results after 28 applications I lost my enthusiasm.

I also have an acne prone chin/jawline due to pcos and read that this was also good for clearing these sorts of skin problems. I was hoping that even though it hadn't helped my KP, perhaps it would improve my face. I've never suffered from sensitive skin before but it gave me a stinging sensation over my whole face (perhaps this is just it working? But It didn't happen on my arms) and within the next day or so I broke out in areas where I never usually get blemishes.

This is obviously a great product for some people, as the glowing reviews suggest. My advice is don't buy it if wasting this much money would be a big disappointment for you. If you don't mind spending on something which may not work, then go for it. It's not going to work for everyone. Sadly I was one of those people.

Customer Care: We are very sorry to hear about your experience.We do not advise to use this product on your face, as this product was developed for the use on the body where the skin is often more rough and less sensitive. We would like to ask you to contact Customer Care for further assistance.

What to say except this is my must go to product it's a fantastic. Multi purpose product fantastic on the body but it goes up 100 notches when used on the face enough moisture for me to go without toping it off with extra moisturiser and skin feels so smooth . I have spot probe skin and paulas choice is the first line of products where each one has delivered keep up the good work PC

After five minutes of my first application, this product already serves promising! I purchased this and the 10% AHA body lotion. I've purchased these products in hopes for all my keratosis pilaris and ingrown hairs to finally get thrown away. I'll definitely be updating in a week; but I can definitely feel the results already! Thank you Paula for creating a skincare product which finally contains a physical exfoliant body product; at a good price for the amount too!

(A little goes a very long way! There's also no stickiness and a very quick absorption after your application!)

Use this on your face it works just as great as Paula's other BHA products. Do not hesitate to try this it is simply a miracle worker for blackheads and spots.

I sometimes suffer from a few breakouts on my chest and back. After using this for a few days, the rash and breakouts were gone. I now use this nearly every day and the condition of the skin on my chest and back has greatly improved. The number of breakouts I get has also considerably reduced. This product has also been fantastic for tackling ingrowing hairs from epilating. I highly recommend this product!

This product is very multi tasking and will reduce the amount of bottles you will need to travel with. I will always repurchase this! It works for....

Keratosis pilaris: This has dramatically reduced the bumpy KP on my arms, as well as toning the redness of it down massively.

Ingrown hairs: This is a must have for preventing ingrown hairs. A full proof way I've found is to apply some 24 hours after (although it doesn't hurt at all putting it on straight after) hair removal, and do this for about 2 more days after that to exfoliate any dry or disrupted skin. Then when my hair begins to grow back I apply it once a day for 3-4 days to allow the hair to surface easily. This also slightly helps with redness after hair removal but I am waiting for the New CLINICAL Advanced Redness Relief to be released in the UK to fix that.

Uneven body skin: I have pale, translucent skin that's easily irritated into a blotchy state and find mechanical exfoliation enhances this, so I use the BHA treatment to even out my body skin gently but more thoroughly than a body brush can.

Dry feet: Applying this every other night under socks, in conjunction with a foot file and a heavy moisturizer, keeps dry dull feet skin at bay!

Blackheads: I have tried most of the BHA facial exfoliants Paula has to offer and although they were all effective for my spots, I could not find a balance of not drying out my sensitive skin while trying to remove my stubborn blackheads. Using this treatment on my face has been the best thing I've ever done for it. My rosacea is dramatically reduced and the blackheads are almost gone now after only using this on my face for a short time (I use the skin balancing mask and an extractor tool to help as well).

Purchased this cream to help reduce red follicles on my legs. Its a nice cream but it hasnt really improved the redness. Also had the same problem as previous review - the bottle split near the neck so some of the cream was wasted!
Customer Care: Thank you for your review.
We are very sorry to hear about your experience. We have refunded the purchase price to your Mastercard account. Thank you for your feedback on the packaging, this was already noticed and fixed. We at PC Europe consider our customer feedbacks as one of the most important tools in improving our service and developing the product quality and packaging

I am on my second tube of this and I am liking it on both my arms and face. I have KP and do see an improvement when i use it on a regular basis, but can be a bit slack applying everyday.
My 4 star review is due to packaging again. (i had a problem also with a mascara)
As I said this is my second tube and both tubes have split where the neck joins the tube. So more lotions comes out than I need and also air will be getting into the product.
I am sure that I cannot be the only person this has happened to, 3 times just seems too many. So please look into bottle malfunctions.Customer Care : Thank you for alerting us to this issue. We will look into it. Please contact Customer Service for a replacement.

I was so excited when I found this product and read the great reviews because I've suffered with KP for so long and never found anything in the UK that targets the problem. I ordered 2 bottles and I'm half way through my second. I agree that my skin is smoother, it's obviously a good moisturiser but it's still so red and that's what bothers me the most. I'm a little disappointed to be honest. Customer Care : Thank you for your feedback. We are sorry to hear about your experiences. It sometime takes quite a few months before you see results and we advise to use the Weightless Body Treatment with 2% BHA in a consistent routine. In wintertime Keratosis pilaris tends to be more severe. Please contact our customer care team if we can be of further assistance. We are happy to help!

I was very keen to try this product - after all the great reviews. I have KP on the back of my arms, and bought it specifically to help with this (I also bought the recommended Paula choice's hair and body shower gel). So I could get a good comparison I only used the moisturiser on one arm. Though I would agree that this product is a good general moisturiser as my skin feels softer, I'm afraid it did nothing for my KP. Customer Care : Thank you for your review. We are sorry to hear this did not help your keratosis pilaris. This condition can be very stubborn so we suggest trying an AHA exfoliant to see if this gives you better results. We will send you out samples of our Skin Revealing Body Lotion with 10% AHA to try.

I bought this after a recommendation on a forum to use before my wedding on my arms/shoulders, as I wanted them to be as glowing and radiant as possible. I tried this, but didn't get good results - my skin actually felt rough and certainly not glowing, so I stuck to my regular body moisturiser. However, after my wedding, I had loads of the stuff left, so thought I'd try it on my legs, which are always dry and a total nightmare after shaving/waxing - lots of red dots, etc. I hate my legs!! So after just a few days use, using it twice daily, it literally transformed my legs. They are now smooth, shiny, and much easier to remove hair from! I guess the skin on my arms/shoulders didn't really need any treatment, which is why I didn't get any results. But on my legs - wooohooo! Wish I'd known about this product years ago, I've just bought my second bottle, and LOVE it, and would recommend to anyone with dry, scaly legs. It WORKS.

I've only been using this for a few days now, already my arms are so much smoother! The bumps are not completely gone yet but there is a massive difference! Can't believe I've not tried this earlier, my arms have been such a mess for so long and now they're nearly better!!!
This is definitely worth the money!

I have suffered from Keratosis Polaris on my upper arms for 3 or 4 years now which has made me self-conscious about baring my upper arms. I now use this product after my shower and the problem has almost disappeared. I also use it on my chest and shoulder areas as I suffer from breakouts here. This keeps the delicate chest area moisturised but at the same time helps prevent blemishes. I wouldn't be without this product. Highly recommended.

Amazing!! I have been So depressed about my bumps on my arms as I cannot stop picking them. After a week they are vertially gone I cannot endorse this product enough. Thank u so much

ive been using this lotion for 2 months...Very good for KP...Keeps it under control...unfortunately havent seen results yet on my darkened pores on my legs...kind of black heads on my legs...but persistence is the way...i wont give up on this product...plz dont discontinue it....xxxxx

I have only been using this product daily for little over a week and already seeing some results that are making me happy, it really seems to maintain KP well.

I was initially put off by the price but my kp really bothers me and has been getting worse over the last year. I have had no luck in 2010 trying to find a solution and so bit the bullet.....if the results with this product continue at this pace i will be more than happy to order another batch. You can't put a price on increasing your confidence tenfold.

Already my arms look a lot better, and are definitely less scaly to the touch

A little more product for the money would be great though as like many my kp is pretty bad across my arms, flanks, buttocks, thighs and calves and i would like to be able to use this lotion all over. Due to the price i do find myself using it as sparingly as possible.

Hopefully as demand rises for this excellent product the price can be looked at

Highly recommended for maintaining bad kp

I love love love this product ! My keratosis pilaris is gone and my skin is extra smooth. Thank you Paula and please keep up your fantastic work!

I have searched high and low for a salicyic acid body lotion in the UK for my keratosis pilaris (red bumps on the back of my arms - its the only solution) and finally found this one. It just arrived today and it was like a dream to put on - silky and absorbed immedietly. During application the smell isnt that great but i know this is just cos of the ingredients and after application i was left with a faint melon smell which is nice. I wish so much that these products were sold retail in the UK or the postage and packagin was cheaper - I now really want the version for my face, but am put off ordering because of the P&P cost! I dont mind paying the price for a high quality product, just P&P!
I used salicyic acid before (Tend Skin) which helped my KP but had so much alchohol in it that i couldnt breathe when i applied it and it really dried my (normal/oily) skin out.
I love paula's reviews so much and subscribe to beautypeida - I really hope that some UK only products (like Liz Earle) will get reviewed in the future cos i feel im blind when shopping for these right now.
One final comment (and a real nit-pick) could the cream have a flip top lid in future? would just make it even better than perfect : )
If you want more reviews of this product go on the Paula's choice US site as they have loads of comments there...
Customer Care: We are happy to inform our UK customers that, as of September 1 2010, P&P has been reduced to £ 4,95.

I have been to the doctors several times and tried various urea creams to try and combat my Keratosis Polaris on the backs of my arms. It started to spread to my back and with my wedding fast approaching in September I felt compelled to try and find a solution. I read several KP site and eventually found some intelligent advice that I could follow. I started using Sanex in the shower (Hypoallergic) and applying Paula's weightless cream on to the back of my arms every morning after shower and at night before bed. After 1.5 weeks it started to improve and my skin felt softer. After a while the skin started to shed (blocked pores are what causes the unsightly red bumps or chicken skin as it is known) so I have been using a Boots sugar scrub every 3rd day. After 3 weeks of doing this my skin has improved immensly, the rash has more or less disappeared and my skin tone is much more even. I will feel much more confident with my arms on display at my wedding and have told all of my friends and family who also suffer with it. I only wish I could afford to buy it by the bucket load to use of my bum and legs, although the only person who sees this part of me is the man I am marrying and it clearly has not put him off.
I am so happy with my purchase, would highly recommend!

More reviews Less reviews

Ingredients

What are the key ingredients?

Salicylic Acid/BHA
Primarily an exfoliant, helps to shed dead skin on the surface and inside the pore, therefore effective for reducing breakouts and blackheads. It also has soothing properties.

Antioxidants
Help to protect skin against harmful free radicals, among others caused by sun light and pollution. They have anti-ageing properties and calm skin.

Chamomile Flower Extract
Derived from plant species Matricaria recutita, has moderate antioxidant and potent skin-soothing activities.

Ingredients:
Aqua, Butylene Glycol (hydration), Cetyl Alcohol (texture-enhancing), PPG-14 Butyl Ether (texture-enhancing), Salicylic Acid (Beta Hydroxy Acid, exfoliant), Dimethicone (hydration), Tocopheryl Acetate (vitamin E/antioxidant), Chamomilla Recutita (Matricaria) Flower Extract (skin-soothing), Epilobium Angustifolium (Willow Herb) Flower/Leaf/Stem Extract (skin-soothing), Camellia Oleifera (Green Tea) Leaf Extract (skin-soothing), Vanilla Planifolia Fruit Extract (antioxidant), Bisabolol (skin-soothing), Allantoin (skin-soothing), Cyclopentasiloxane (hydration), Cyclohexasiloxane (hydration), Dimethiconol (hydration/texture-enhancing), PEG-40 Stearate (texture-enhancing), Sorbitan Stearate (texture-enhancing), Polysorbate 20 (texture-enhancing), PVM/MA Decadiene Crosspolymer (texture-enhancing), Polyacrylamide (texture-enhancing), C13-14 Isoparaffin (texture-enhancing), Laureth-7 (texture-enhancing), Disodium EDTA (stabilizer), Sodium Hydroxide (pH adjuster), Hexylene Glycol (hydration/texture-enhancing), Caprylyl Glycol (preservative), Ethylhexylglycerin (preservative), Phenoxyethanol (preservative).

Faq

How does the 2% BHA Body Spot Exfoliant differ from the other Paula's Choice 2% BHA products?

The primary difference is with the base formula and the pH level. Our 2% BHA Liquid Exfoliant and 2% BHA Lotion Exfoliant contain the same percentage of salicylic acid, but their pH levels are slightly higher. Because facial skin is generally more sensitive than body skin, Paula opted to formulate the Spot Exfoliant with 2% BHA at a lower pH level than our other 2% BHA products. This not only increases salicylic acid's ability to exfoliate, but makes this product especially beneficial for use on areas of rough, thickened skin such as elbows, knees, and heels. The lotion base of 2% BHA Body Spot Exfoliant is significantly less emollient than our 2% BHA Lotion and entirely different from our 2% BHA Liquid and 2% BHA Gel.

Can I use the 2% BHA Body Spot Exfoliant on my face?

Although the formula has been developed for the skin on your body, it is possible to also use it on your face. In fact, some skin types may prefer the texture of the 2% BHA Body Spot Exfoliant for facial use.
Research
Journal of European Academy of Dermatology and Venerology, September 2016, issue 9, pages 1480-1490 Archives of Dermatology, August 2000, issue 8, pages 989-94 Molecular Medicine Reports, November 2010, issue 6, pages 895–901 Food Chemistry, 2010, volume 119, pages 643-647 Journal of Ethnopharmacology, September 2004, issue 1, pages 67-75 General Physiology and Biophysics, September 2013, issue 3, pages 347-59 Journal of Clinical, Cosmetic and Investigational Dermatology, 2015, volume 8, pages 455-461