https://www.paulaschoice.co.uk/1-procent-retinol-booster-full-size/7870.html
1% Retinol Booster
Concentrated 1% retinol effectively improves the appearance of wrinkles and skin tone.

Skin Type:

All skin types

Concern:

Breakouts, Anti-Ageing, Brown spots, Enlarged pores

Ingredients:

Retinol (Vitamin A), Licorice root extract, Oat Extract

View all

Routine:

Treatment
Variations
Full size 15 ml
Remove from Wishlist
Add to Wishlist
Product out of stock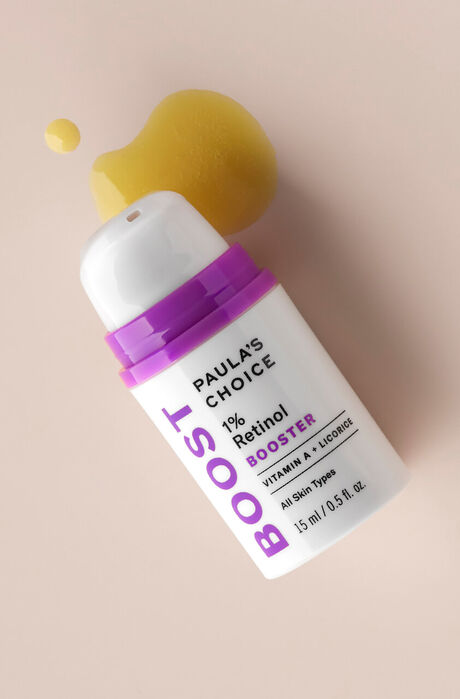 1% Retinol Booster
Full size
This product is sold out at the moment. Fill in your email address below and we'll gladly send you an email as soon as it is back in stock!
What does it do?

A booster to up the anti against ageing.

This concentrated 1% Retinol Booster works to effectively improve the appearance of wrinkles, reduce pore size and improve skin tone. The light-weight, fluid booster combines retinol with antioxidants and peptides for a clearer, more radiant and younger-looking complexion.

Is this suitable for my skin?

What skin concern would you like to address?

(Please select one option)

Key Features

Leaves skin softer and smoother

How to use

Apply once or twice daily after cleansing, toning and exfoliating. Dispense 2–3 drops and add to your favourite moisturiser or serum. May also be used alone. For daytime, follow with a broad-spectrum sunscreen rated SPF 30 or greater. May be applied around the under-eye area.

Reviews

Thank you for submitting your review! It will be reviewed by our staff before it is posted.

I had high hopes for this product but unfortunately it didn't live up to my expectations. As soon as I started using it my skin became very sensitised, blotchy and had red patches the next day. I then began using it only once a week, mixing it with a basic moisturiser for oily / combo skin. Still, using it that way made my skin produce more oil to compensate for the dryness. On top of that, it brought me out in whiteheads which I rarely get. As a result I reduced this to spot treatment which, funny enough, seems to be working well in the sense that they heal faster (if applied only on the spot however! ) It's kind of a vicious circle though because I seem to be getting more spots in the surrounding area where I've treated the individual spot... So not sure about this product, I'm sure it works great for some people but unfortunately it's not for me. I gave it two months to see a difference but unfortunately my skin looks worse than before. I'd suggest introducing a sample first as it's quite on the pricey side.

Customer Care: Hello, and thank you for sharing your experience with us - we're sorry to hear this didn't work as expected for you, but we are glad that you used our return policy.

Been using this for years.
Paula does two Retinol creams and this one is for OILY skin which is why it's so thin (put it over the top of your moisturiser).
You can notice the difference in your skin when you wake up the next morning. However for anyone struggling with acne I do find that salicylic acid is actually more effective. Combination of retinol and salicylic acid (on separate days) is even better.

Been using this 3 x a week for 2 months now, I haven't noticed any difference to my skin so far. It's not causing any harm so I will continue with what I have left but if there is still no improvement by the time I finish I won't be buying again.

Customer Care:
Thank you for sharing your experience with us - we're sorry to hear this didn't work as expected for you! The customer care team has been in contact with you and found a solution.

I bought this item because I have small areas of pitted skin on my forehead and jaw area, due to blemishes. While they cover up quite well with foundation, I still feel conscience by it. I am really glad I bought this though as I have noticed a difference, after about 10 uses. I use it about 3-4 times a week and it feels silky and nice when applied. I have noticed a difference as my pitted skin is now reducing and I feel more confident. I just wish the product was a little bigger, maybe a 30ml or 50ml, for the same price.

I absolutely love this product, it makes a huge difference to my skin, fine lines are gone, and texture and pores are so much better. I use it in the morning with the vitamin c serum, before moisturiser. I wish there was a way to tell when it is running out, and it is very expensive, hence the 4 star.

I've been using this product now for about 6 months.
It's been excellent at improving the texture of my skin and minimising the appearance of pores. It gave me and immediate brightening effect which has been long lasting.
I use 2 or 3 nights a week and that's enough to give me excellent results.
The best retinol product I've come across.

I am loving this retinol booster so far, it's nearly finish and going to my 2nd new bottle, it made my skin smooth and brighter. Only downside is not alot in the bottle only 15 ml, so far i've used this for just over a month every night but worth it though in my opinion.

I have been using this with my moisturizer in the morning, I feel like the extra retinol is really making a big difference, my skin feels rejuvenated and plumper

I have used up all of mine (and it would have been nice to know i was running out, but product stability is the most important thing i know). I often used it neat and it gave me good skin days quite often, I also did love mixing it with moisturisers as well. I've used prescription retinol so my skin had no issues handling this stuff and it didn't make me peel at all.
I love the fact that you can add this to anything which means you can make your favourite serum/moisturiser into a more effective version of itself and I would repurchase if I wasn't busy testing out the other clinical retinol product that PC does. The formula is yellow and runny and there is no fragrance to it - it mixes well and sinks in quick (depending on what you mix it with).
Highly recommend this if you want retinol in your life (which you should).

Had this in my latest order. It's an absolutely beautiful product, light as water, non-greasy too and utterly brilliant as it can be added to almost any other Paula's Choice product for extra 'oomph'.
Totally lightweight and gorgeously non-irritating. I reckon 150-200 pumps in this bottle, so completely worth the price on a 'cost per wear' basis.
Another amazing product. 10/10

More reviews Less reviews

Ingredients

What are the key ingredients?

Retinol
Powerhouse ingredient that can improve a variety of skin concerns, most related to visible signs of ageing: It's skin-restoring, wrinkle-smoothing, an antioxidant and improves sun damage.

Licorice root extract
Plant extract that has potent antioxidant and skin-soothing properties. Can be effective in improving the look of an uneven skin tone.

Oat Extract
Contains antioxidant and skin-soothing properties.

Ingredients:
Aqua, Glycereth-7 Triacetate (emollient/texture-enhancing), Glycerin (hydration/skin replenishing), Carthamus Tinctorius (Safflower) Oleosomes (emollient/skin-soothing), Isopentyldiol (hydration), Polyglyceryl-10 Behenate/Eicosadioate (texture-enhancing), Butylene Glycol (hydration), Pyrus Malus (Apple) Fruit Extract (antioxidant), Polysorbate 20 (texture-enhancing), Retinol (skin-restoring), Polyglyceryl-10 Laurate (texture-enhancing), Glycyrrhiza Glabra (Licorice) Root Extract (skin-soothing), Avena Sativa (Oat) Kernel Extract (skin-soothing), Ceramide NP (hydration/skin replenishing), Palmitoyl Tripeptide-1 (skin-restoring), Dipotassium Glycyrrhizate (skin-soothing), Allantoin (skin-soothing), Epilobium Angustifolium (Willow Herb) Flower/Leaf/Stem Extract (skin-soothing), xilaS Alba (Willow) Bark Extract (skin-soothing), Arctium Lappa (Burdock) Root Extract (skin-soothing), Hydrogenated Lecithin (skin-restoring), Caprylyl Glycol (emollient), Dipentaerythrityl Tri-Polyhydroxystearate (texture-enhancing/emollient), Bis-Glyceryl Ascorbate (antioxidant), Ethylhexyl Methoxycrylene (texture-enhancing), Disodium EDTA (stabilizer), Xanthan Gum (texture-enhancing), Phenoxyethanol (preservative), Sorbic Acid (preservative).

FAQ

Can I use 1% Retinol Booster when I am pregnant or breastfeeding?

Due to the higher amount of retinol being closer to the strength of prescription retinoids (which are contraindicated for use while pregnant or breastfeeding), we advise against such use unless OK'ed by your doctor. If your physician does not provide a clear answer, it's generally best to be cautious and refrain from use until you are no longer pregnant or breast feeding.

What is the difference between the 1% Retinol Booster and the Clinical 1% Retinol Treatment?

To start, there are similarities between the 1% Retinol Booster and Clinical 1% Retinol Treatment. Both contain a high-level of 1% retinol, and each is formulated with peptides and a significant amount of antioxidants and anti-irritants. Where they really differ is in terms of texture, usage, and which skin types they are ideal for (although both products are suitable for all skin types). The 1% Retinol Booster has a fluid texture that allows it to be mixed in with your favourite serum or moisturiser. Its formula is thinner, lighter, and especially well-suited for normal to oily or breakout prone-skin. It's also a phenomenal option for ANYONE who wants to boost their current skincare routine with a higher strength of retinol. Adding 1% Retinol Booster to your serum or moisturiser allows it to work more gently on your skin, so you can use it more frequently – even as a daily part of our routine. The Clinical 1% Retinol Treatment has a creamy lotion texture that is most ideal for normal to dry skin. It's an intensive high-percentage retinol treatment that a consistent retinol user looking for powerful results will love. It's best to slowly add this to your routine – no more than a pea-sized amount up to 3 times per week to start – and adjust based on your individual experience.

Can I use 1% Retinol Booster if I am using other Paula's Choice products that contain retinol?

Yes, though you may wish to alternate them—this will depend on how your skin responds. You can also apply your usual retinol product (serum or moisturiser) all over your face and neck, then apply 1% Retinol Booster to areas showing more advanced signs of ageing: Crow's feet around the eyes, laugh lines, expression lines, and dark spots.
Research
Journal of Cosmetic Dermatology, March 2016, issue 1, pages 49-57 Mechanisms of Ageing and Development, September 2015, volume 150, pages 74-82 Journal of Drugs in Dermatology, March 2015, issue 3, pages 271-280 Phytotherapy Research, August 2015, volume 29, issue 8, pages 1117-22 Journal of Cosmetic Dermatology, December 2008, issue 4, pages 281-9 Indian Journal of Dermatology, Venereology, March-April 2012, issue 2, pages 142-5 American Journal of Clinical Dermatology, 2003, issue 2, pages 107-29 Evidence Based Complementary Alternative Medicine, 2013, volume 2013, article 827248 General Physiology and Biophysics, September 2013, issue 3, pages 347-59 Plastic Surgical Nursing, April-June 2012, issue 2, pages 71-2 Pharmacology and Physiology, March-April 2005, issue 2, pages 81-7